Quinoa Fruit Salad
This protein-packed quinoa salad is brightened up with fresh mango, strawberries and blueberries, balanced with a tart vinaigrette and refreshing mint!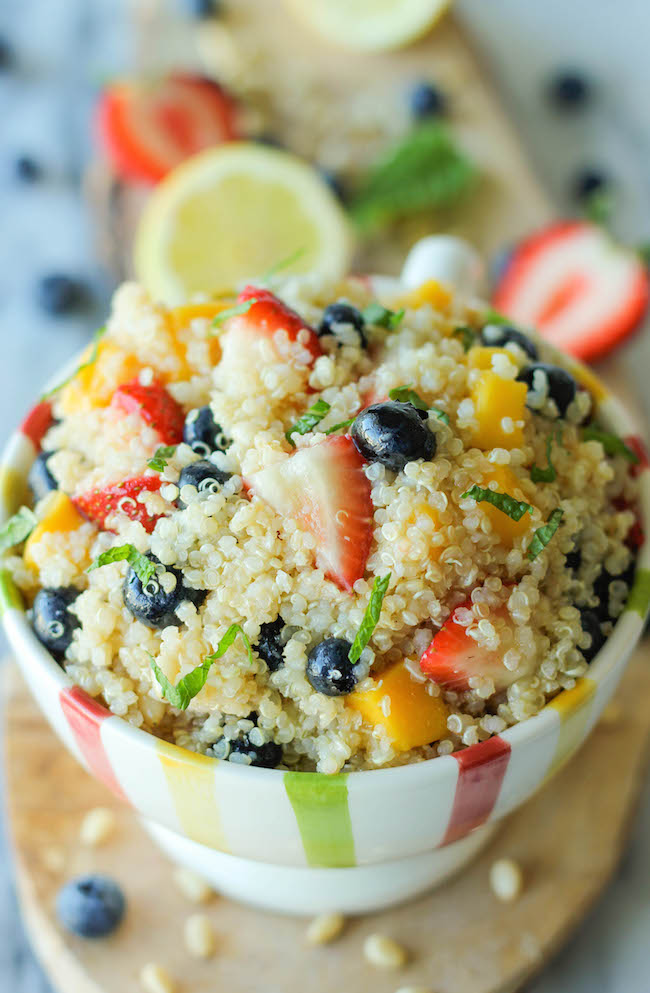 I don't know what the weather is like out there but here in LA, it's 90+ degrees every. single. day. It's so hot that I can't even bear to go outside. The only time I leave the house is when I finally drag myself to the gym or when we're low on milk. Other than that, we stay inside the apartment with the AC blasting on.
So while the sweltering heat wave is still happening, I try my best to keep the oven off. That's where this fruit salad comes in. With a simple tart lemon vinaigrette, this quinoa-packed fruit salad comes together in just 10 minutes without turning on the stove. It's a protein-packed salad that's also so incredibly refreshing and so nutritious. It's just what you need to keep cool during this summer heat!
Quinoa Fruit Salad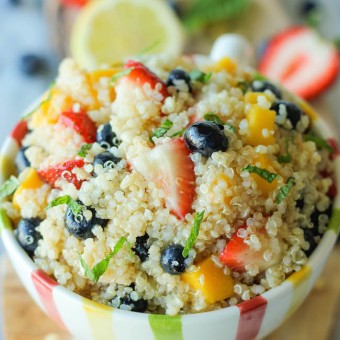 This protein-packed quinoa salad is balanced with a tart vinaigrette and refreshing mint!
Ingredients:
2 cups cooked quinoa
1 mango, peeled and diced
1 cup strawberries, quartered
1/2 cup blueberries
2 tablespoons pine nuts
Chopped mint leaves, for garnish
For The Lemon Vinaigrette
1/4 cup olive oil
1/4 cup apple cider vinegar
Zest of 1 lemon
3 tablespoons freshly squeezed lemon juice
1 tablespoon sugar
Directions:
To make the vinaigrette, whisk together olive oil, apple cider vinegar, lemon zest and juice, and sugar in a small bowl; set aside.
In a large bowl, combine quinoa, mango, strawberries, blueberries and pine nuts. Stir in lemon vinaigrette.
Serve immediately, garnished with mint leaves.
Why It's A Smart Choice
Nutrition Facts
Serving Size
Servings Per Container 4
---
Amount Per Serving
Calories 308.1 Calories from Fat 163.8
% Daily Value*
Total Fat 18.2g 28%
Saturated Fat 2.2g 11%
Trans Fat 0g
Cholesterol 0mg 0%
Sodium 10mg 0%
Total Carbohydrate 34.1g 11%
Dietary Fiber 4.5g 18%
Sugars 15.2g
Protein 4.4g 9%
---
*Percent Daily Values are based on a 2,000 calorie diet. Your daily values may be higher or lower depending on your calorie needs.
Quinoa and fruit complement each other, not only in taste, but nutritionally speaking. Most fruit is a good source of Vitamin C, while quinoa is a vegetarian source of iron. The body does not easily absorb iron from vegetarian sources of iron like quinoa, unless accompanied by Vitamin C. So eating fruit in this quinoa salad means that the fruit's Vitamin C will help your body absorb the iron in the quinoa.
Nutritional information provided by Jessica Penner, RD at Smart Nutrition.