Sweet Potato Enchiladas
These cheesy enchiladas are loaded with tender sweet potato, black beans, and salsa verde goodness!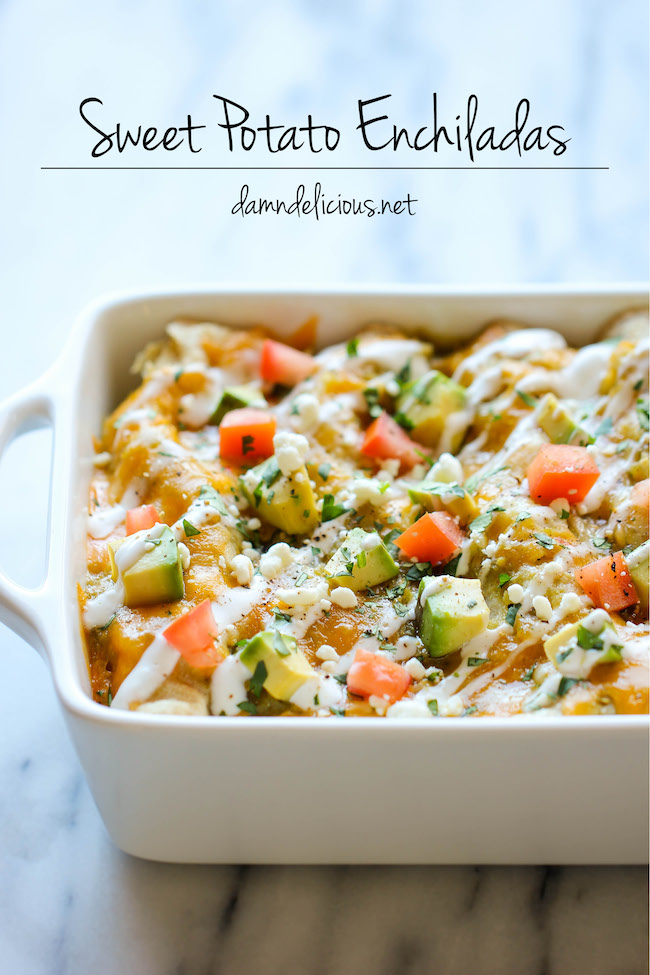 Being Korean, I grew up on a lot of meat. After all, we did have homemade Korean BBQ once a week out in the backyard! So for the longest time, I thought I could never give up red meat. How could I? Korean BBQ is the best thing since sliced bread!
But after having these cheesy sweet potato enchiladas smothered in salsa verde – well, let's just that if all dishes had sweet potato involved with a sour cream drizzle like this, I could easily convert to a vegetarian and give up red meat!
These cheesy enchiladas are loaded with tender sweet potato, black beans, and salsa verde goodness!
Ingredients
2 cups salsa verde, divided
2 sweet potatoes, peeled and diced
1 cup canned black beans, drained and rinsed
1 (4.5-ounce) can green chiles
1/2 cup diced red onion
3 tablespoons chopped fresh cilantro leaves, divided
1 teaspoon chili powder
1/2 teaspoon garlic powder
1/2 teaspoon cumin
Kosher salt and freshly ground black pepper, to taste
2 cups shredded Monterey Jack cheese, divided
12 6-inch corn tortillas, warmed
1 avocado, halved, seeded, peeled and diced
1 Roma tomato, diced
2 tablespoons sour cream
Instructions
Preheat oven to 350 degrees F. Pour 1 cup salsa verde in the bottom of a 9×13 baking dish; set aside.
In a large pot of boiling water, cook sweet potatoes until tender, about 12-15 minutes; drain well.
In a large bowl, combine sweet potatoes, black beans, green chiles, red onion, cilantro, chili and garlic powder, cumin, salt and pepper, to taste.
To assemble the enchiladas, lay tortilla on a flat surface and spoon 1/4 cup sweet potato mixture in the center; sprinkle with cheese. Roll the tortilla and place seam side down onto prepared baking dish. Repeat with remaining tortillas and sweet potato mixture. Top with remaining salsa verde and cheese.
Place into oven and bake until bubbly, about 20 minutes.
Serve immediately, garnished with cilantro, avocado and tomato, drizzled with sour cream, if desired.
Notes
http://damndelicious.net/2014/02/05/sweet-potato-enchiladas/