Olive Garden Pasta e Fagioli
A super easy, no-fuss copycat recipe that's wonderfully hearty and comforting, except it tastes 100x better than the restaurant-version!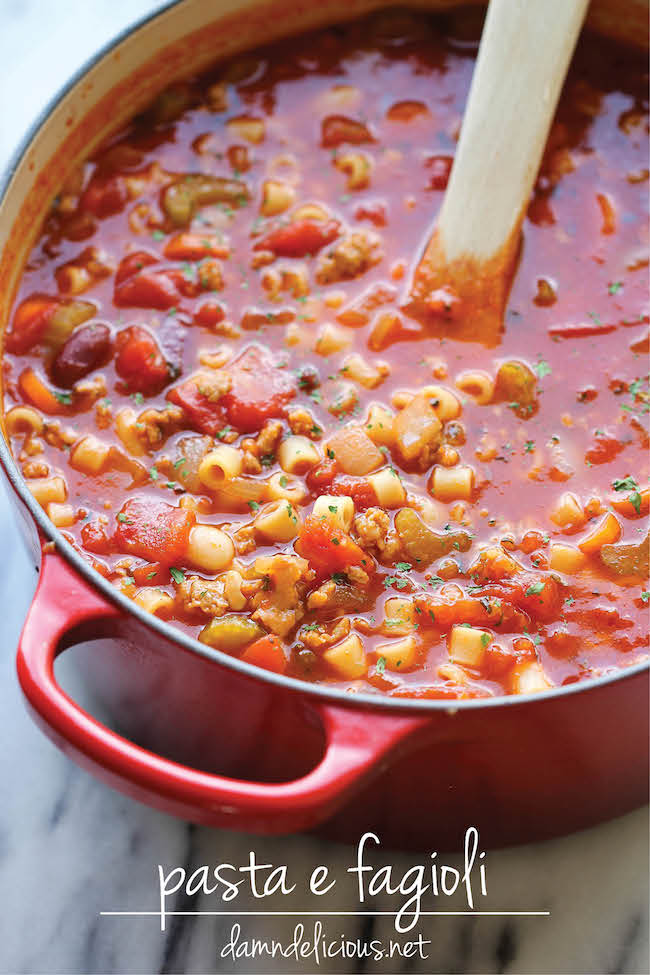 I know I should be posting about ice cream and refreshing summery drinks this time of year but even in 100 degree weather, I still need a bowl of soup, especially if it's my all-time favorite Olive Garden soup!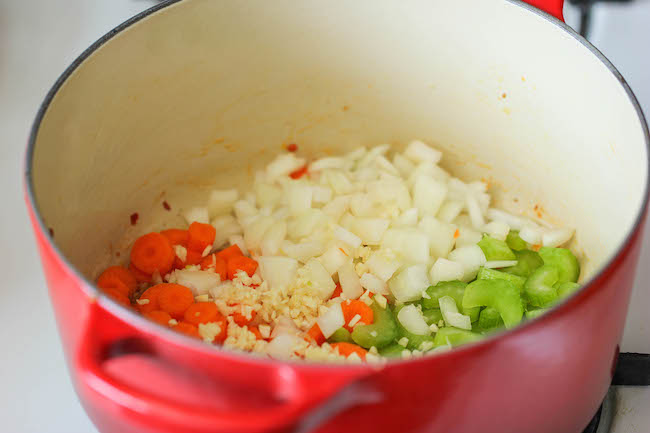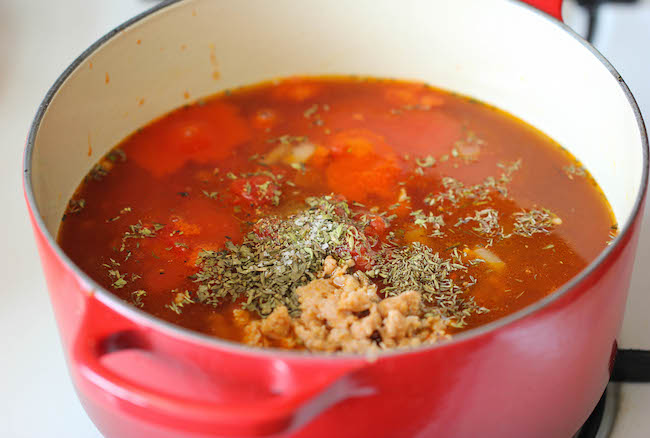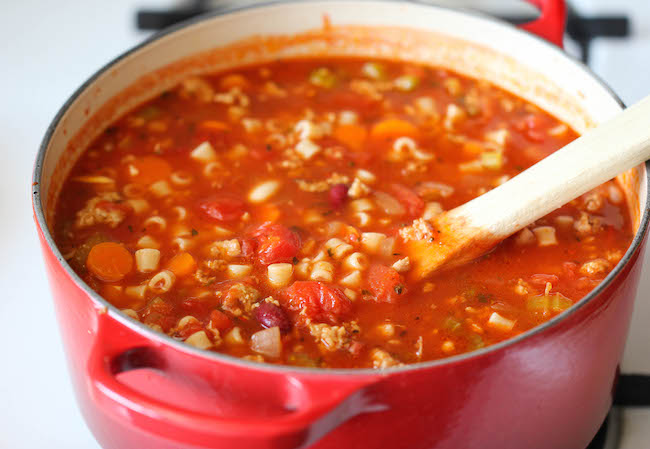 Yes, this is the complete copycat of Olive Garden's heartwarming Pasta e Fagioli, which is a pasta and bean soup. And it's seriously so easy to make right at home! All that takes some effort is the prep work for the veggies. That's it! Best of all, this recipe is enough to feed an army! Just be sure to add the pasta to serve or else it'll soak up all the liquid over time.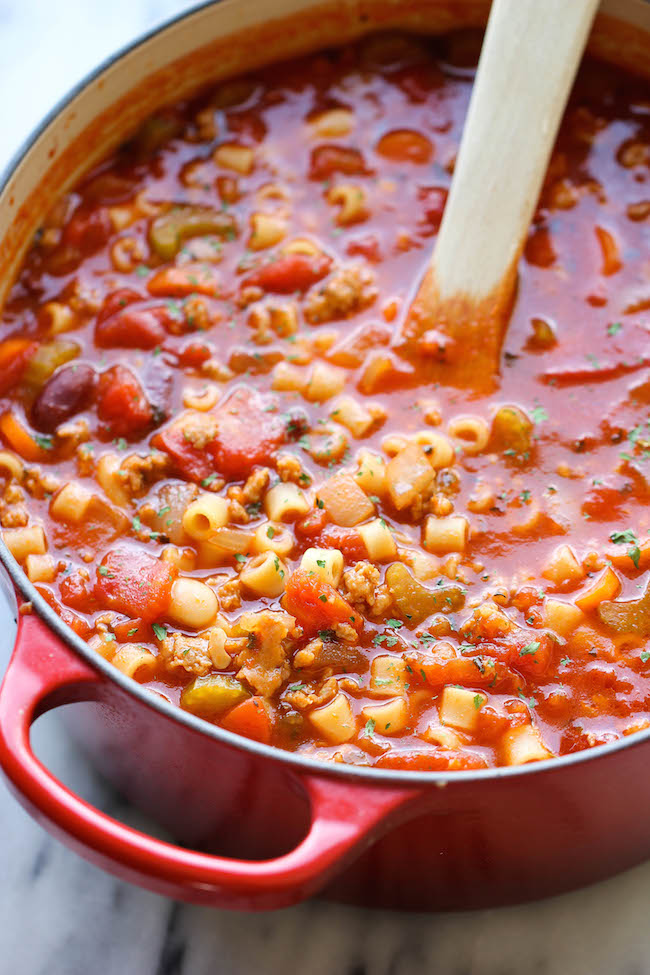 And if you're anything like me, you'll have the AC blasting on your face as you stuff yourself with this hearty, cozy copycat soup!
Olive Garden Pasta e Fagioli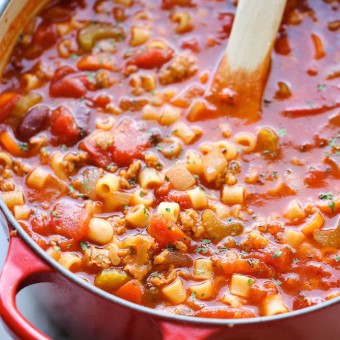 A super easy, no-fuss copycat recipe that's wonderfully hearty and comforting, except it tastes 100x better!
Ingredients:
1 cup ditalini pasta
2 tablespoons olive oil, divided
1 pound spicy Italian sausage, casing removed
3 cloves garlic, minced
1 onion, diced
3 carrots, peeled and diced
2 stalks celery, diced
3 cups chicken broth
1 (16-ounce) can tomato sauce
1 (15-ounce) can diced tomatoes
1 teaspoon dried basil
1 teaspoon dried oregano
3/4 teaspoon dried thyme
Kosher salt and freshly ground black pepper, to taste
1 (15-ounce) can red kidney beans, drained and rinsed
1 (15-ounce) can Great Northern beans, drained and rinsed
Directions:
In a large pot of boiling salted water, cook pasta according to package instructions; drain well and set aside.
Heat 1 tablespoon olive oil in a large stockpot or Dutch oven over medium heat. Add Italian sausage to the skillet and cook until browned, about 3-5 minutes, making sure to crumble the sausage as it cooks; drain excess fat and set aside.
Add remaining 1 tablespoon oil to the stockpot. Stir in garlic, onion, carrots and celery. Cook, stirring occasionally, until tender, about 3-4 minutes.
Whisk in chicken broth, tomato sauce, diced tomatoes, basil, oregano, thyme, Italian sausage and 1 cup water; season with salt and pepper, to taste. Bring to a boil; reduce heat and simmer, covered, until vegetables are tender, about 10-15 minutes.
Stir in pasta and beans until heated through.
Serve immediately.
Why It's A Smart Choice
Nutrition Facts
Serving Size
Servings Per Container 8
---
Amount Per Serving
Calories 340.3 Calories from Fat 87.3
% Daily Value*
Total Fat 9.7g 15%
Saturated Fat 2.7g 14%
Trans Fat 0g
Cholesterol 17.0mg 6%
Sodium 888.5mg 37%
Total Carbohydrate 44.1g 15%
Dietary Fiber 8.4g 34%
Sugars 7.3g
Protein 21.6g 43%
---
*Percent Daily Values are based on a 2,000 calorie diet. Your daily values may be higher or lower depending on your calorie needs.
Beans can be viewed as either a meat alternative or a vegetable. This is because they are high in nutrients from both categories: iron and protein as a meat alternative, and potassium and folate as a vegetable choice!
Nutritional information provided by Jessica Penner, RD at Smart Nutrition.