Quinoa Enchilada Casserole
A lightened-up, healthy enchilada bake that you can enjoy guilt-free, chockfull of quinoa, black beans and cheesy goodness. And the leftovers taste even better!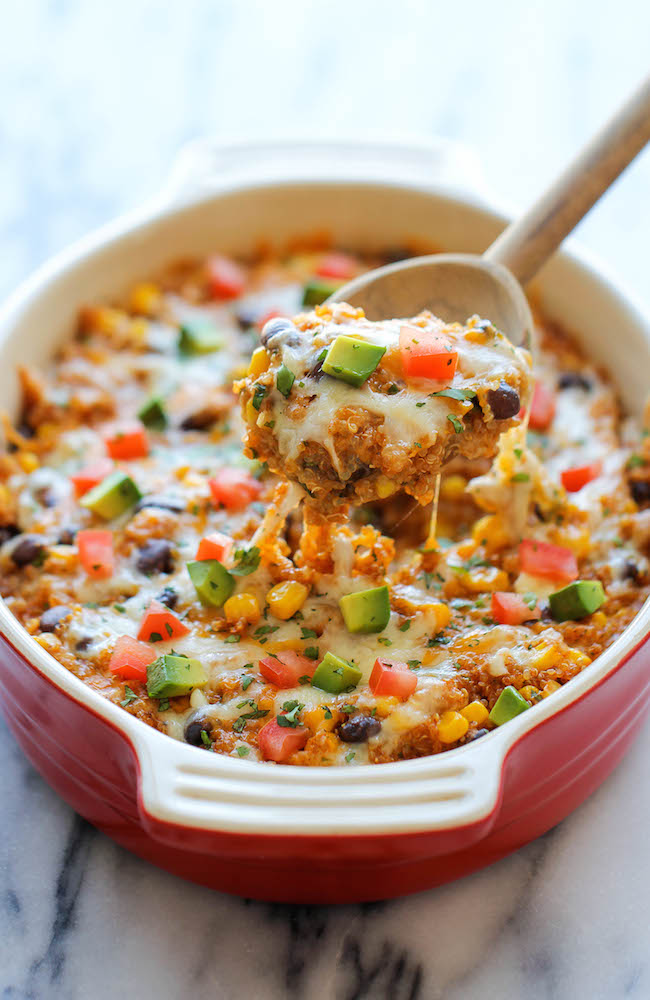 I think it's safe to say that I have somewhat of a love affair with Mexican food. Whether it's fish tacos, cheesy enchiladas or a giant burrito the size of my forearm, I could honestly live off of all of these for the rest of my life.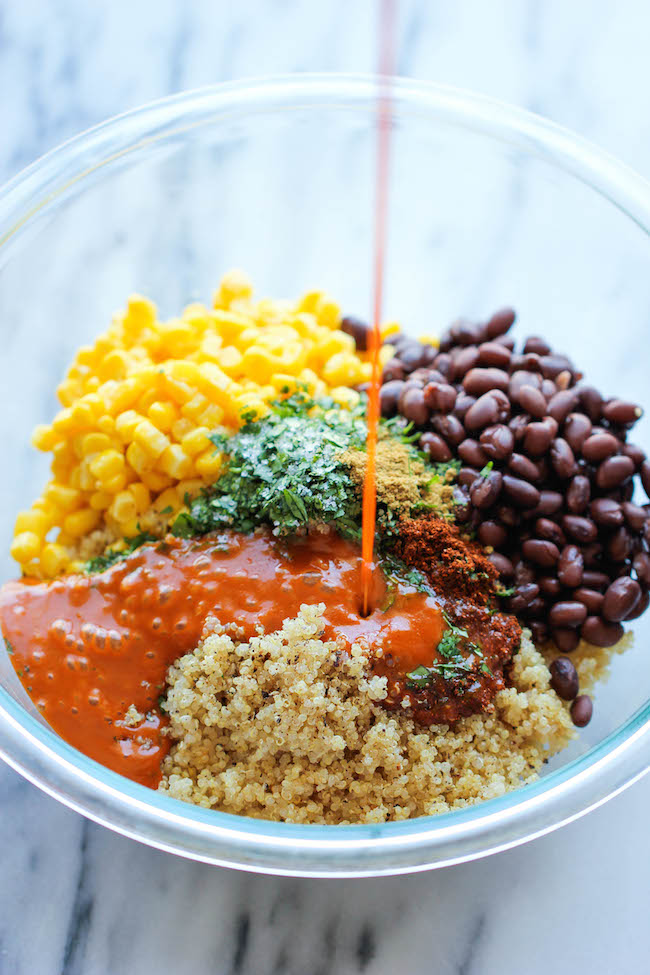 So when Old El Paso asked me to be their brand ambassador for the next year, well, how could I say no? It just gives me an excuse to make even more of my favorite Mexican-inspired dishes to share with you all! And to start things off, I just had to share my favorite Mexican comfort food lightened-up.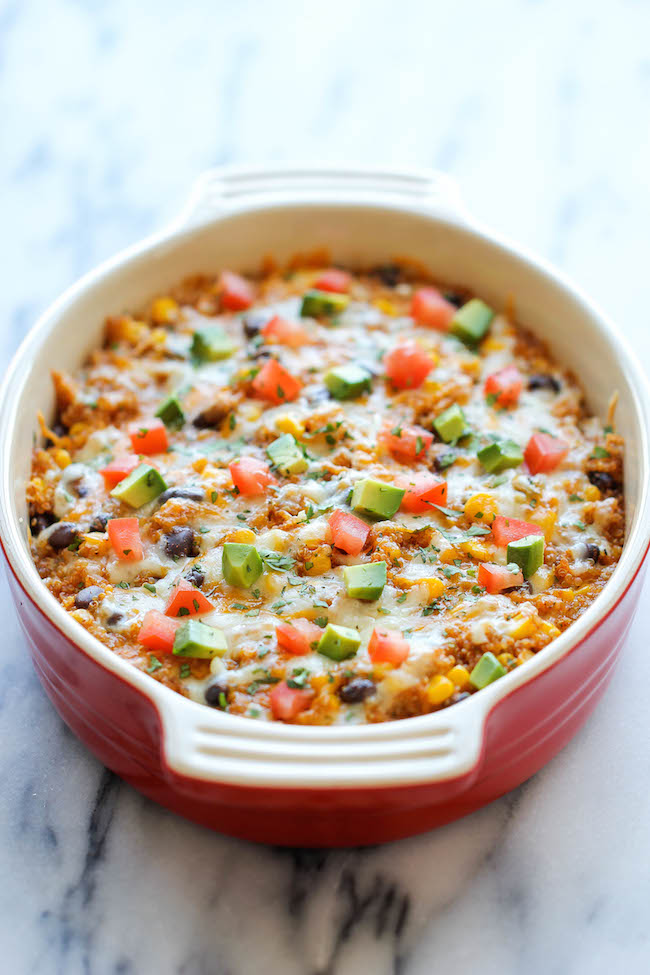 Now this is a super easy enchilada bake with quinoa instead of tortilla. By using quinoa, we're adding in some fun healthy goodies, like protein and fiber, and there's absolutely no rolling or wrapping of any kind. You can simply throw everything into a bowl, mix it up, and bake it from there. Yes, it doesn't get easier than that!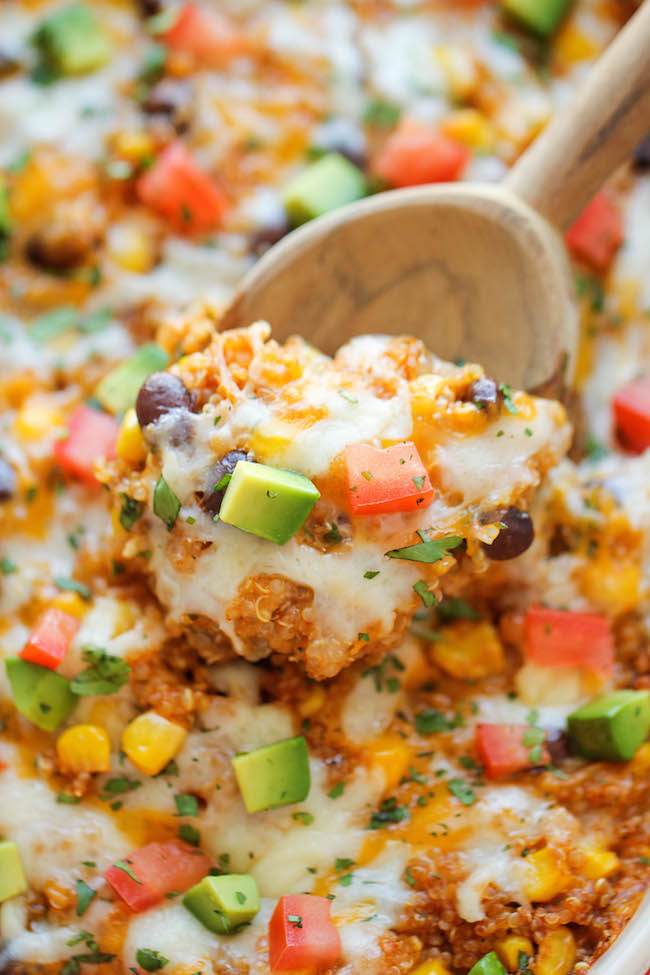 After you let this bake through, you'll have the most amazing cheesy enchilada bake! It's so good, you'll never want to have traditional enchiladas ever again!
Quinoa Enchilada Casserole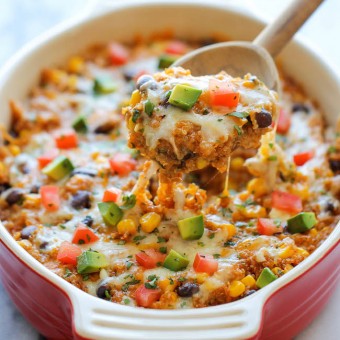 A lightened-up, healthy enchilada bake that you can enjoy guilt-free, chockfull of quinoa, black beans and cheesy goodness!
Ingredients:
1 cup quinoa
1 (10-ounce) can Old El Paso™ mild enchilada sauce
1 (4.5-ounce) can Old El Paso™ chopped green chiles, drained
1/2 cup corn kernels, frozen, canned or roasted
1/2 cup canned black beans, drained and rinsed
2 tablespoons chopped fresh cilantro leaves
1/2 teaspoon cumin
1/2 teaspoon chili powder
Kosher salt and freshly ground black pepper, to taste
3/4 cup shredded cheddar cheese, divided
3/4 cup shredded mozzarella cheese, divided
1 avocado, halved, seeded, peeled and diced
1 Roma tomato, diced
Directions:
In a large saucepan of 2 cups water, cook quinoa according to package instructions; set aside.
Preheat oven to 375 degrees F. Lightly oil an 8×8 or 2 quart baking dish or coat with nonstick spray.
In a large bowl, combine quinoa, enchilada sauce, green chiles, corn, black beans, cilantro, cumin and chili powder; season with salt and pepper, to taste. Stir in 1/2 cup cheddar cheese and 1/2 cup mozzarella cheese.
Spread quinoa mixture into the prepared baking dish. Top with remaining cheeses. Place into oven and bake until bubbly and cheeses have melted, about 15 minutes.
Serve immediately, garnished with avocado and tomato, if desired.
Why It's A Smart Choice
Nutrition Facts
Serving Size
Servings Per Container 6
---
Amount Per Serving
Calories 285.1 Calories from Fat 122.4
% Daily Value*
Total Fat 13.6g 21%
Saturated Fat 5.3g 27%
Trans Fat 0g
Cholesterol 23.5mg 8%
Sodium 289.5mg 12%
Total Carbohydrate 29.2g 10%
Dietary Fiber 6.0g 24%
Sugars 1.4g
Protein 13.2g 26%
---
*Percent Daily Values are based on a 2,000 calorie diet. Your daily values may be higher or lower depending on your calorie needs.
Individuals eating an entirely vegetarian diet need to ensure they are consuming protein from a variety of sources. Unlike meat, fish, and eggs, which contain all the essential protein building blocks (amino acids), vegetarian protein sources are typically low in one or more essential amino acid. Quinoa is the exception! This South American grass contains all 9 essential amino acids.
Due to the "completeness" of its protein, quinoa sometimes gets mislabeled as a high protein food. If you're looking for high protein foods, be aware that quinoa actually has a similar protein content to whole grain brown rice. Regardless, quinoa is a very healthy and smart food choice.
Nutritional information provided by Jessica Penner, RD at Smart Nutrition.
Disclosure: This post is sponsored by Old El Paso. All opinions expressed are my own.