One Pot Lemon Orzo Shrimp
A super easy one pot meal that the whole family will love – even the orzo gets cooked right in the pot!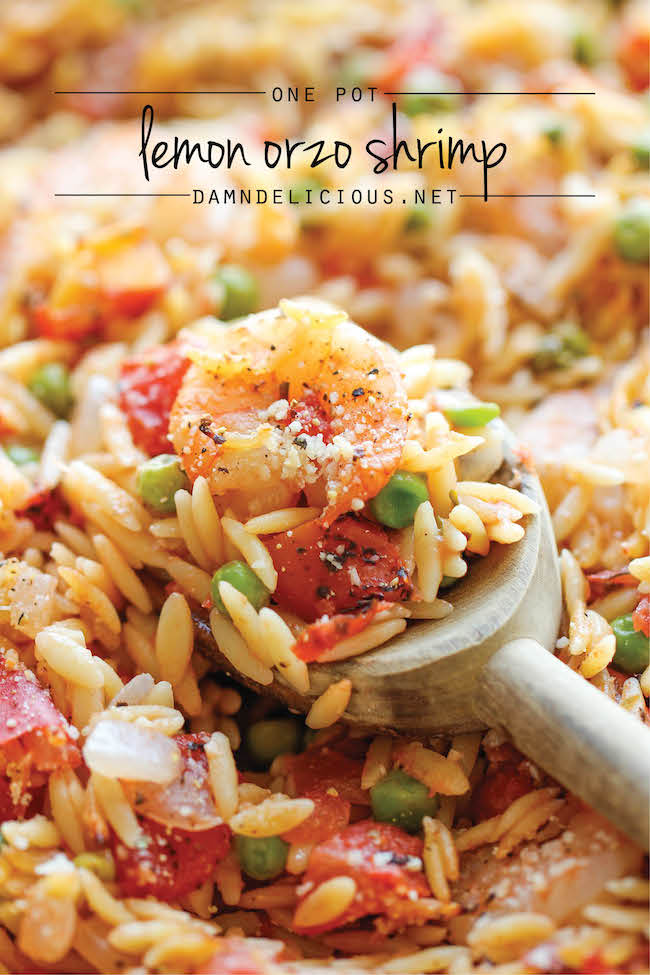 Can we talk about how amazing one pot meals are? Years ago, I would never go near a one pot meal with a ten foot pole – I just had this suspicion that a one pot meal had major taste deficiencies. It was just too easy and too good to be true. But now – well, let's just say that I'm only living off of one pot meals for the rest of my life.
After all, why would you ever want to live in a world where you have dirty up all these dishes when you only need one pot? And this orzo shrimp. Yes, it really comes together in a single pot. Even the uncooked orzo gets cooked right in there!
Plus, you have everything you could possibly need in a hearty meal right in this dish – carbs, veggies, shrimp and tons of flavor. Best of all, it's completely customizable to add in your favorite veggies. It's the perfect clean-out-the-fridge meal!
I'm just dying to make this again with andouille sausage, corn, zucchini and a little bit of red pepper flakes for some added spice. The possibilities are endless.
One Pot Lemon Orzo Shrimp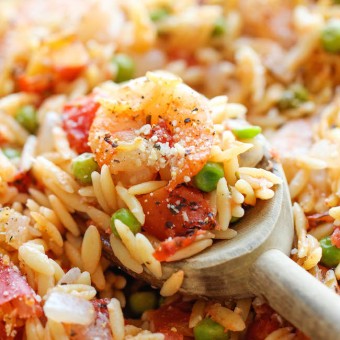 A super easy one pot meal that the whole family will love – even the orzo gets cooked right in the pot!
Ingredients:
1 pound medium shrimp, peeled and deveined
Kosher salt and freshly ground black pepper, to taste
1 tablespoon olive oil
3 cloves garlic, minced
1 onion, diced
1/2 teaspoon dried oregano
8 ounces orzo pasta
2 cups chicken broth
1 (14.5-ounce) can diced tomatoes, drained
1/2 cup frozen peas
Juice of 1 lemon
1/4 cup grated Parmesan cheese
Directions:
Preheat oven to 400 degrees F.
Season shrimp with salt and pepper, to taste; set aside.
Heat olive oil in a large oven-proof skillet over medium high heat. Add garlic, onion and oregano, and cook, stirring often, until onions have become translucent, about 3-4 minutes. Stir in orzo until lightly browned, about 1-2 minutes.
Stir in chicken broth and 1/2 cup water. Bring to a boil; cover, reduce heat and simmer until pasta is cooked through, about 10-12 minutes. Stir in tomatoes, peas, lemon juice and shrimp. Sprinkle with Parmesan.
Place into oven and bake until shrimp are cooked through, about 12-14 minutes.
Serve immediately.
Why It's A Smart Choice
Nutrition Facts
Serving Size
Servings Per Container 4
---
Amount Per Serving
Calories 453.4 Calories from Fat 74.7
% Daily Value*
Total Fat 8.3g 13%
Saturated Fat 2.3g 12%
Trans Fat 0g
Cholesterol 226.6mg 76%
Sodium 557.8mg 23%
Total Carbohydrate 56.0g 19%
Dietary Fiber 4.1g 16%
Sugars 6.8g
Protein 38.4g 77%
---
*Percent Daily Values are based on a 2,000 calorie diet. Your daily values may be higher or lower depending on your calorie needs.
Anyone interested in keeping their blood sugars from spiking is going to want meals that are lower in carbohydrates. 41.5% of the calories in this meal come from protein, making it a high protein meal! It's also low in sodium (at 555 mg per serving) and a good source of Omega 3 fats (400mg/serving). Omega 3 fats are essential and healthy fats that are important for the health of your blood vessels, vision, skin, mood, and memory, but they are only found in select foods – so choose them when you can get them!
Nutritional information provided by Jessica Penner, RD at Smart Nutrition.