One Pot Pizza Pasta Bake
An easy crowd-pleasing one pot meal that the whole family will love! Everyone will be begging for seconds!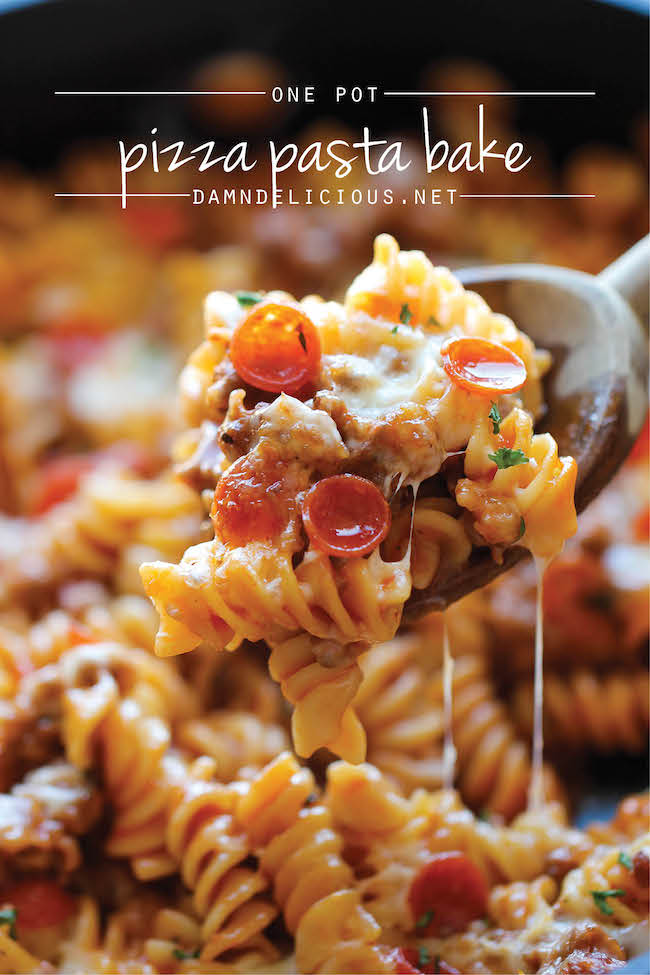 My name is Chung-Ah and I am a mini pepperoni hoarder.
MY OTHER RECIPES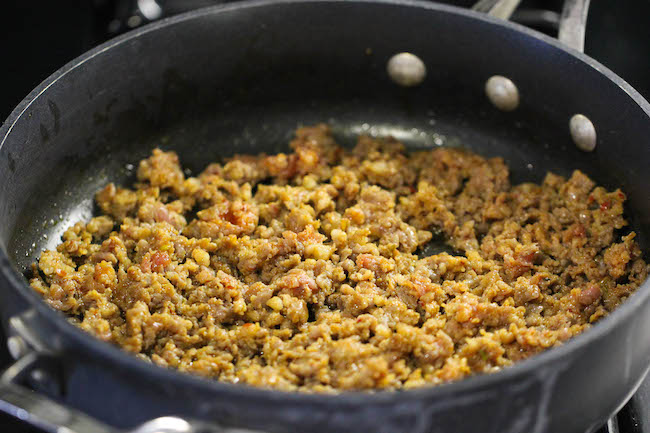 As weird as that sounds, I really am.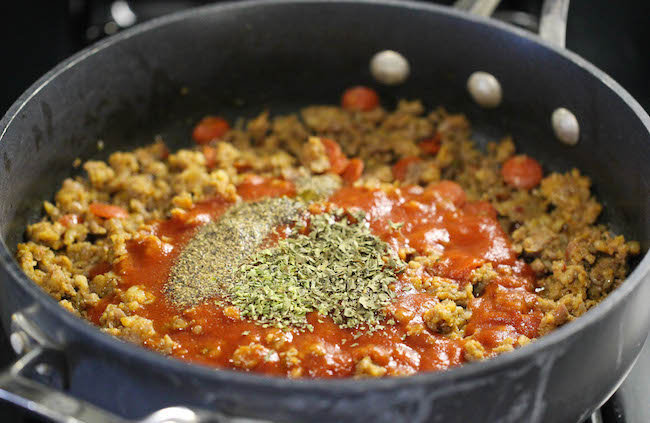 After going to 5 different grocery stores to find mini pepperonis, how do you NOT hoard them?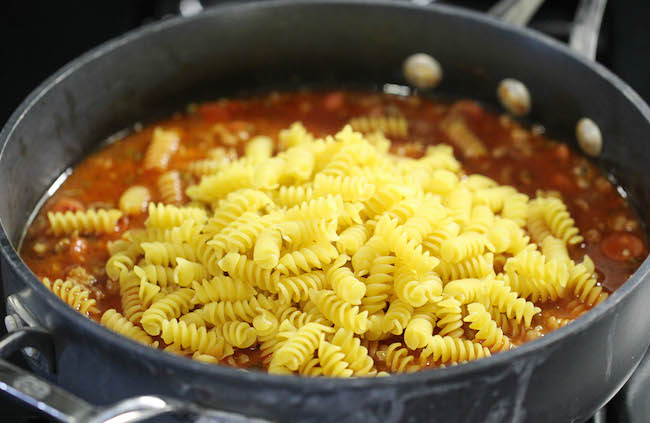 The minute I hit the grocery jackpot, I loaded up the cart with 10 packages of mini pepperonis. I have no idea what I'm going to do with them but who knows when I am going to find mini pepperonis again?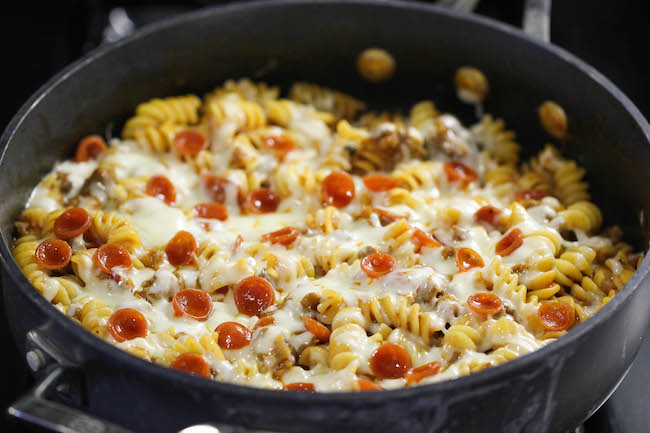 At least I was able to use some of it in this one pot dish. Yes, I have yet another one pot recipe for you guys today. I just can't get enough of these one pot meals!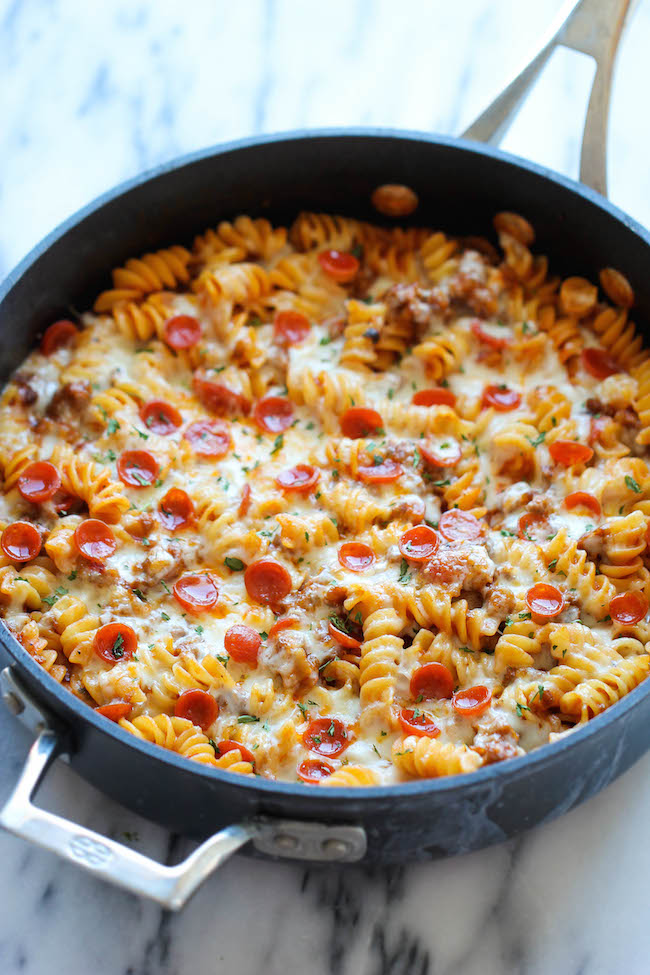 Plus, I'll do anything for less dishes. Jason is the occasional dishwasher but he always lets them sit for 2-3 hrs before cleaning them. I, on the hand hand, need to get them done the minute they hit the sink.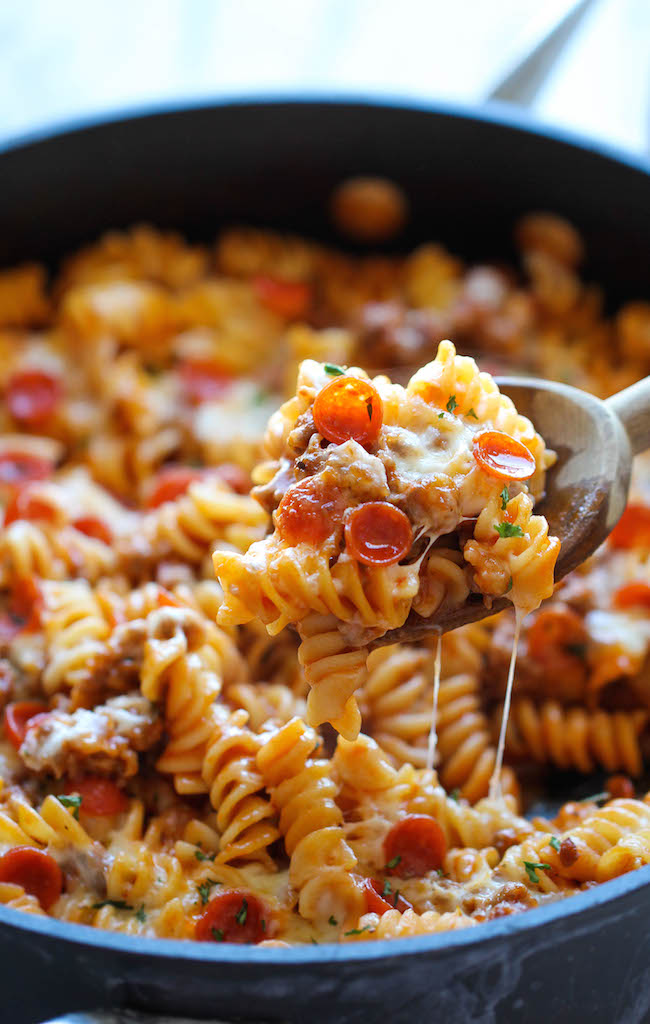 But with this – you'll only find one dirty pot in the sink. And it's the easiest pizza I have ever made. Plus, the mini pepperonis are so much fun to eat!
One Pot Pizza Pasta Bake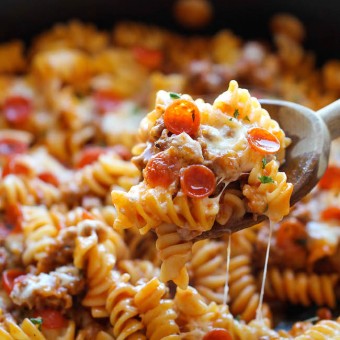 An easy crowd-pleasing one pot meal that the whole family will love! Everyone will be begging for seconds!
Ingredients:
1 tablespoon olive oil
8 ounces spicy Italian sausage, casing removed
1/2 cup mini pepperoni, divided
1 (15-ounce) can tomato sauce
1/2 teaspoon dried oregano
1/2 teaspoon dried basil
1/4 teaspoon garlic powder
8 ounces rotini pasta
Kosher salt and freshly ground black pepper, to taste
1 cup shredded mozzarella cheese
2 tablespoons chopped fresh parsley leaves
Directions:
Preheat oven to broil.
Heat olive oil in a large oven-proof skillet over medium high heat. Add Italian sausage and cook until browned, about 3-5 minutes, making sure to crumble the sausage as it cooks; drain excess fat. Stir in 1/4 cup pepperoni until heated through, about 1 minute.
Stir in tomato sauce, oregano, basil garlic powder, pasta and 1 1/2 cups water; season with salt and pepper, to taste. Bring to a boil; cover, reduce heat and simmer until pasta is cooked through, about 12-14 minutes.
Remove from heat; top with mozzarella and remaining 1/4 cup pepperoni. Place into oven and cook until melted and golden brown, about 2 minutes.
Serve immediately, garnished with parsley, if desired.
Nutrition Facts
Serving Size
Servings Per Container 4
---
Amount Per Serving
Calories 508.8 Calories from Fat 197.1
% Daily Value*
Total Fat 21.9g 34%
Saturated Fat 8.4g 42%
Trans Fat 0g
Cholesterol 54.7mg 18%
Sodium 1294.9mg 54%
Total Carbohydrate 50.4g 17%
Dietary Fiber 3.6g 14%
Sugars 6.4g
Protein 27.7g 55%
---
*Percent Daily Values are based on a 2,000 calorie diet. Your daily values may be higher or lower depending on your calorie needs.