Baked Zucchini Fries
These fries are amazingly crisp-tender and healthy with just 135.4 calories. And no one would ever believe that these are actually baked!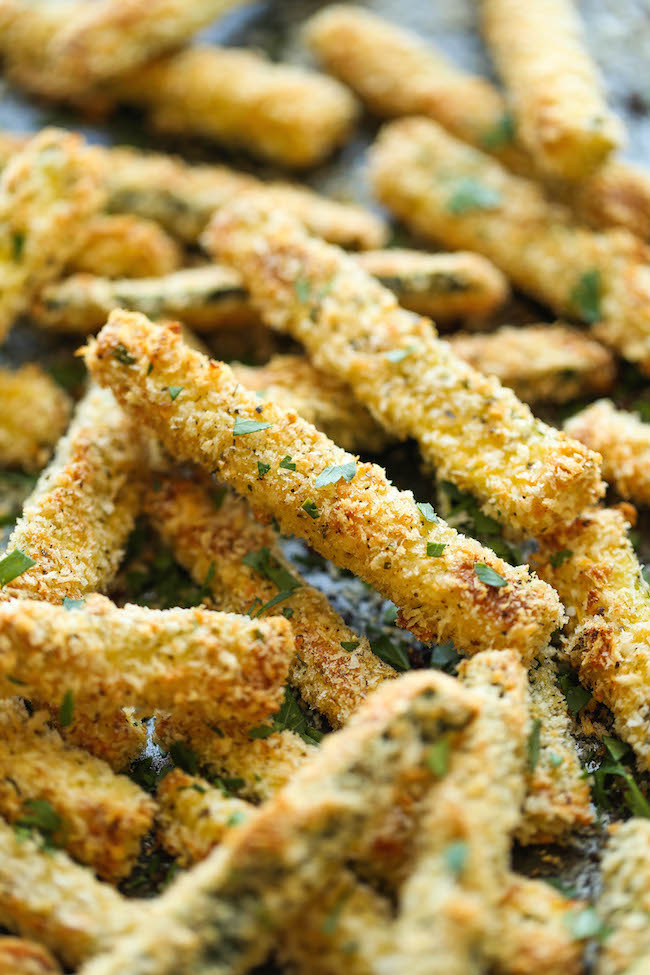 This recipe was actually posted back in 2011. I had just started this blog two months prior, and needless to say, the photos did not do any kind of justice to them.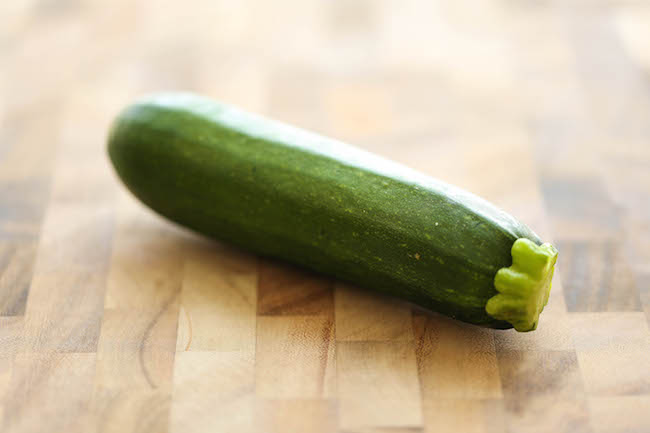 Now I surely do not want anyone missing out on these fries so I have updated the photos and recipe to convince you to make these this very second.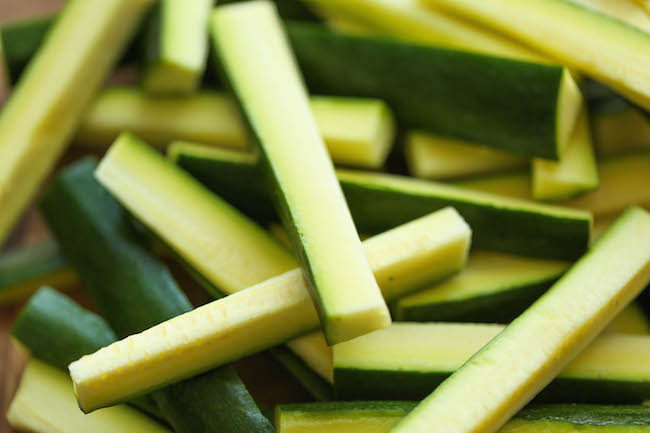 Yes, that emergency grocery run may just be necessary. You can pick up some zucchini and some pineapple juice so you can also make these mimosas tomorrow morning.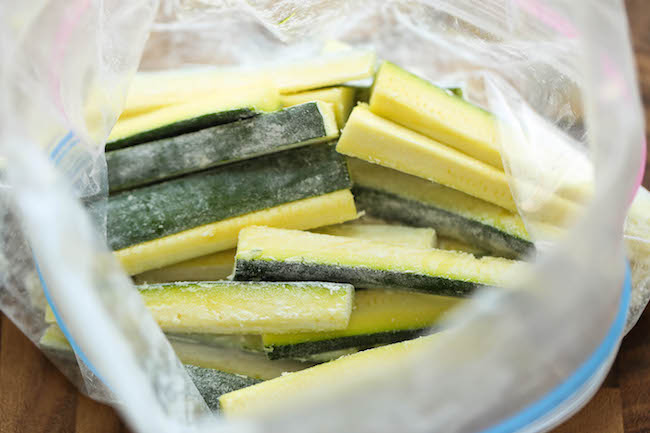 Now this recipe is similar to one of my most popular recipes – Baked Parmesan Zucchini – except these have a nice crisp Parmesan-herb breading on them, baked completely on top of a cooling rack to help get these babies nice and crisp.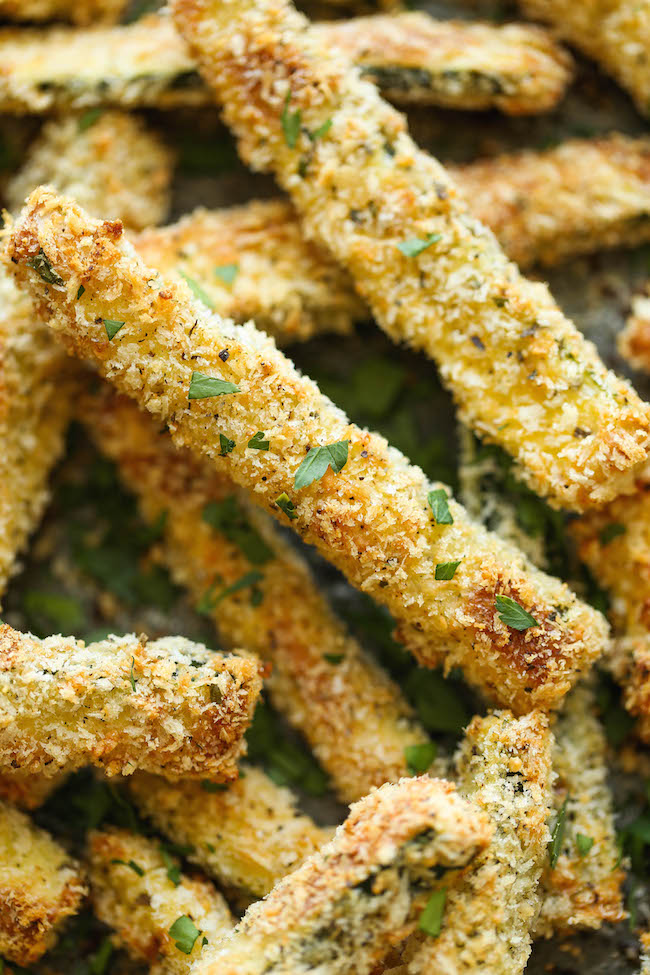 There's absolutely no hot pot of oil involved here – you just don't need it. These fries are amazingly crisp right out of the oven – so crisp that no one would ever believe these didn't hit a single drop of oil.
When ready to serve, you can dunk these in your favorite dipping sauce – Ranch, garlic aioli, marinara – it's up to you/ Best of all, you can enjoy every bite of these completely guilt-free.
Baked Zucchini Fries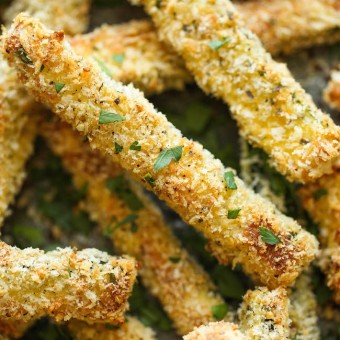 These fries are amazingly crisp-tender and healthy with just 135.4 calories. And no one would ever believe that these are baked!
Ingredients:
1 cup Panko*
1/2 cup freshly grated Parmesan cheese
1 teaspoon Italian seasoning
Kosher salt and freshly ground black pepper, to taste
4 zucchini, quartered lengthwise
1/2 cup all-purpose flour
2 large eggs, beaten
2 tablespoons chopped fresh parsley leaves
Directions:
Preheat oven to 425 degrees F. Coat a cooling rack with nonstick spray and place on a baking sheet; set aside.
In a large bowl, combine Panko, Parmesan and Italian seasoning; season with salt and pepper, to taste. Set aside.
Working in batches, dredge zucchini in flour, dip into eggs, then dredge in Panko mixture, pressing to coat.
Place zucchini onto prepared baking sheet. Place into oven and bake for 20-22 minutes, or until golden brown and crisp.
Serve immediately, garnished with parsley, if desired.
*Panko is a Japanese-style breadcrumb and can be found in the Asian section of your local grocery store.
Why It's A Smart Choice
Nutrition Facts
Serving Size
Servings Per Container 6
---
Amount Per Serving
Calories 135.4 Calories from Fat 40.5
% Daily Value*
Total Fat 4.5g 7%
Saturated Fat 2.0g 10%
Trans Fat 0g
Cholesterol 76.8mg 26%
Sodium 181.0mg 8%
Total Carbohydrate 15.6g 5%
Dietary Fiber 0.4g 2%
Sugars 0.5g
Protein 7.8g 16%
---
*Percent Daily Values are based on a 2,000 calorie diet. Your daily values may be higher or lower depending on your calorie needs.
Zucchinis are a good source of folate, Vitamin A, potassium, and antioxidants. Additionally, this recipe is a great way to add a boost of protein to your veggie side dish – but make sure the zucchinis are well coated with the eggs to get the most amount of protein.
Nutritional information provided by Jessica Penner, RD at Smart Nutrition.