Mini Cauliflower Pizzas
These pizzas are made into easy single-serving portions and are so much healthier with a crisp cauliflower crust! 98.5 calories.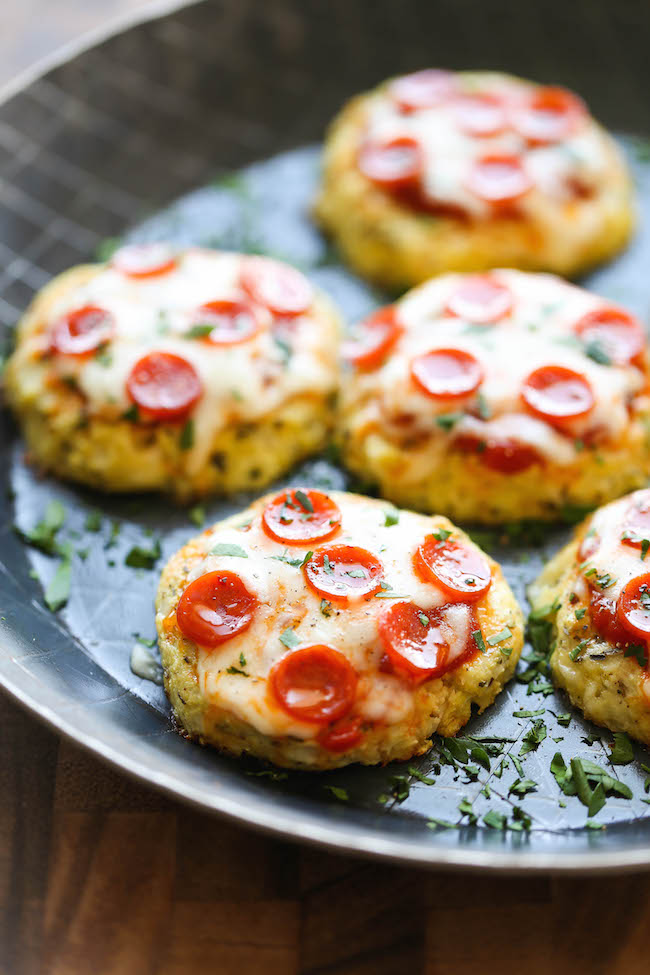 Cauliflower pizza crusts. Yay or nay?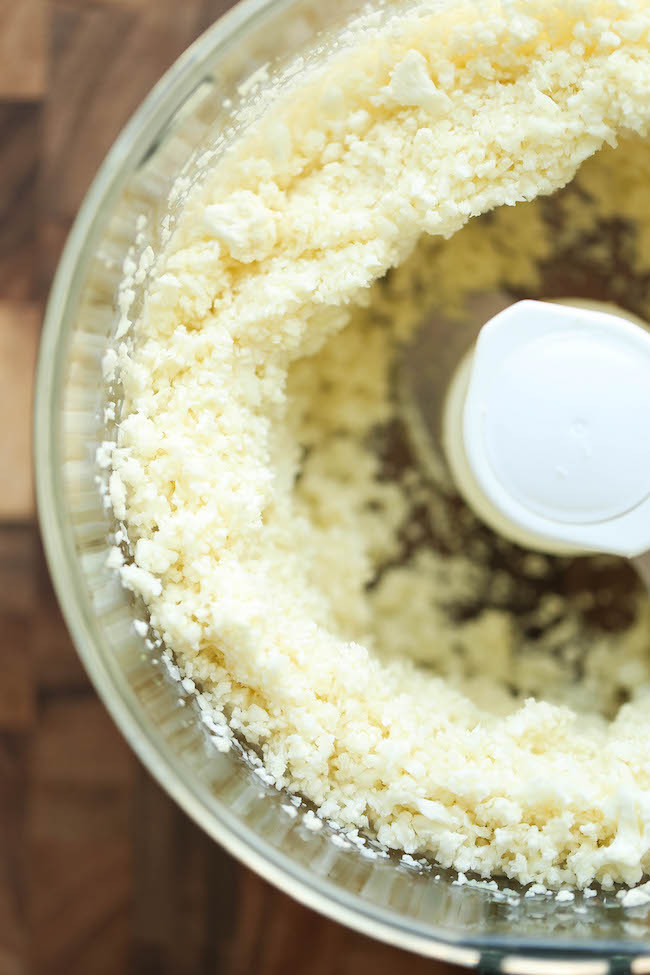 I was always on the nay side of this. I mean a pizza crust made out of a veggie? Where's that crusty, airy, crisp carb goodness? But as they always say, never judge a book by its cover because this cauliflower crust must be tried.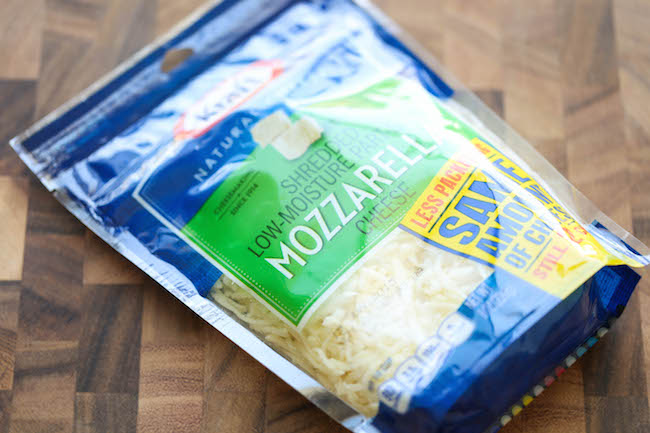 Now it's fairly easy to get this all going, especially with the help of a food processor. The trick is to really soak out all the liquid from the cauliflower as much as possible, or else your crust will not hold up.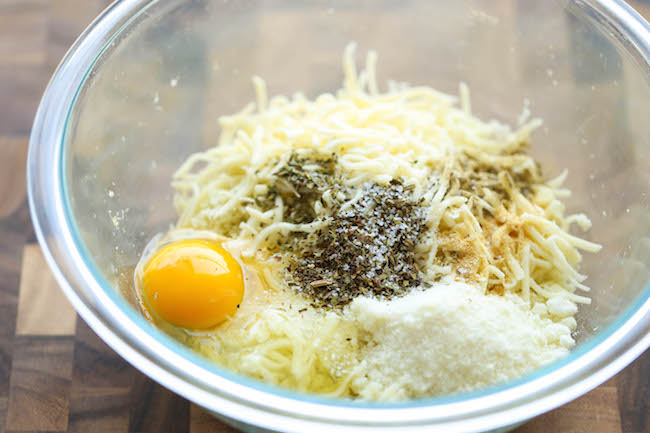 From there, you can make these into mini pizzas or one large pizza, or even tiny little breadsticks – it's up to you. And you can throw on your desired toppings, to taste. That's the beauty of home cooking, right?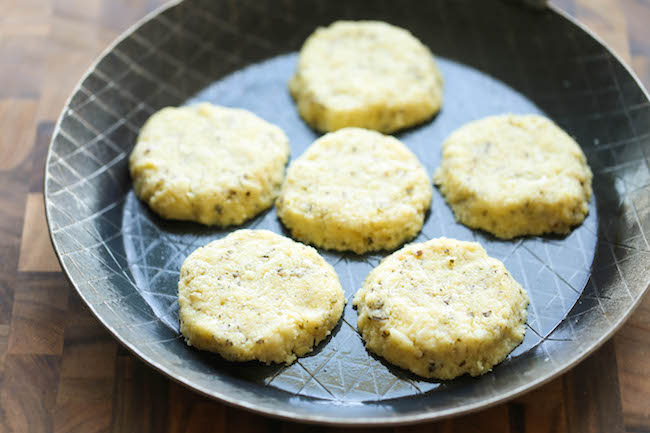 For these, I figured mini pepperonis were best in the spirit of miniature sized foods. Best of all there's only 98.5 calories per pizza! Now that is a guilt-free pizza I can enjoy any day of the week.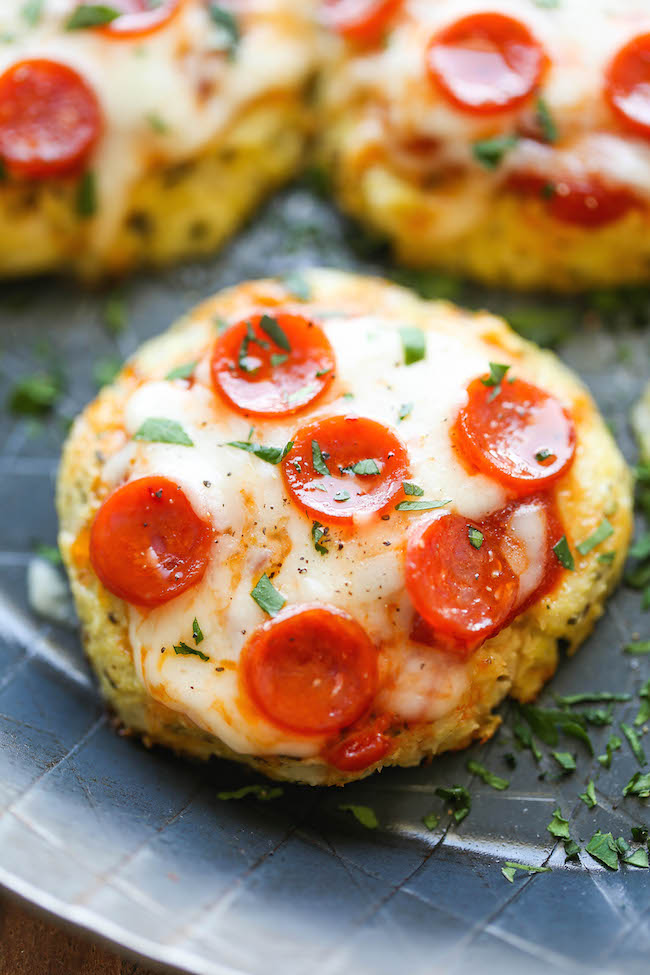 Mini Cauliflower Pizzas
These pizzas are made into easy single-serving portions and are so much healthier with a crisp cauliflower crust! 98.5 calories.
Ingredients:
1/3 cup marinara sauce
1/2 cup shredded mozzarella cheese
1/4 cup pepperoni minis
2 tablespoons chopped fresh basil leaves
For the cauliflower crust
1 head cauliflower, chopped
1 large egg
1/3 cup shredded mozzarella cheese
2 tablespoons freshly grated Parmesan
1 teaspoon dried basil
1/2 teaspoon dried oregano
1/2 teaspoon garlic powder
1/4 teaspoon onion powder
Kosher salt and freshly ground black pepper, to taste
Directions:
Preheat oven to 425 degrees F. Line a baking sheet with parchment paper or a silicone baking mat; set aside.
To make the cauliflower crust, add cauliflower to the bowl of a food processor and pulse until finely ground, yielding about 2-3 cups.*
Transfer to a microwave-safe bowl. Cover loosely and place into microwave for 4-5 minutes, or until softened; let cool.
Using a clean dish towel or cheese cloth, drain cauliflower completely, removing as much water as possible.
Transfer cauliflower to a large bowl. Stir in egg, mozzarella, Parmesan, basil, oregano, garlic powder and onion powder; season with salt and pepper, to taste.
Using an ice cream scoop, spread cauliflower mixture into a circle for each pizza and place onto the prepared baking sheet. Spray lightly with nonstick spray and bake for 10-12 minutes, or until golden.
Top each cauliflower round with marinara, mozzarella and pepperoni minis. Place into oven and cook until the cheese has melted, about 3-4 minutes.
Serve immediately, sprinkled with basil, if desired.
*A box grater can also be used.
Why It's A Smart Choice
Nutrition Facts
Serving Size
Servings Per Container 8
---
Amount Per Serving
Calories 98.5 Calories from Fat 54
% Daily Value*
Total Fat 6.0g 9%
Saturated Fat 3.0g 15%
Trans Fat 0g
Cholesterol 38.4mg 13%
Sodium 202.6mg 8%
Total Carbohydrate 5.8g 2%
Dietary Fiber 1.7g 7%
Sugars 2.5g
Protein 6.3g 13%
---
*Percent Daily Values are based on a 2,000 calorie diet. Your daily values may be higher or lower depending on your calorie needs.
Substituting cauliflower for flour reduces calories and increases the fiber content of a pizza crust. Compare 1 head of cauliflower that has 144 calories and over 10g of fiber to 2 cups of all-purpose flour which has 483 calories and only 3.6g of fiber!
Nutritional information provided by Jessica Penner, RD at Smart Nutrition.