Zucchini Alfredo
Healthy, decadent, amazingly creamy AND low-carb. Finally, a guilt-less alfredo dish that the entire family can enjoy! 203.6 calories.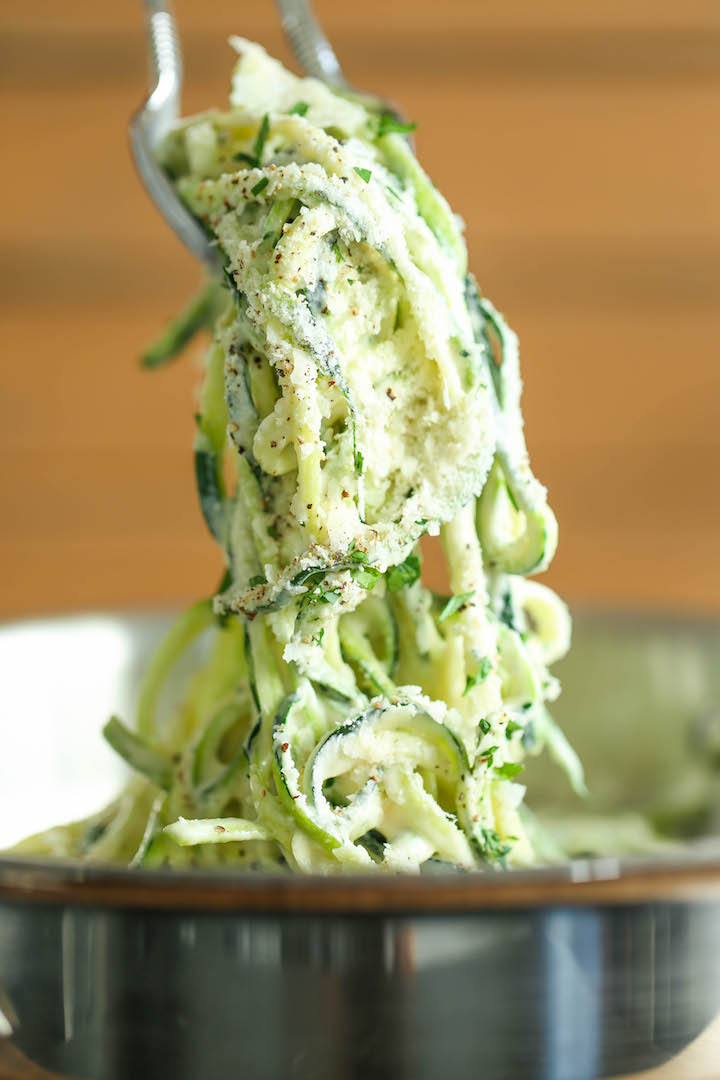 After this UBE stuffed hot glazed donut, I needed to go on a health binge.
MY OTHER RECIPES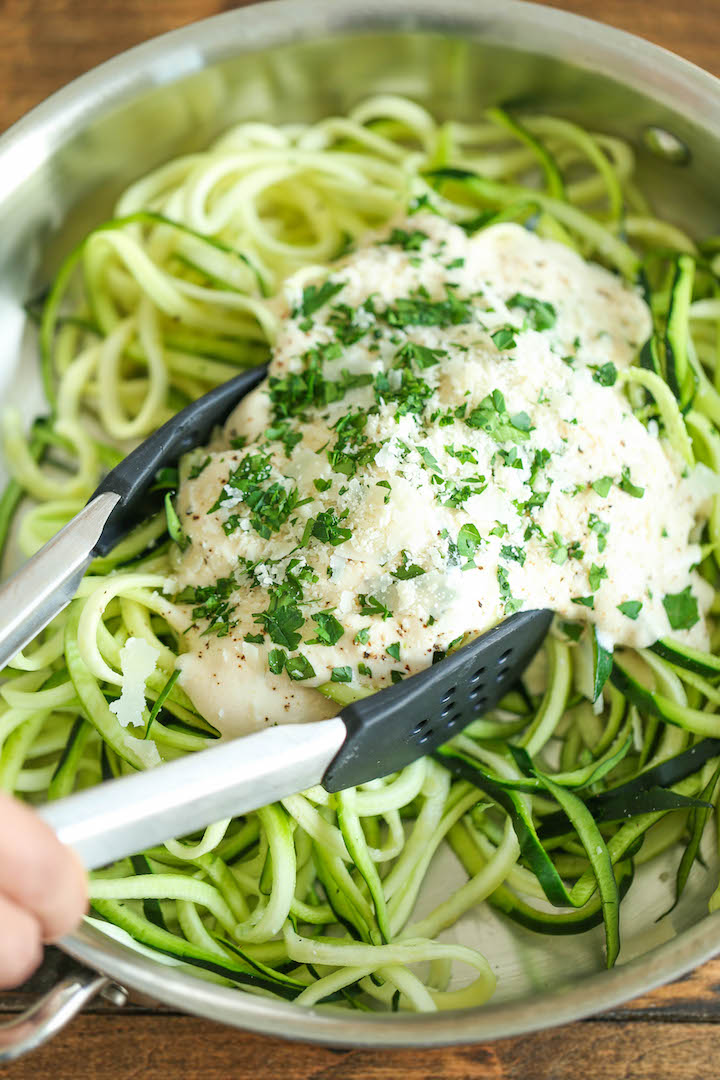 I mean, I was ready to have about 100 of those. But after devouring that entire donut in 0.152545 seconds, I turned to this instead.
This creamy, buttery, garlicky, melt-in-your mouth alfredo sauce, loaded with freshly grated Parmesan. But don't worry. It's completely low carb with these zucchini noodles.
It's pretty much an alfredo recipe that you can enjoy without worrying about calories – instead, you'll be sneaking in all those veggies!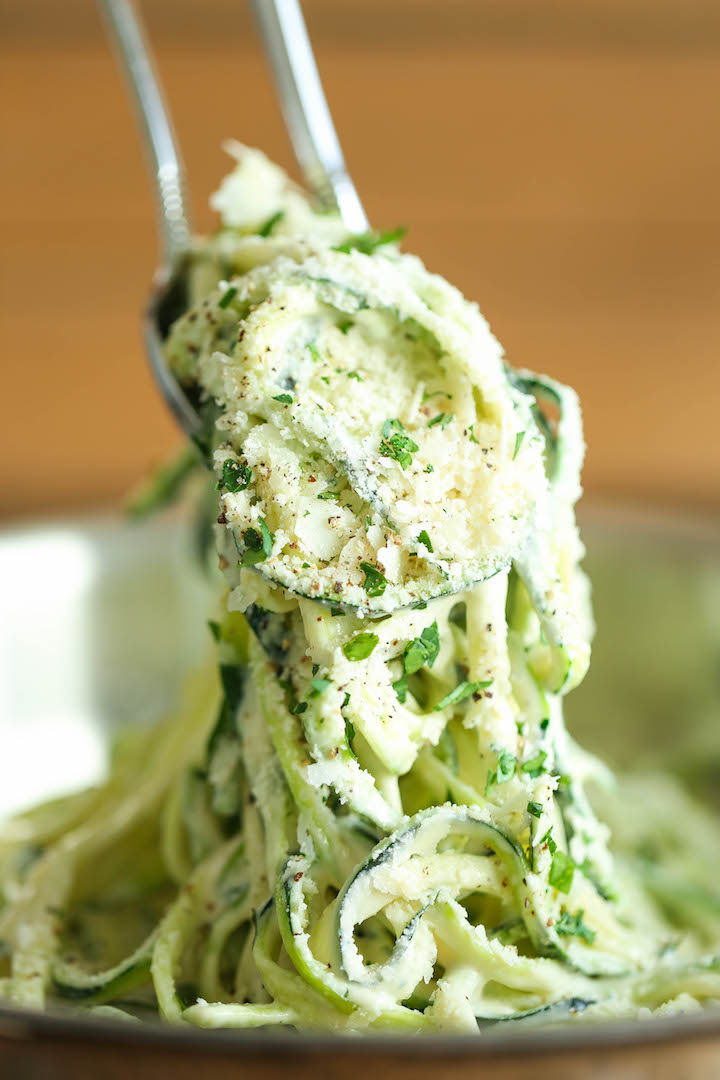 I will be honest though – it's no UBE donut but it does come to a close second.
Zucchini Alfredo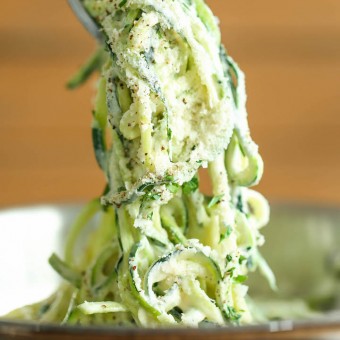 Healthy, decadent, amazingly creamy AND low-carb. Finally, a guilt-less alfredo dish that the entire family can enjoy! 203.6 calories.
Ingredients:
3 tablespoons unsalted butter, divided
1 pound (3 medium-sized) zucchini, spiralized*
2 cloves garlic, minced
2 tablespoons all-purpose flour
1 1/2 cups 2% milk, or more, as needed
1/2 teaspoon dried thyme
1/2 teaspoon dried oregano
1/4 cup half and half*
1/4 cup freshly grated Parmesan cheese
Kosher salt and freshly ground black pepper, to taste
2 tablespoons chopped fresh parsley leaves
Directions:
Melt 1 tablespoon butter in a saucepan over medium heat. Add zucchini and cook, stirring occasionally, until tender and heated through, about 3-5 minutes; set aside.
Melt remaining 2 tablespoons butter in the saucepan. Add garlic, and cook, stirring frequently, until fragrant, about 1-2 minutes. Whisk in flour until lightly browned, about 1 minute.
Gradually whisk in milk, thyme and oregano. Cook, whisking constantly, until incorporated, about 1-2 minutes. Stir in half and half and Parmesan until slightly thickened, about 1-2 minutes. If the mixture is too thick, add more milk as needed; season with salt and pepper, to taste.
Stir in zucchini and gently toss to combine.
Serve immediately, garnished with parsley, if desired.
*This is the spiral slicer that I use. It's so easy to use – it honestly just takes minutes to spiralize!
*Half and half is equal parts of whole milk and cream. For 1 cup half and half, you can substitute 3/4 cup whole milk + 1/4 cup heavy cream or 2/3 cup skim or low-fat milk + 1/3 cup heavy cream
Nutrition Facts
Serving Size
Servings Per Container 4
---
Amount Per Serving
Calories 203.6 Calories from Fat 127.8
% Daily Value*
Total Fat 14.2g 22%
Saturated Fat 8.3g 42%
Trans Fat 0.5g
Cholesterol 39.5mg 13%
Sodium 168.5mg 7%
Total Carbohydrate 12.5g 4%
Dietary Fiber 1.5g 6%
Sugars 7.6g
Protein 8.0g 16%
---
*Percent Daily Values are based on a 2,000 calorie diet. Your daily values may be higher or lower depending on your calorie needs.