Parmesan Zucchini and Corn
A healthy 10 minute side dish to dress up any meal. It's so simple yet full of flavor!

Just the other day, I was taking out the trash and left it in the corner of the door as a reminder to take it out when I left the apartment. But after I went into the office for a 20 min conference call, I found Butters' on the kitchen floor eating a zucchini round along with a huge tear on the bottom of the trash bag. I freaked out, taped up the trash bag, and moved at a lighting fast pace to discard the zucchini. And as any first time crazed dog parent, I googled "dog eating zucchini" to see if I needed to do yet another emergency vet visit.
But oddly enough, after much research, I found that raw zucchini slices is actually an amazing low-calorie snacking option for dogs. So after the trash debacle, I took out a fresh zucchini and sliced it up to see if he would eat it, and he did! He not only ate it but he LOVED IT. He gave me those puppy eyes, begging for more and more. So on my next grocery visit, I stocked up on a ton of zucchini for the little guy. But little did I know that once I sliced it up for him, he wouldn't go near it. And this was the very next day. Oy.
So in an effort to use it up all this zucchini, I decided to make a super easy side dish with some roasted corn I had in the freezer, dressing it up a bit with dried herbs, a squeeze of lime juice and fresh cilantro leaves. But you know I couldn't leave it as is. I sprinkled on some Parmesan cheese and called it a day. It's unbelievably simple yet full of fun flavors with every bite. Best of all, you can whip this up in just 10 minutes. You can't beat that!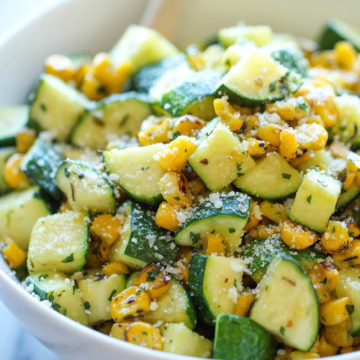 Parmesan Zucchini and Corn
A healthy 10 minute side dish to dress up any meal. It's so simple yet full of flavor!
5 minutes
5 minutes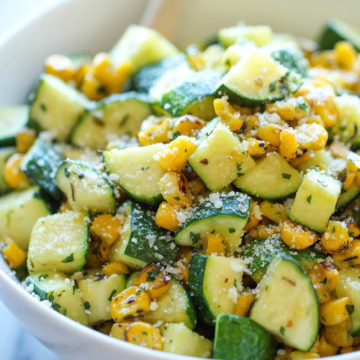 Ingredients:
2 tablespoons olive oil
2 cloves garlic, minced
4 zucchinis, diced
1 cup corn kernels, frozen, canned or roasted
1/4 teaspoon dried basil
1/4 teaspoon dried oregano
1/4 teaspoon dried thyme
Kosher salt and freshly ground black pepper, to taste
Juice of 1 lime
2 tablespoons chopped fresh cilantro leaves
2 tablespoons grated Parmesan, or more, to taste
Directions:
Heat olive oil in a large skillet over medium high heat. Add garlic to the skillet, and cook, stirring frequently, until fragrant, about 1 minute.
Add zucchini, corn, basil, oregano and thyme. Cook, stirring occasionally, until zucchini is tender and cooked through, about 3-4 minutes; season with salt and pepper, to taste. Stir in lime juice and cilantro.
Serve immediately, sprinkled with Parmesan.
Did you Make This Recipe?
Tag @damn_delicious on Instagram and hashtag it #damndelicious.