Jalapeño Popper Pizza
All the flavors of a jalapeño popper is so much better in cheesy pizza form!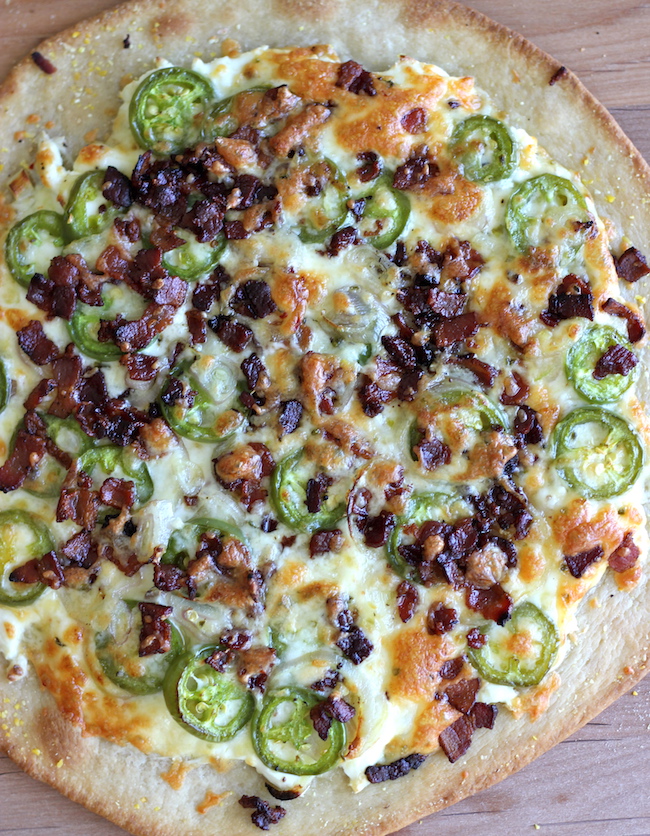 I have a confession to make. I bought this awesome pizza pan at Williams & Sonoma with the giftcard that I won from the wonderful Amy over at Fearless Homemaker back in December, and I just used it for the first time last week. I'm really not sure how we got from December to May, almost June actually. All I know is that I finally inaugurated Mr. Pizza Stone with this fantastic jalapeño popper pizza. It took about 6 months or so but it was so worth it.
Just imagine a jalapeño popper in the form of a pizza. It's freakishly amazing – just ask Jason. We split the pizza 20/80, and he usually gives me 40/60.
So with this pizza, the marinara is substituted with a cream cheese base. So much better, right? Then we top that off with my favorite jalapeño monterey jack cheese from Trader Joe's, fresh jalapeños, shallots, and of course, crumbled bacon. You can't go anywhere without the bacon, right? Except for yesterday's fries, of course. I'm still regretting that by the way.
No, but really, I'm amazed as to how just 3 ingredients and 2 types of cheeses can create such a delightful pizza. And once you have all the pizza dough ready to go, it takes as much as 5 minutes to add the toppings and another 20 to go in the oven. I'll be sure to make plenty of pizza dough for the freezer next time so I can make this again during the work week.
So here's how you make this. The oven should be preheated to 475 degrees F.
Go ahead and start crisping up some bacon.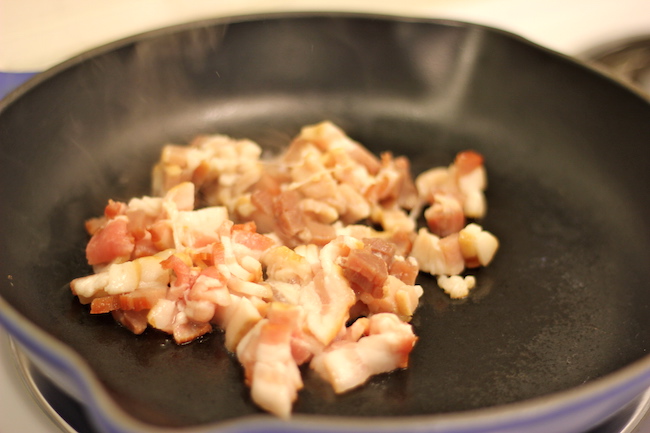 Just look at all of that gorgeous bacon fat.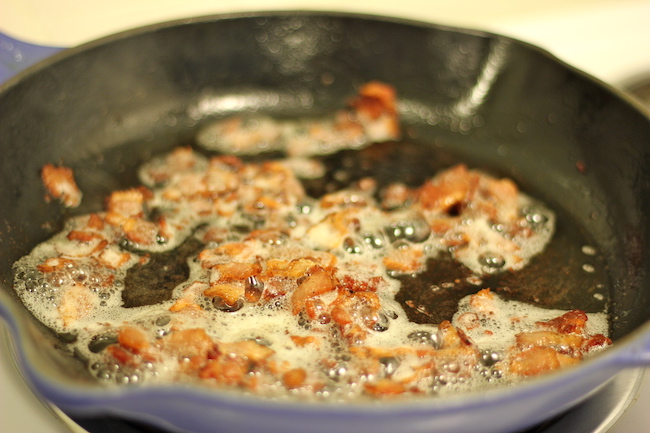 Toss a couple of jalapeños and shallots with some olive oil. Be sure to wear gloves when handling jalapeños. I cannot tell you how many times I've burned my eyes and nose after touching jalapeños. Yikes!
I had some leftover pizza dough sitting in my freezer so I thawed it in the refrigerator for 24 hours. Once it's nicely thawed, roll it out into a 10 or 11-inch diameter, or as thin as possible. My dough wouldn't go past 8 inches.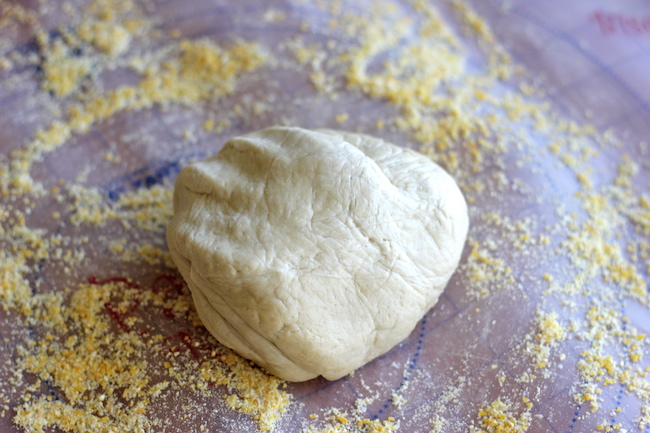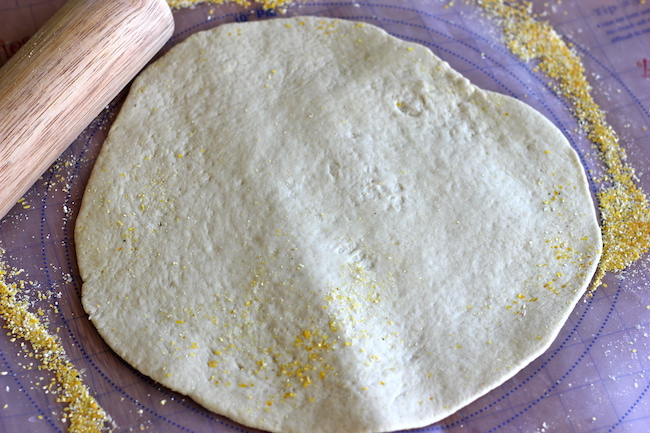 Transfer the dough to an oiled baking sheet or pizza pan. Spread some softened cream cheese evenly over the top, leaving some room for the crust.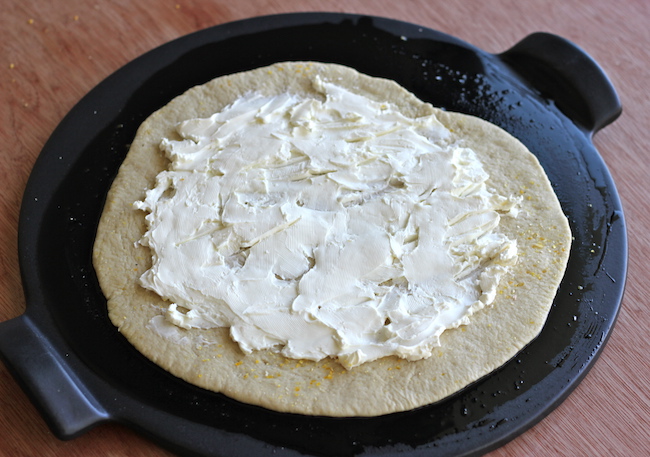 Here comes the good stuff, Trader Joe's jalapeno monterey jack cheese. This is some amazing stuff, guys. I could seriously eat a block of it on its own.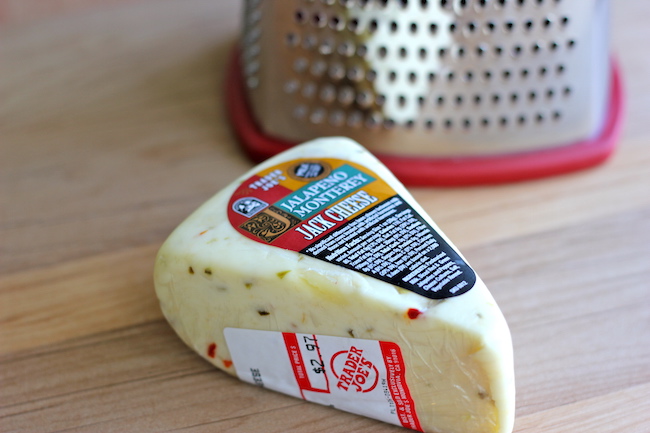 Cheese heaven, right?  I just want to run around this mound and jump on it barefoot. Or would that be entirely weird?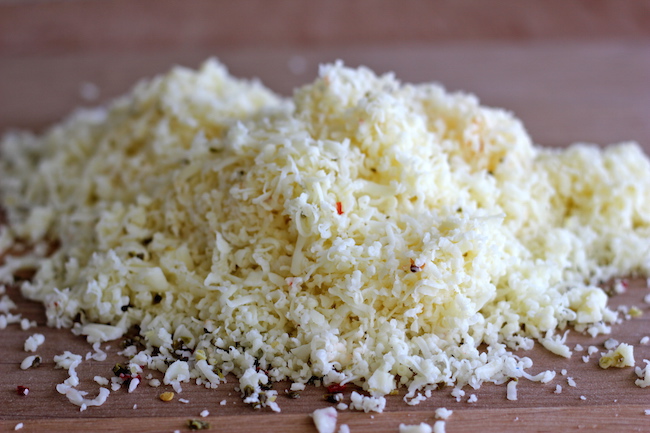 Go ahead and sprinkle this stuff on top of the cream cheese. I used about a cup and a half but feel free to use more or less. I'd say more.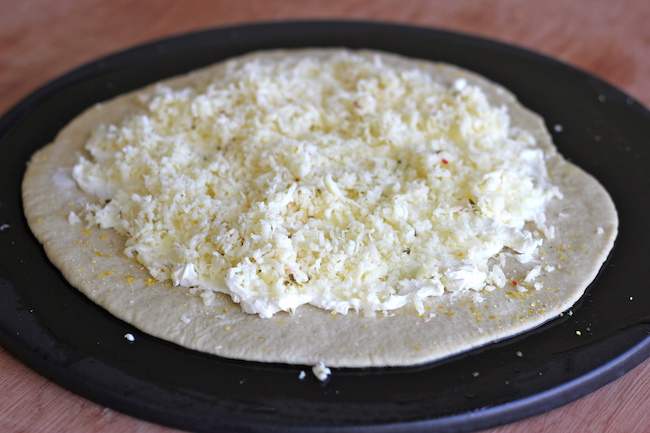 Top the cheese off with the jalapeños, shallots and crumbled bacon. Super easy, right?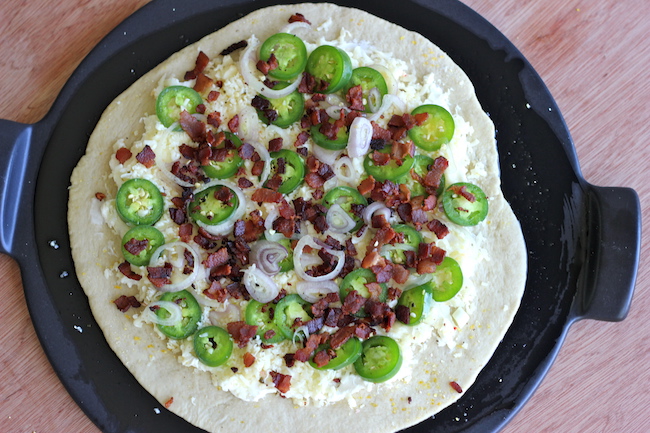 Pop this into the oven for about 15-20 minutes, or until the crust is a nice golden brown and has crisped. Voila, dinner is served.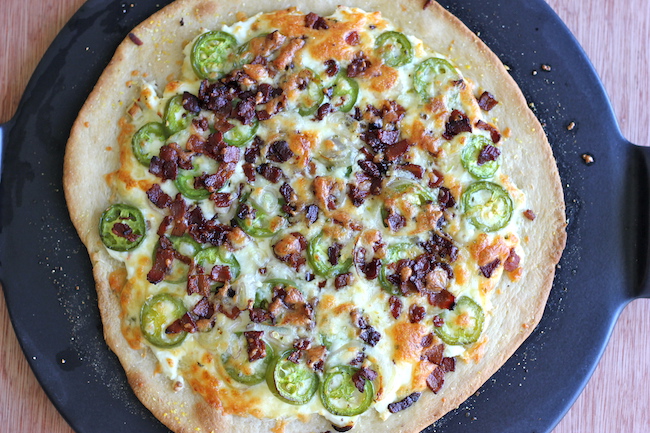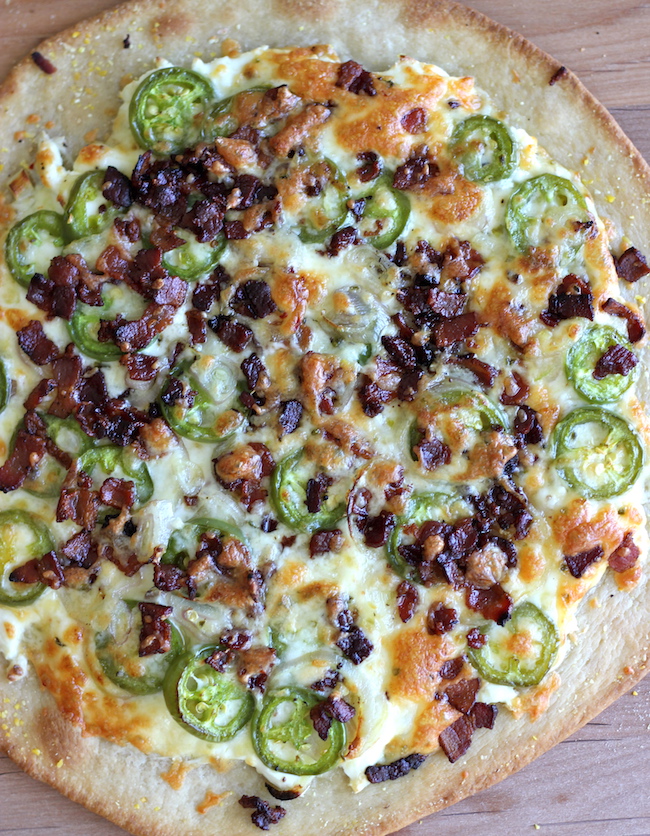 All the flavors of a jalapeño popper is so much better in cheesy pizza form!
Ingredients
2 tablespoons olive oil
4 slices bacon, chopped
2 jalapeños, sliced
1 shallot, sliced
1/4 cup semolina or yellow cornmeal
1 ball pizza dough, homemade or store-bought
6 ounces cream cheese, softened
1 1/2 cups grated jalapeño monterey jack cheese
Instructions
Preheat oven to 475 degrees F. Lightly coat a baking sheet or pizza pan with olive oil.
Heat a small skillet over medium high heat. Add bacon and cook until brown and crispy, about 6-8 minutes. Transfer to a paper towel-lined plate.
In a small bowl, combine the jalapeños and shallot with 1-2 teaspoons olive oil.
Working on a surface that has been sprinkled with semolina or cornmeal, roll out the pizza dough into a 10-inch-diameter round. Transfer to prepared baking sheet or pizza pan.
Spread the cream cheese evenly over the top, leaving a 1-inch border. Top with jalapeño monterey jack, jalapeños, shallots and bacon.
Place into oven and bake for 15-20 minutes, or until the crust is crisp and brown on the bottom and the cheese is melted on top.
Cut the pizza into wedges and serve immediately.
Notes
http://damndelicious.net/2012/05/24/jalapeno-popper-pizza/