Quinoa Stuffed Bell Peppers
Loaded with protein, veggies and healthy grains, these stuffed bell peppers will provide the nutrition that you need for a healthy, balanced meal!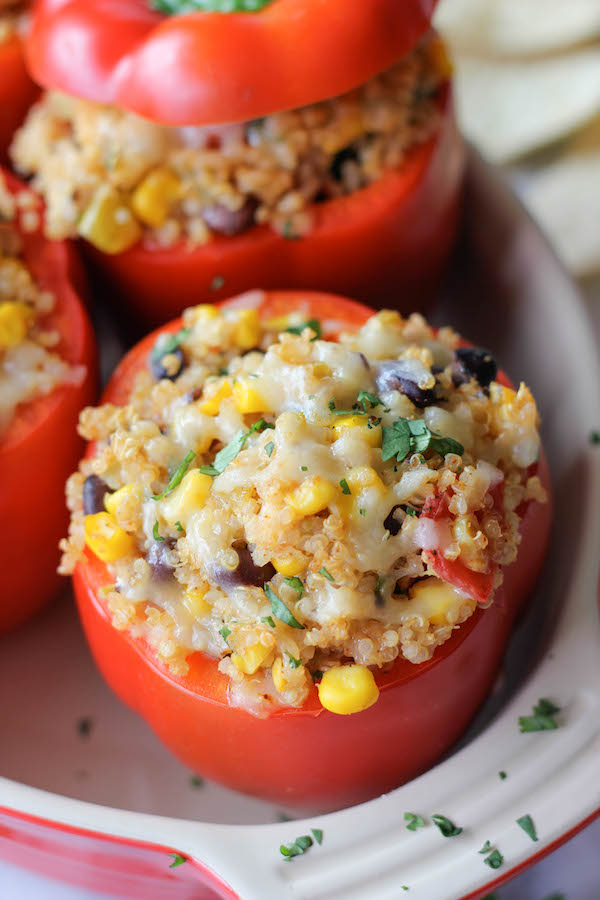 Did you all have a good weekend? Jason and I had the time of our lives this weekend, and it all started off at my niece's house where we went over to pick her up for her ballet dress rehearsal. Little did we know that when we arrived, we would walk into this: her dad attempting to put on mascara while Chandler, her 2-year old brother, was glued to her side, watching along and being, well, adorable.
MY OTHER RECIPES
When hair and make-up was done, we rushed on over to her ballet studio, but not before I snapped a couple of photos of her while Jason installed the car seat.
Isn't she the cutest? I kind of wish I could pull off that dress. And that hair clip.
After her awesome practice run, we fueled up at Mel's Drive-In, which consisted of bacon, Micky Mouse pancakes and of couse, a vanilla milkshake.
As we headed back to the house, Sherman said she was too full to walk back home so Jason carried her all the way back. She refused to give up the balloon and made sure it had a prime spot in this photo.
After we got home, we all suited up to spend the day in the pool since it was just too hot to do anything else in the 100 degree weather.
We all had such a blast, and when all was done, we sat down at the dinner table for an awesome teriyaki-filled family dinner. It was the perfect way to wrap up the day.
Now that I'm done jabbering about my weekend, let's talk bell peppers.
Stuffed bell peppers have been on my bucket list for at least a year and I'm so glad to finally cross it off my list. Using leftover ingredients, I created a southwest quinoa mixture loaded with corn, beans, tomatoes, green chilis for a bit of heat and cheesy pepper-jack-feta goodness. It's incredibly filling and hearty, making it the perfect vegetarian option for Meatless Monday or any other day of the week!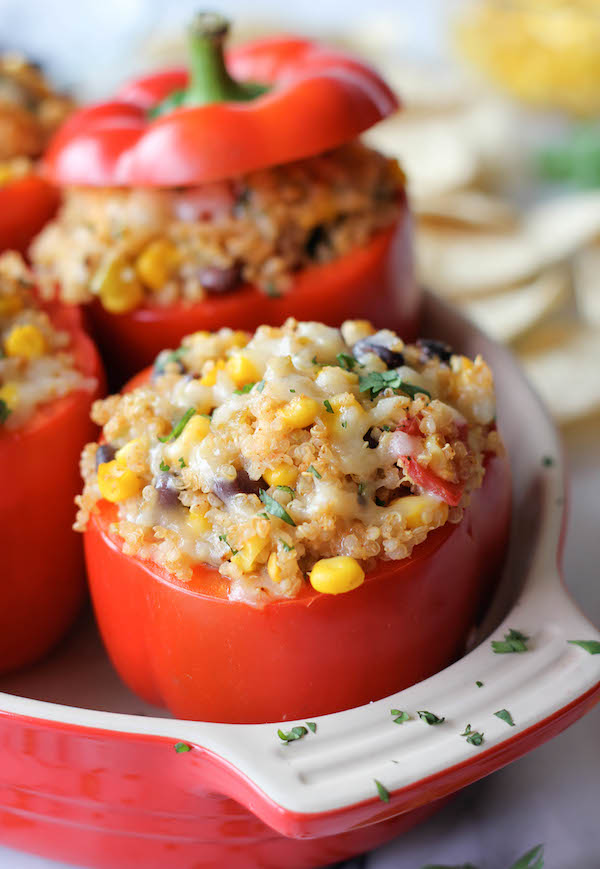 Quinoa Stuffed Bell Peppers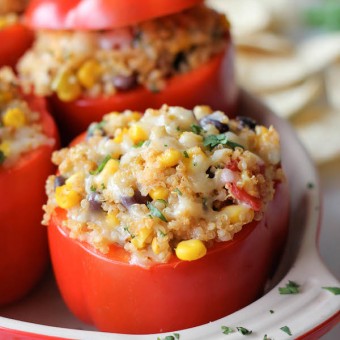 These stuffed bell peppers will provide the nutrition that you need for a healthy, balanced meal!
Ingredients:
3 cups cooked quinoa
1 (4-ounce) can green chiles
1 cup corn kernels
1/2 cup canned black beans, drained and rinsed
1/2 cup petite diced tomatoes
1/2 cup shredded pepper jack cheese
1/4 cup crumbled feta cheese
3 tablespoons chopped fresh cilantro leaves
1 teaspoon cumin
1 teaspoon garlic powder
1/2 teaspoon onion powder
1/2 teaspoon chili powder, or more to taste
Kosher salt and freshly ground black pepper, to taste
6 bell peppers, tops cut, stemmed and seeded
Directions:
Preheat oven to 350 degrees F. Line a 9×13 baking dish with parchment paper.
In a large bowl, combine quinoa, green chiles, corn, beans, tomatoes, cheeses, cilantro, cumin, garlic, onion and chili powder, salt and pepper, to taste.
Spoon the filling into each bell pepper cavity. Place on prepared baking dish, cavity side up, and bake until the peppers are tender and the filling is heated through, about 25-30 minutes.
Serve immediately.
Nutrition Facts
Serving Size
Servings Per Container 6
---
Amount Per Serving
Calories 253.0 Calories from Fat 52.2
% Daily Value*
Total Fat 5.8g 9%
Saturated Fat 1.7g 9%
Trans Fat 0g
Cholesterol 5.0mg 2%
Sodium 389.0mg 16%
Total Carbohydrate 39.8g 13%
Dietary Fiber 6.8g 27%
Sugars 6.3g
Protein 9.4g 19%
---
*Percent Daily Values are based on a 2,000 calorie diet. Your daily values may be higher or lower depending on your calorie needs.