All the goodness of a BLT in a healthy, salad form with a refreshing lime vinaigrette!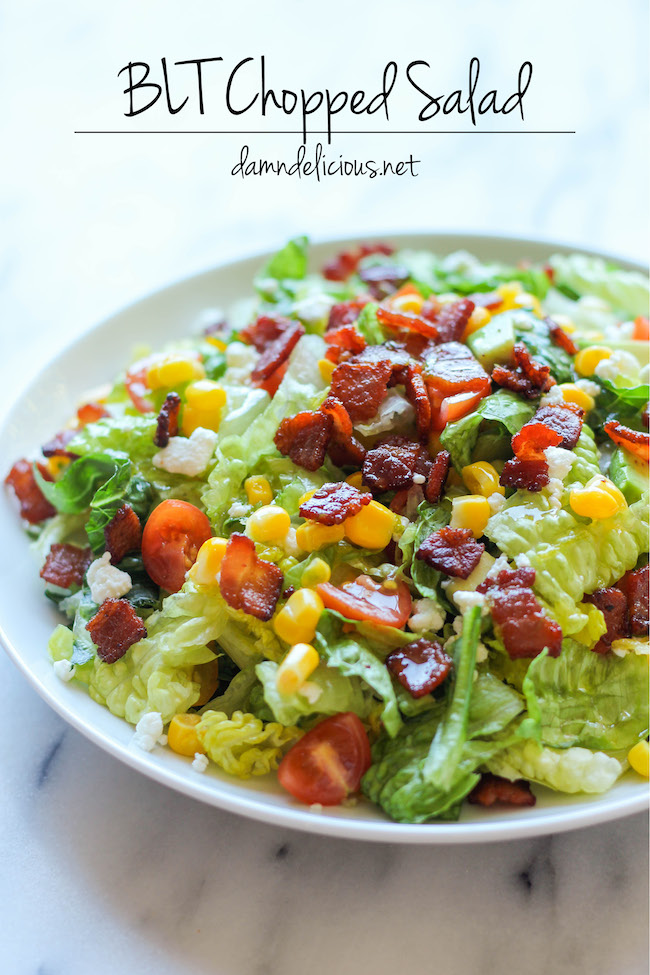 I know that we're in the new year and all and we're supposed to be eating salads and quinoa casseroles left and right but no one said we had to leave out bacon, right? I mean, you can always sneak it in a salad and make it healthy. And if you really want to take it a step further, you can even add a little bit of an extra crisp bacon garnish. Or am I just pushing it here?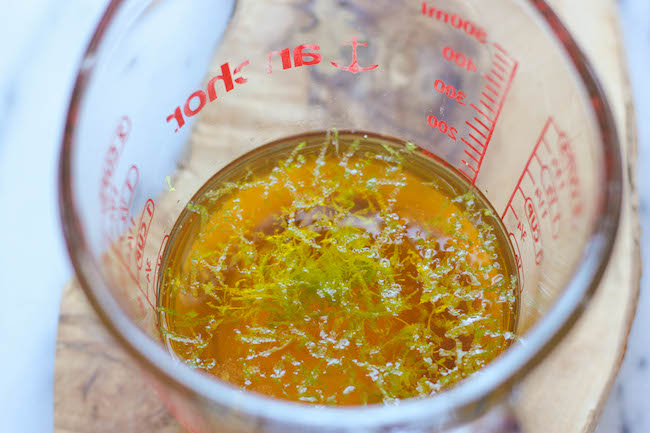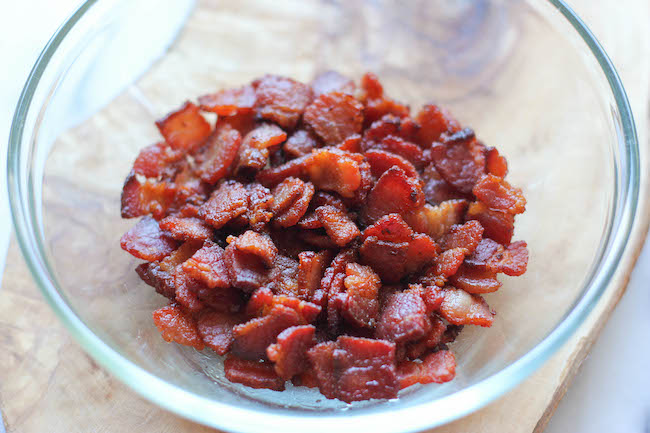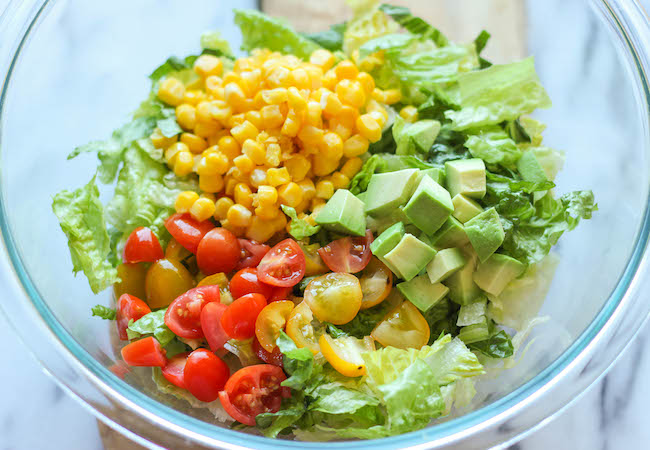 Either way, if all salads were like this, I'm sure I could eat a BLT chopped salad everyday for the rest of my life. From the crisp Jones Dairy Farm Sliced Bacon to the gorgeous cherry medley tomatoes, fresh avocado, and sweet corn kernels on a bed of crisp romaine lettuce, this salad is absolute perfection. And with a drizzle of that tangy, sweet lime vinaigrette, you'll really want to have this every. single. day.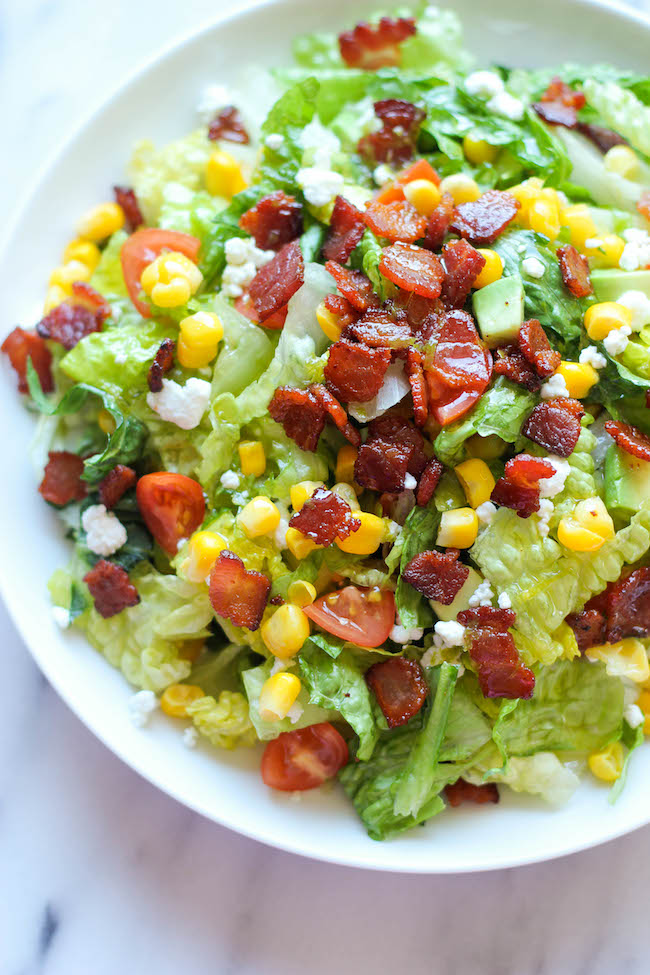 Come and celebrate Jones Dairy Farm's 125 anniversary with a year of giveaways and fun on twitter and their Pinterest board!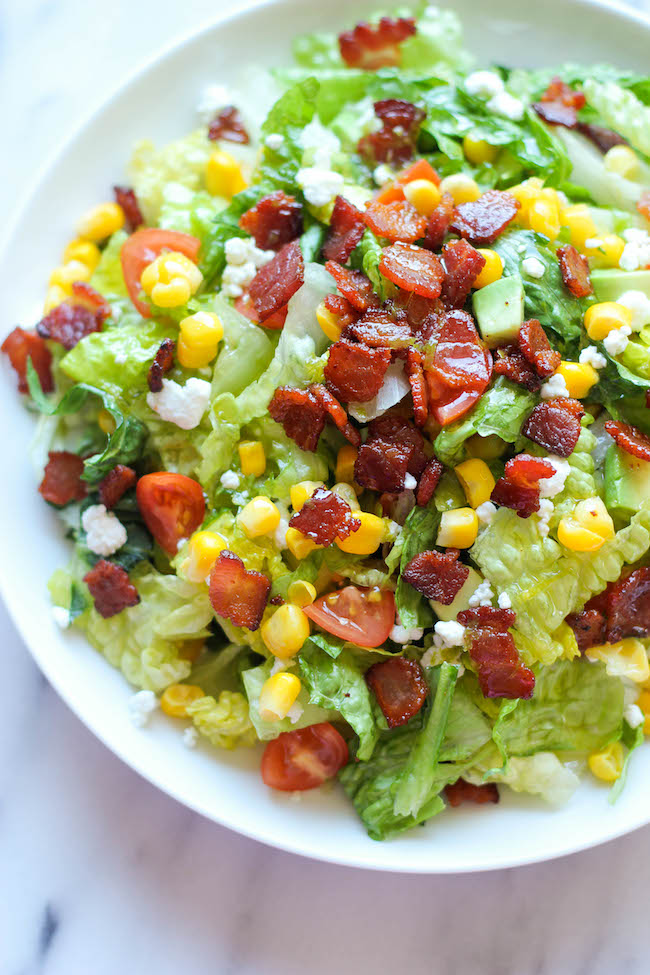 All the goodness of a BLT in a healthy, salad form with a refreshing lime vinaigrette!
Ingredients
4 slices Jones Dairy Farm Sliced Bacon, diced
4 cups chopped romaine lettuce
1 avocado, halved, seeded, peeled and diced
1 cup cherry tomatoes, halved
1/2 cup corn kernels
1/4 cup crumbled goat cheese

For the lime vinaigrette

1/4 cup olive oil
1/4 cup apple cider vinegar
Zest of 1 lime
2 tablespoons freshly squeezed lime juice
2 teaspoons sugar, or more to taste
Instructions
To make the vinaigrette, whisk together olive oil, apple cider vinegar, lime zest and juice, and sugar in a small bowl; set aside.
Heat a large skillet over medium high heat. Add bacon and cook until brown and crispy, about 6-8 minutes. Transfer to a paper towel-lined plate.
In a large bowl, combine romaine lettuce, avocado, tomatoes, corn, goat cheese and bacon. Stir in lime vinaigrette.
Serve immediately.
Notes
http://damndelicious.net/2014/01/13/blt-chopped-salad/
Disclosure: This post is sponsored by Jones Dairy Farm. All opinions expressed are my own.