Shrimp Fried Rice
Why order take-out? This homemade version is so much healthier, cheaper and tastes a million times better!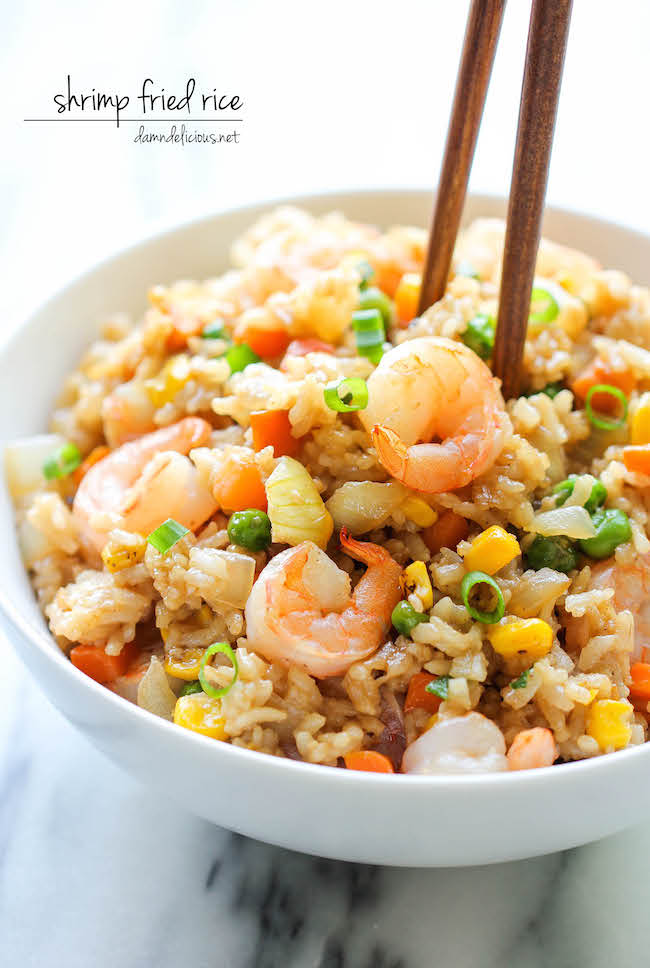 I absolutely love ordering take-out, especially when I'm exhausted out of my mind and I have absolutely no energy to even walk to the kitchen. But when I spend $10 on a measly shrimp fried rice with just 4 shrimps in the entire dish, I knew I just had to make a homemade version. After all, nothing beats homemade, right?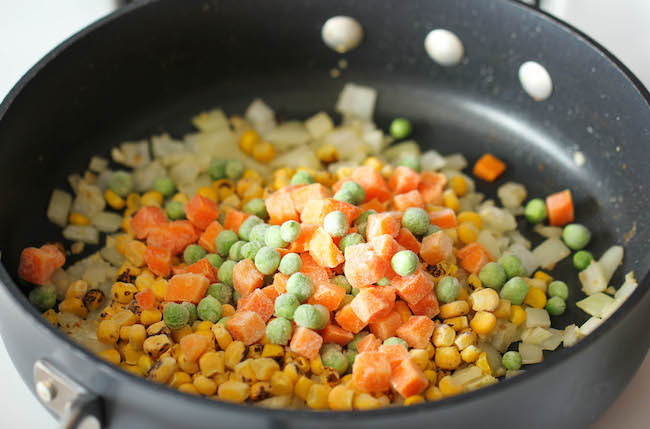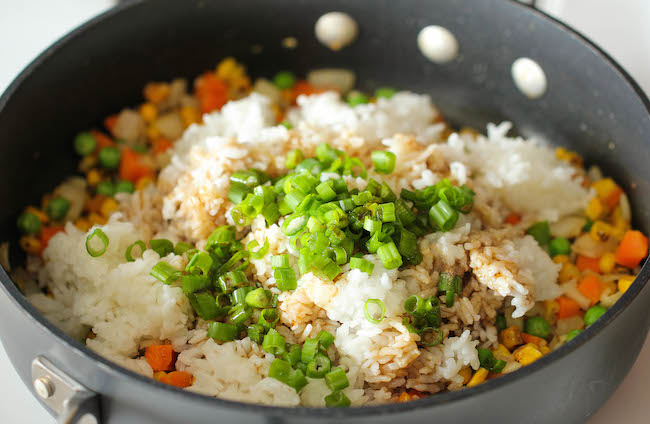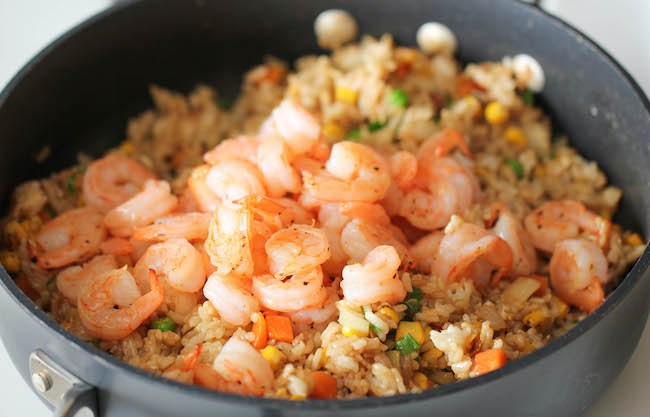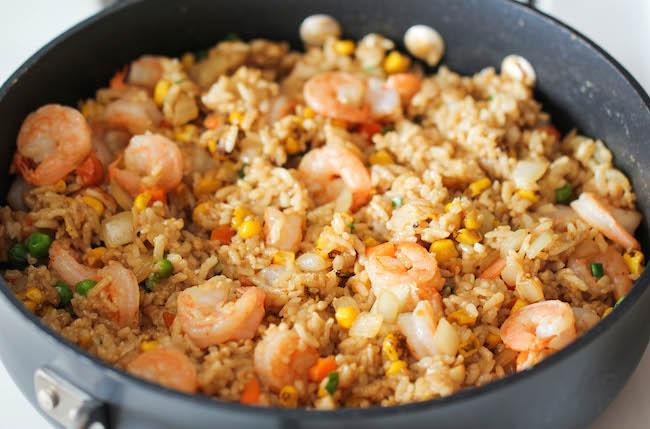 Now the best part about this fried rice is that it is completely customizable to your taste. You can swap out the shrimp for your favorite protein – chicken, pork , or even tofu to keep it completely vegetarian. As for the veggies, I like using a mix of onions, corn, peas and carrot but if you have more veggies just lingering in your fridge – feel free to add those in as well. The more, the merrier, right? And this can be made in less than 30 minutes – easy peasy.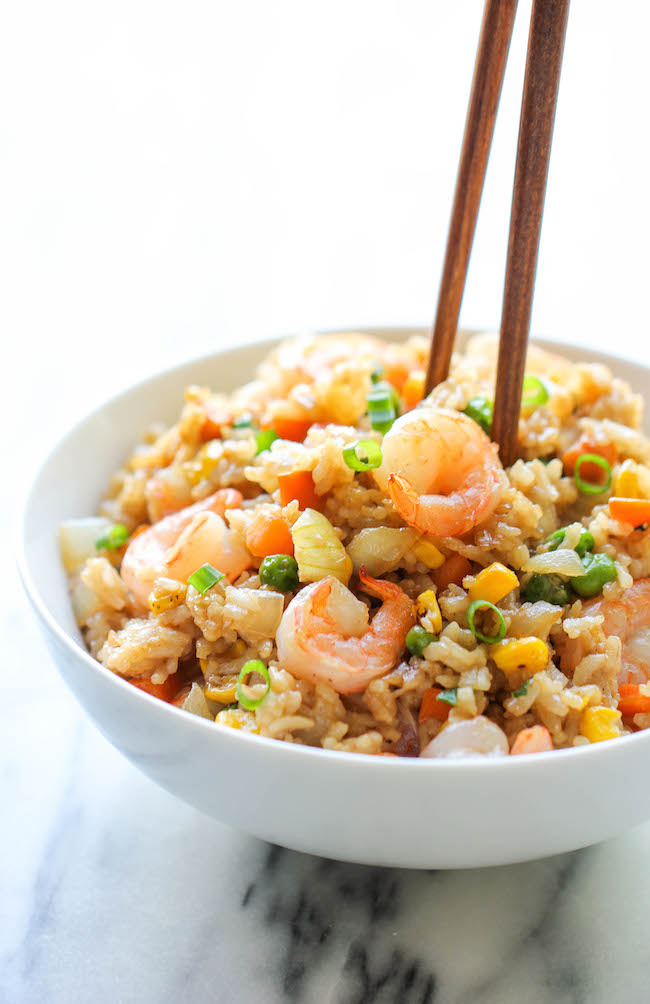 Now who still wants take-out?
Shrimp Fried Rice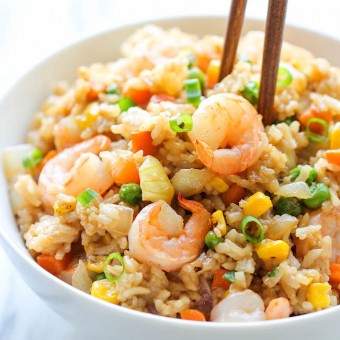 Why order take-out? This homemade version is so much healthier, cheaper and tastes a million times better!
Ingredients:
3 tablespoons soy sauce
1 tablespoons sesame oil
1/2 teaspoon ginger powder
1/2 teaspoon white pepper
2 tablespoons olive oil
1 pound medium shrimp, peeled and deveined
Kosher salt and freshly ground black pepper, to taste
2 cloves garlic, minced
1 onion, diced
2 carrots, peeled and grated
1/2 cup frozen corn
1/2 cup frozen peas
3 cups cooked rice
2 green onions, sliced
Directions:
In a small bowl, whisk together soy sauce, sesame oil, ginger powder and white pepper; set aside.
Heat olive oil in a large skillet or wok over medium high heat. Add shrimp, and cook, stirring occasionally, until pink, about 2-3 minutes; season with salt and pepper, to taste; set aside.
Add garlic and onion to the skillet, and cook, stirring often, until onions have become translucent, about 3-4 minutes. Stir in carrots, corn and peas, and cook, stirring constantly, until vegetables are tender, about 3-4 minutes.
Stir in rice, green onions and soy sauce mixture. Cook, stirring constantly, until heated through, about 2 minutes. Stir in shrimp.
Serve immediately.
Why It's A Smart Choice
Nutrition Facts
Serving Size
Servings Per Container 4
---
Amount Per Serving
Calories 420.7 Calories from Fat 108
% Daily Value*
Total Fat 12.0g 18%
Saturated Fat 1.9g 10%
Trans Fat 0g
Cholesterol 214.5mg 72%
Sodium 964.5mg 40%
Total Carbohydrate 47.9g 16%
Dietary Fiber 3.2g 13%
Sugars 4.7g
Protein 29.3g 59%
---
*Percent Daily Values are based on a 2,000 calorie diet. Your daily values may be higher or lower depending on your calorie needs.
Clocking in at 4.5 mg per serving, this meal is a good source of iron. Pair this with a veggie or fruit that's high in vitamin C, such as fresh red peppers or pineapple, and you'll maximize the amount of iron your body will absorb.
Nutritional information provided by Jessica Penner, RD at Smart Nutrition.