Quinoa Chicken Parmesan
With an amazingly crisp quinoa crust, you'll never guess that this is actually so healthy and packed with tons of protein!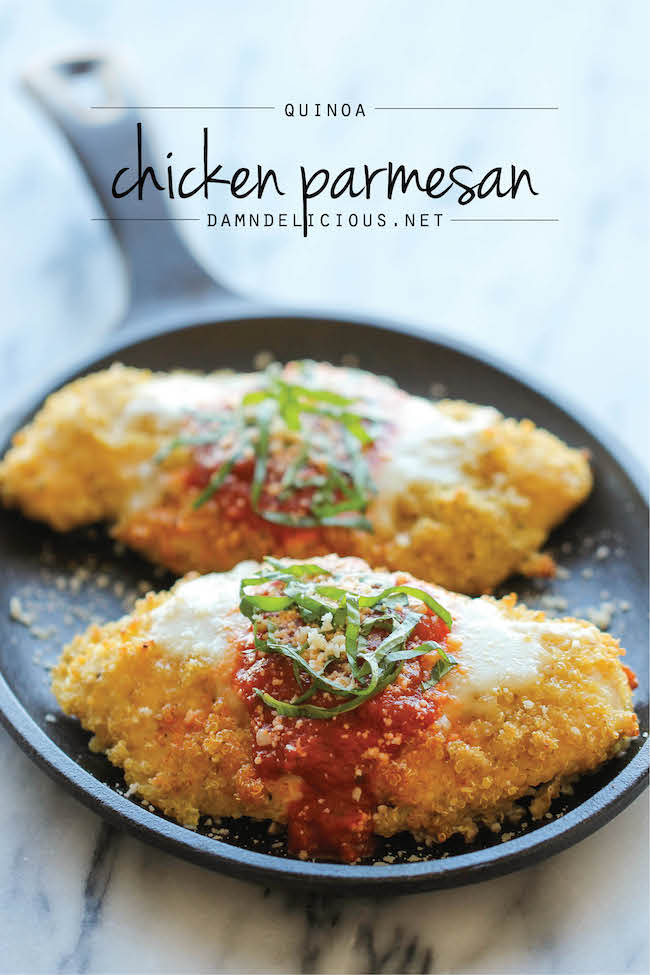 I had a random craving for chicken parmesan the other night so I set out to the kitchen to whip up my favorite baked chicken parmesan recipe. But I quickly realized that I was out of breadcrumbs, so I took a risk and tried out a quinoa crust instead – and boy, was I in for a treat.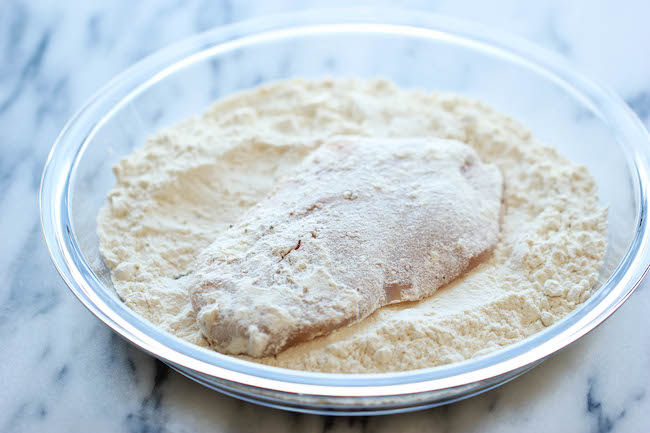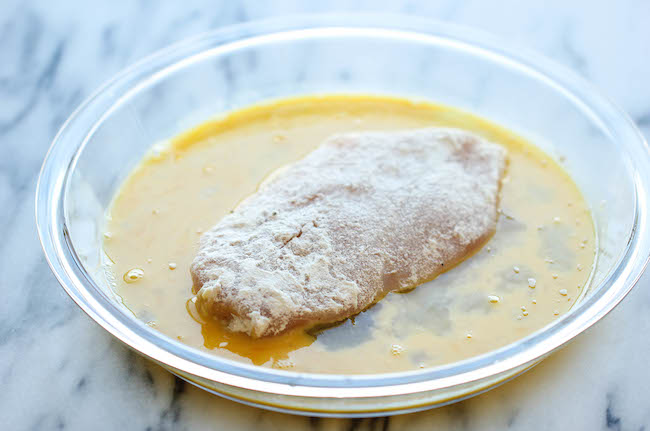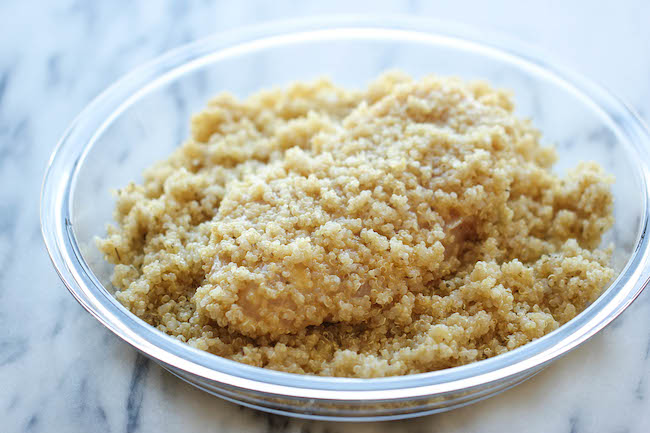 I was definitely a bit skeptical about the use of quinoa but it worked out so well. With a simple flour-egg-quinoa prep, the quinoa is baked to a wonderful crispness right in the oven. And when you slather on that melted mozzarella and marinara sauce, you'll completely forget that this is actually completely healthy and nutritious!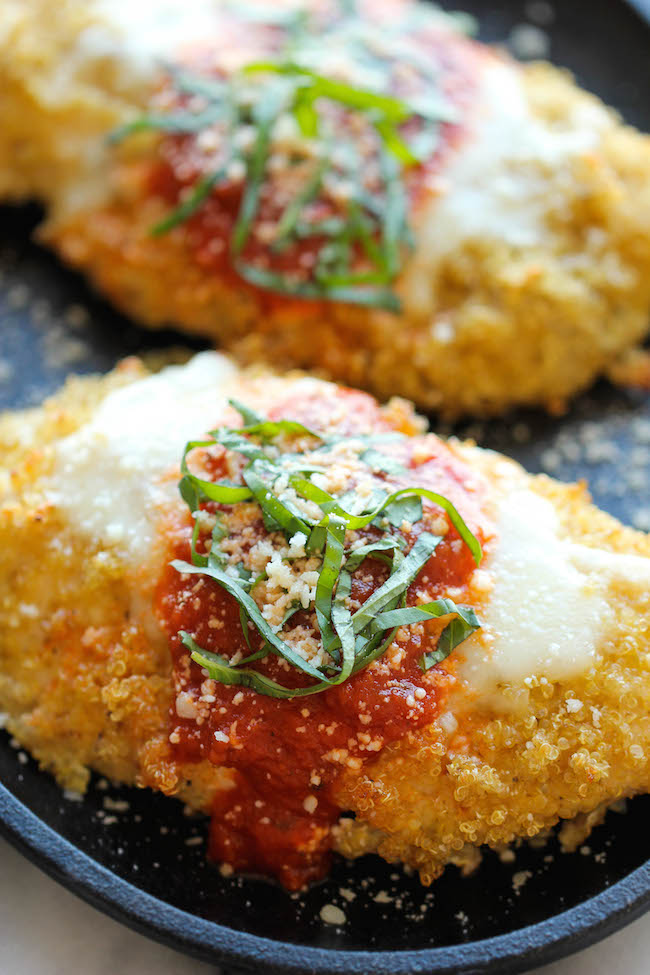 Quinoa Chicken Parmesan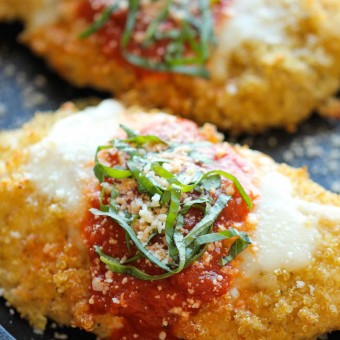 With an amazingly crisp quinoa crust, you'll never guess that this is actually so healthy!
Ingredients:
1 cup quinoa
1 tablespoon Italian seasoning
2 boneless, skinless chicken breasts, cut crosswise in half
Kosher salt and freshly ground black pepper, to taste
1/2 cup all-purpose flour
2 large eggs, beaten
1/2 cup shredded mozzarella cheese
1/4 cup grated Parmesan cheese
1 cup marinara sauce, homemade or storebought
1/4 cup basil leaves, chiffonade
Directions:
Preheat oven to 400 degrees F. Lightly oil a baking sheet or coat with nonstick spray.
In a large saucepan of 1 1/2 cups water, cook quinoa according to package instructions. Stir in Italian seasoning.
Season chicken with salt and pepper, to taste.
Working in batches, dredge chicken in flour, dip into eggs, then dredge in quinoa mixture, pressing to coat.
Place chicken onto the prepared baking sheet. Place into oven and bake for 20-25 minutes, or until golden brown. Top with cheeses and marinara. Place into oven and bake until cheeses have melted, about 5 more minutes.
Serve immediately, garnished with basil, if desired.
Why It's A Smart Choice
Nutrition Facts
Serving Size
Servings Per Container 4
---
Amount Per Serving
Calories 467.0 Calories from Fat 116.1
% Daily Value*
Total Fat 12.9g 20%
Saturated Fat 4.7g 24%
Trans Fat 0g
Cholesterol 162.7mg 54%
Sodium 532.1mg 22%
Total Carbohydrate 48.1g 16%
Dietary Fiber 5.0g 20%
Sugars 6.1g
Protein 37.5g 75%
---
*Percent Daily Values are based on a 2,000 calorie diet. Your daily values may be higher or lower depending on your calorie needs.
Quinoa is a great grain alternative for those following a vegetarian or vegan lifestyle. The protein in quinoa is complete, meaning that it contains all the essential protein building blocks (called amino acids) that our bodies need. Quinoa is also a good source of iron, zinc, magnesium, and manganese.
Nutritional information provided by Jessica Penner, RD at Smart Nutrition.