Shrimp Scampi Dip
One of the best (and easiest) dips I've ever had, baked to absolute creamy, cheesy perfection!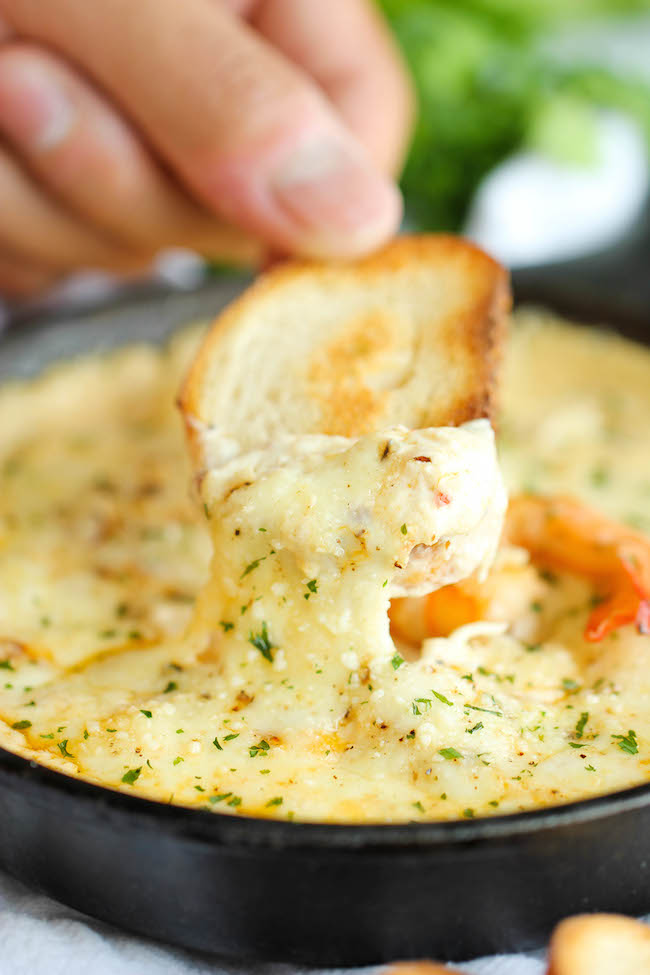 If I had to choose between shrimp scampi pasta versus this shrimp scampi dip, I choose this dip hands down every single time. No questions asked.
MY OTHER RECIPES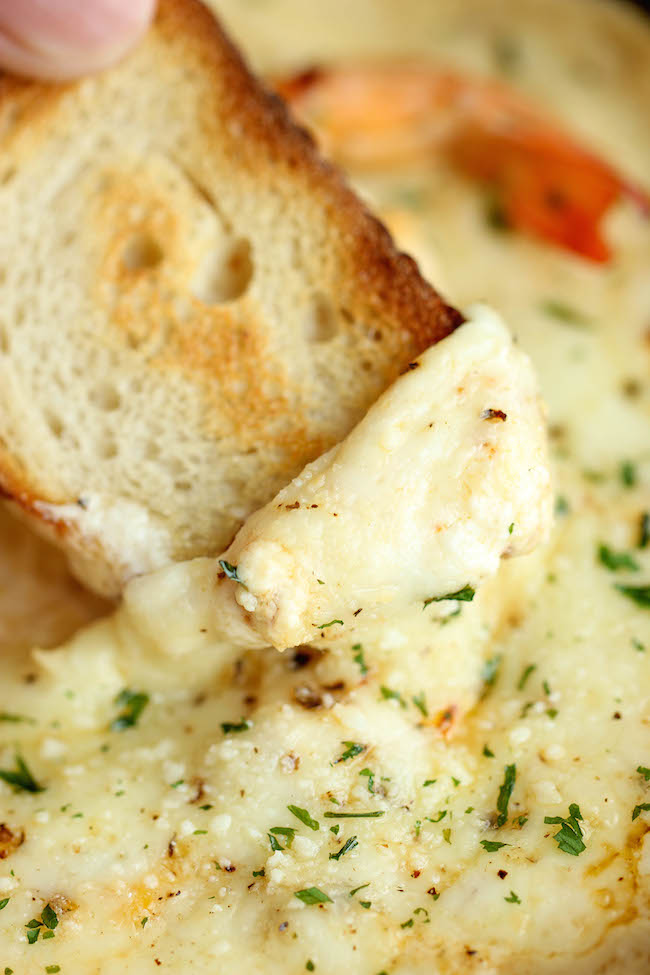 Because, really, the pasta form doesn't even come close to this.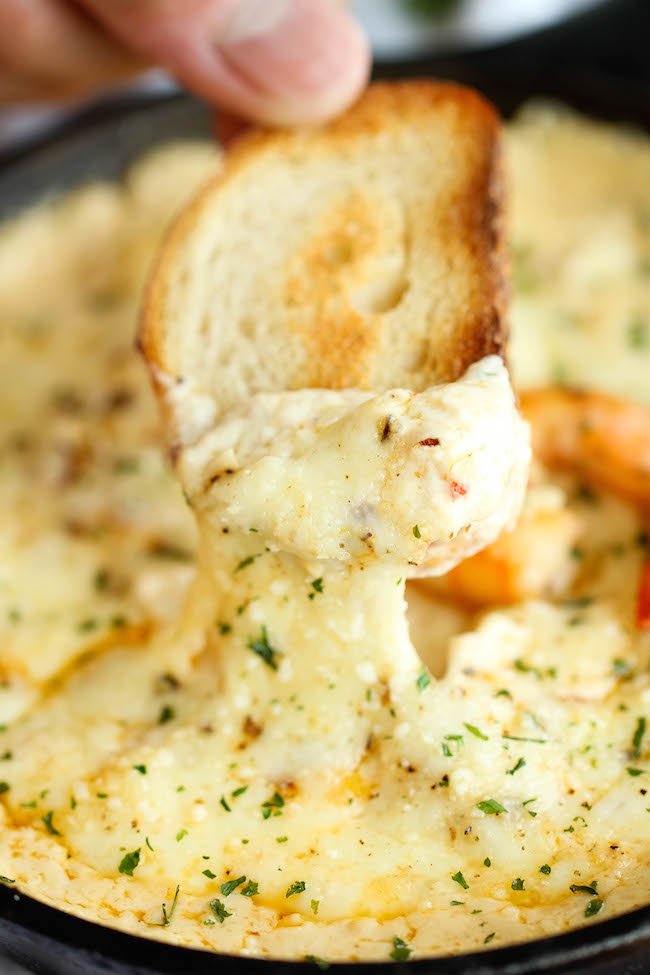 You get tons of cheesiness and creaminess that you just don't get in the pasta. Plus, finger foods always taste better.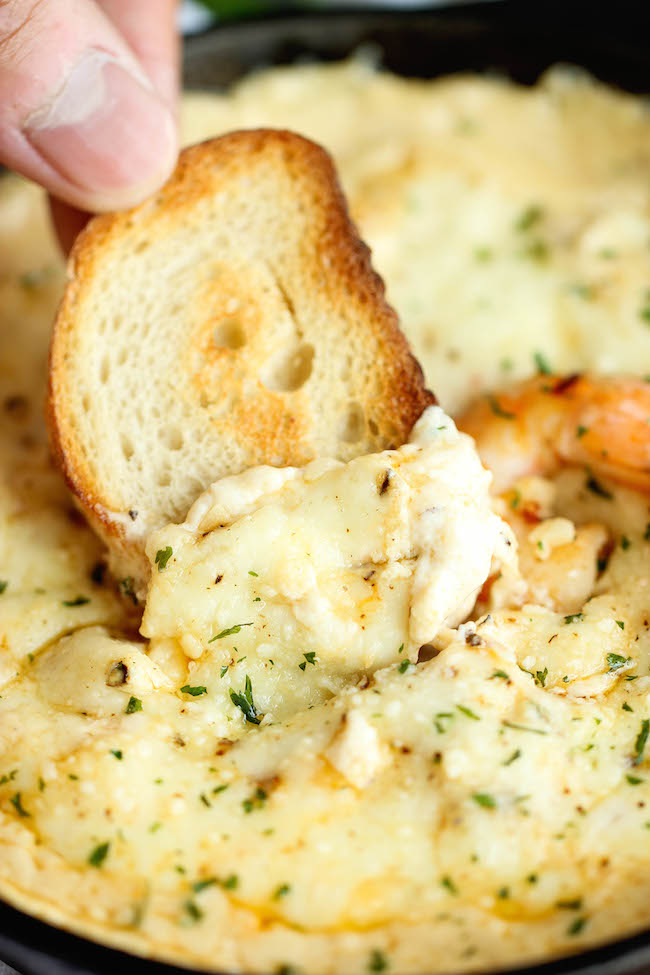 Just be sure to have some extra bread slices for dipping. We ran out of bread and had to make an immediate grocery store run so that we can finish this dip!
Shrimp Scampi Dip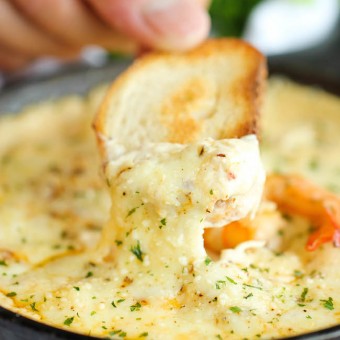 One of the best dips I've ever had, baked to absolute creamy, cheesy perfection!
Ingredients:
2 tablespoons unsalted butter
8 ounces medium shrimp, peeled, deveined and roughly chopped
4 cloves garlic, minced
1/2 teaspoon red pepper flakes, or more, to taste
1/4 cup white wine*
2 tablespoons freshly squeezed lemon juice
Kosher salt and freshly ground black pepper, to taste
4 ounces cream cheese, at room temperature
1/4 cup sour cream
3 tablespoons mayonnaise
2 tablespoons chopped fresh parsley leaves
1/2 cup shredded mozzarella cheese, divided
2 tablespoons grated Parmesan
Directions:
Preheat oven to 350 degrees F. Lightly oil a 9-inch baking dish or coat with nonstick spray.
Melt butter in a large skillet over medium high heat. Add shrimp, garlic and red pepper flakes. Cook, stirring occasionally, until pink, about 2 minutes. Stir in wine and lemon juice; season with salt and pepper, to taste.
Bring to a simmer; remove from heat and stir in cream cheese, sour cream, mayonnaise, parsley, 1/4 cup mozzarella and Parmesan.
Spread mixture into the prepared baking dish; sprinkle with remaining 1/4 cup mozzarella. Place into oven and bake until bubbly and golden, about 10-12 minutes.
Serve immediately.
*Chicken stock can be used for white wine as a non-alcoholic substitute.