Vegetable Kabobs
These marinated fresh veggie kabobs are packed with tons of flavor – perfect as a healthy side dish to any meal!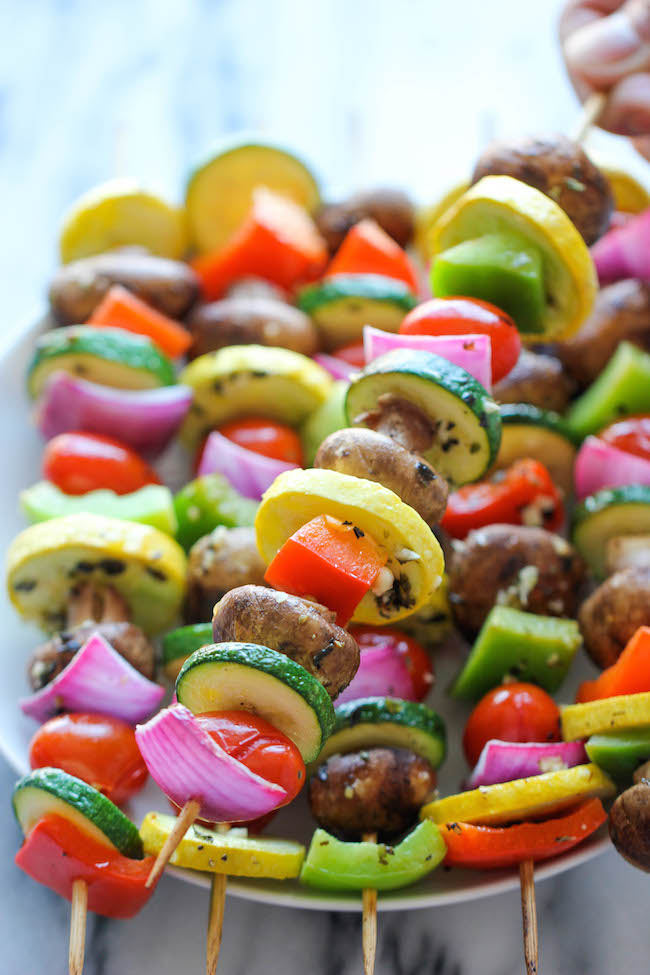 With my half marathon coming up in just 51 days, this is my attempt at eating like a champ. And if all dishes were like this, I could easily give up meat and become a vegetarian tomorrow.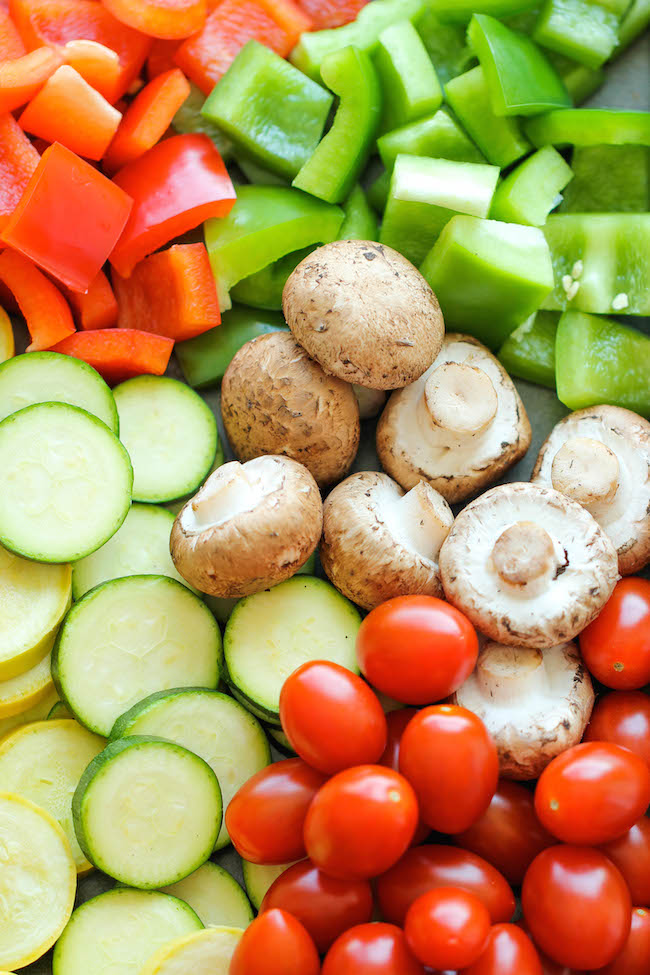 Plus, colorful veggies are much more fun and appealing to eat. It's like sprinkles in savory food form.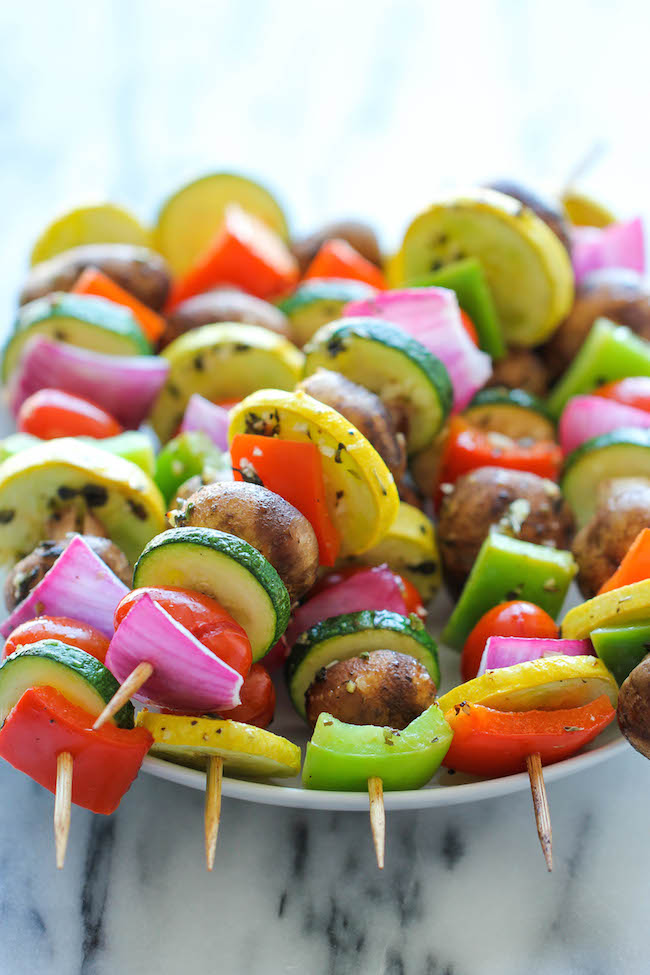 And my apologies on the mass photography here. I got a little carried away with my rainbow veggies.
If you're not keen on any of the vegetables included here, feel free to omit as needed. The star here is the garlic lemon marinade, a simple concoction of olive oil, fresh garlic, lemon juice and some dried herbs. It's super simple but it's packed with tons of flavor.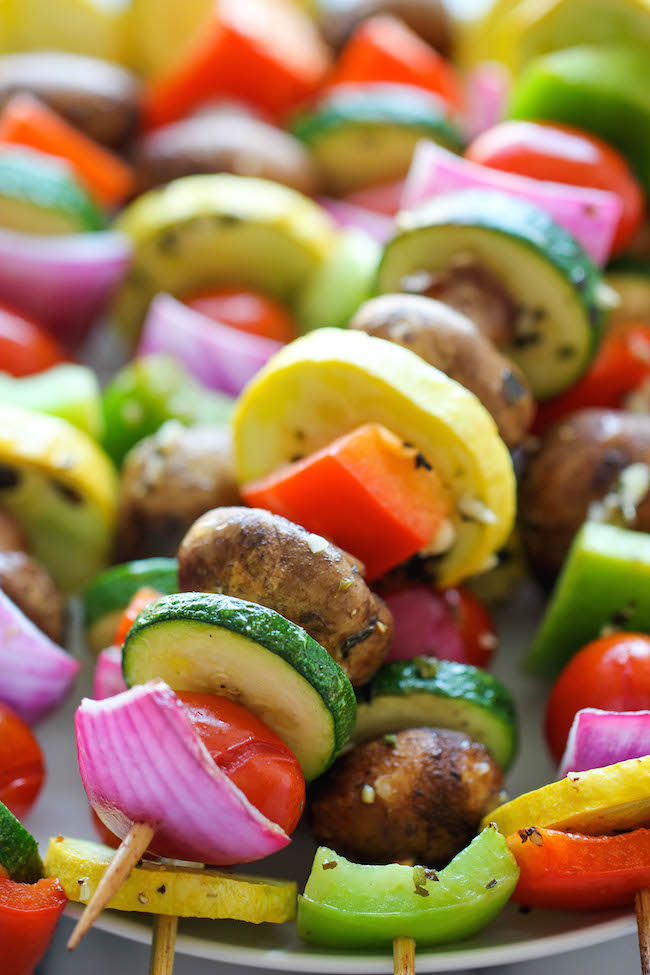 And you can either grill or roast these. I had to go with the latter since an outdoor grill is not much of an option in a small metropolitan apartment!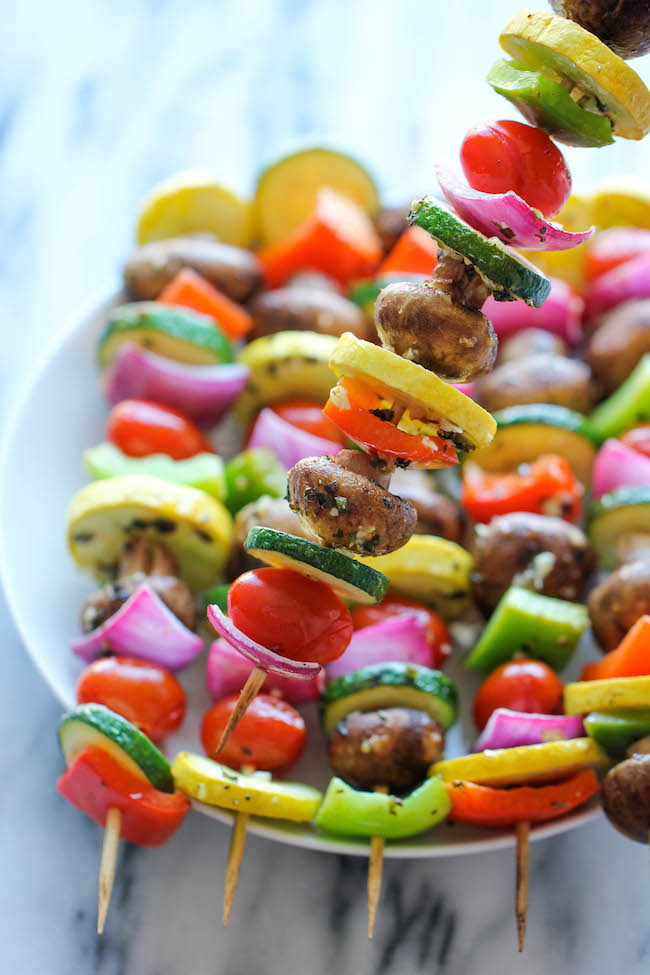 Still, grilled or roasted, these kabobs are easy to whip up and they're sure to give you your daily serving of veggies. Feel free to serve them as a light lunch or as a side dish to any meal, although no one one will be paying attention to the main dish when these are on the table!
Vegetable Kabobs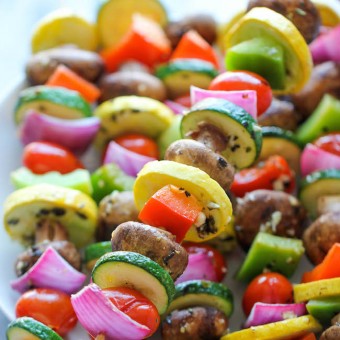 These marinated fresh veggie kabobs are packed with tons of flavor – perfect as a healthy side dish to any meal!
Ingredients:
2 cups cremini mushrooms
1 cup cherry tomatoes
1 red bell pepper, cut into chunks
1 green bell pepper, cut into chunks
1 red onion, cut into chunks
1 zucchini, sliced into thick rounds
1 yellow zucchini, sliced into thick rounds
For the marinade
1/4 cup olive oil
3 cloves garlic, pressed
Juice of 1 lemon
1/2 teaspoon dried oregano
1/2 teaspoon dried basil
Kosher salt and freshly ground black pepper, to taste
Directions:
Preheat oven to 400 degrees F.
In a small bowl, whisk together olive oil, garlic, lemon juice, oregano and basil; season with salt and pepper, to taste.
Thread mushrooms, tomatoes, bell peppers, onion and zucchini onto skewers. Place skewers onto a baking sheet. Brush olive oil mixture onto the skewers and let sit for 10-15 minutes.
Place into oven and roast until tender, about 10-12 minutes.*
Serve immediately.
*These can be grilled over medium high heat, about 5-6 minutes per side.
Why It's A Smart Choice
Nutrition Facts
Serving Size
Servings Per Container 6
---
Amount Per Serving
Calories 127.0 Calories from Fat 85.5
% Daily Value*
Total Fat 9.5g 15%
Saturated Fat 1.4g 7%
Trans Fat 0g
Cholesterol 0mg 0%
Sodium 11.1mg 0%
Total Carbohydrate 10.0g 3%
Dietary Fiber 2.3g 9%
Sugars 5.5g
Protein 2.4g 5%
---
*Percent Daily Values are based on a 2,000 calorie diet. Your daily values may be higher or lower depending on your calorie needs.
Did you know that fruits and vegetables owe their colors to healthful compounds called phytonutrients? The more colorful your veggies, the more nutrients you're eating! This dish has a whole rainbow of colors, making it a smart choice for getting a wide variety of phytonutrients and antioxidants. Additionally, the marinade contains olive oil; some of the vitamins found in veggies are better absorbed when eaten with a source of fat such as olive oil.
Nutritional information provided by Jessica Penner, RD at Smart Nutrition.