Wonton Soup
A super easy, light and comforting wonton soup that you can make right at home – and it tastes 1000x better than ordering out!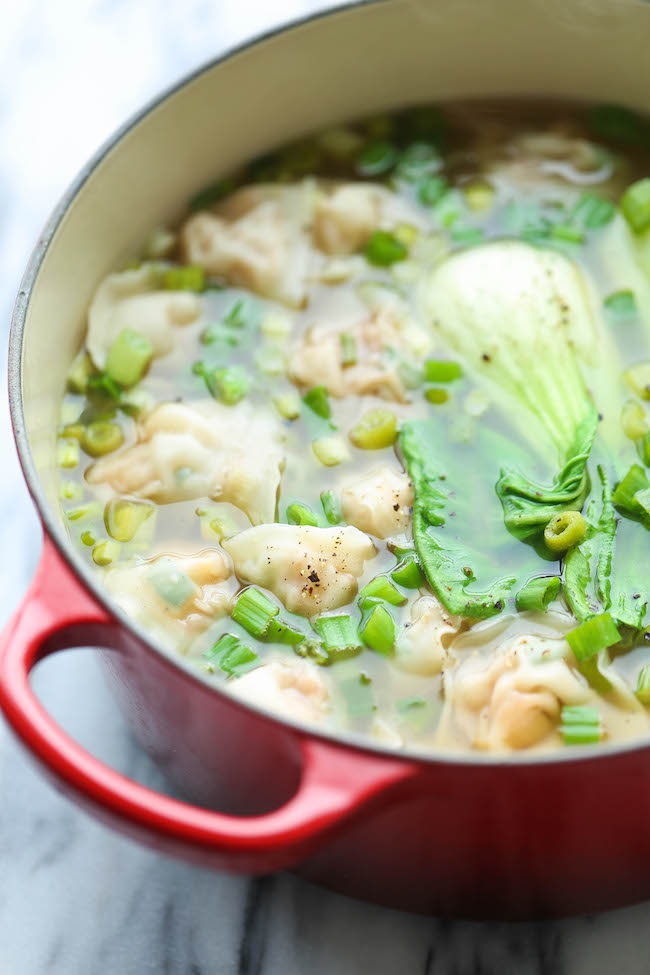 Whenever we're ordering take-out, wonton soup is always a must. Always, always, always. See, I have a major thing for wontons. And soup.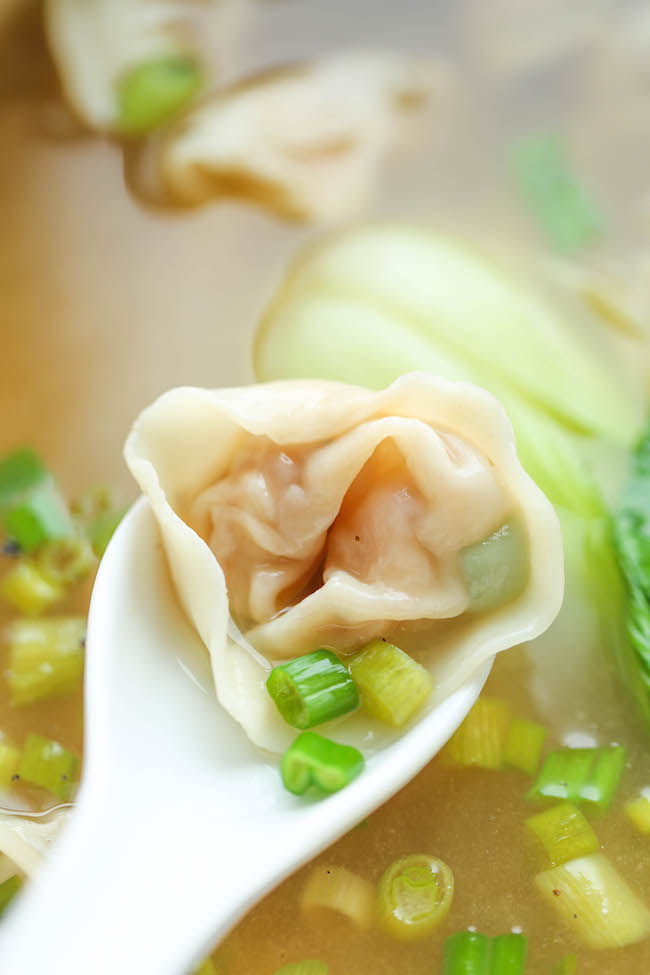 But little did I know that the homemade version is unbelievably easy. And fool-proof. The only thing that takes a little bit of time is wrapping up the wontons. But that's when the kitchen helpers come in, like your fiance who can never wrap them perfectly but still, an extra set of hands is always helpful.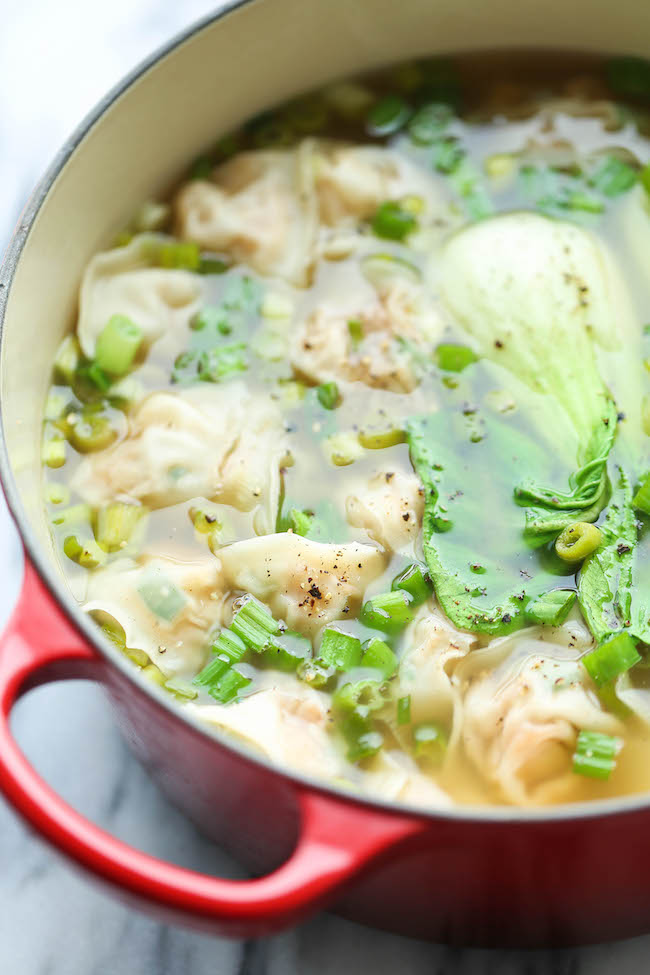 Once your wontons are done, you're all set! But if you know you'll have leftovers, it's best to keep the wontons uncooked and separate until right before serving. Or if you're anything like me, you'll throw it all in at once and eat every last one of these by yourself!
Wonton Soup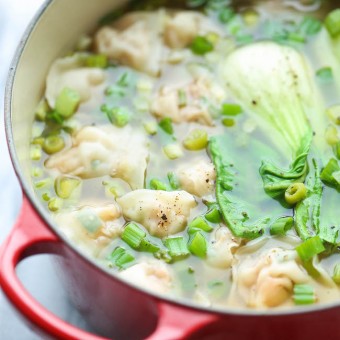 A super easy, light and comforting wonton soup that you can make right at home – and it tastes 1000x better than ordering out!
Ingredients:
1 tablespoon sesame oil
2 cloves garlic, minced
1 tablespoon freshly grated ginger
4 cups chicken broth
4 ounces shiitake mushrooms
2 baby bok choy
3 green onions, thinly sliced
1 tablespoon yellow miso paste, or more, to taste
For the wontons
8 ounces medium shrimp, peeled, deveined and diced
2 cloves garlic, minced
2 green onions, thinly sliced
1 tablespoon oyster sauce
1 teaspoon reduced sodium soy sauce
1 tablespoon freshly grated ginger
1 teaspoon sesame oil
1/2 teaspoon Sriracha, optional
1/4 teaspoon ground black pepper
36 2-inch won ton wrappers
Directions:
In a large bowl, combine shrimp, garlic, green onions, oyster sauce, soy sauce, ginger, sesame oil, Sriracha and pepper.*
To assemble the wontons, place wrappers on a work surface. Spoon 1 tablespoon of the shrimp mixture into the center of each wrapper. Using your finger, rub the edges of the wrappers with water. Fold the dough over the filling to create a half-moon shape, pinching the edges to seal; set aside.
Heat 1 tablespoon sesame oil in a large stockpot or Dutch oven over medium heat. Add garlic and ginger, and cook, stirring frequently, until fragrant, about 1-2 minutes.
Whisk in chicken broth, mushrooms and 2 cups water.
Bring to a boil; reduce heat and simmer until mushrooms have softened, about 10 minutes. Stir in bok choy and green onions. Stir in miso paste until well combined, about 1-2 minutes.
Stir in wontons until cooked through, about 2 minutes.
Serve immediately.
*The filling in the wontons does not have to be cooked prior to wrapping.
Why It's A Smart Choice
Nutrition Facts
Serving Size
Servings Per Container 6
---
Amount Per Serving
Calories 289.6 Calories from Fat 53.1
% Daily Value*
Total Fat 5.9g 9%
Saturated Fat 1.1g 6%
Trans Fat 0g
Cholesterol 75.8mg 25%
Sodium 810.8mg 34%
Total Carbohydrate 40.7g 14%
Dietary Fiber 4.9g 20%
Sugars 4.5g
Protein 21.4g 43%
---
*Percent Daily Values are based on a 2,000 calorie diet. Your daily values may be higher or lower depending on your calorie needs.
Shiitake mushrooms contain a specific beta-glucan fiber that has been shown to stimulate the immune system making the body more resistant to infections. Additionally, research shows that shiitake mushrooms can help to lower blood cholesterol.
Nutritional information provided by Jessica Penner, RD at Smart Nutrition.