Slow Cooker Cheesy Tortellini
There's nothing better than coming home to the cheesiest tortellini ever, and yes, it's easily made right in the crockpot!
Remember that pre-emptive holiday health kick I was talking about with those baked green bean fries? Well, today, we are shifting gears to the ultimate comfort food. It's all about balance, right?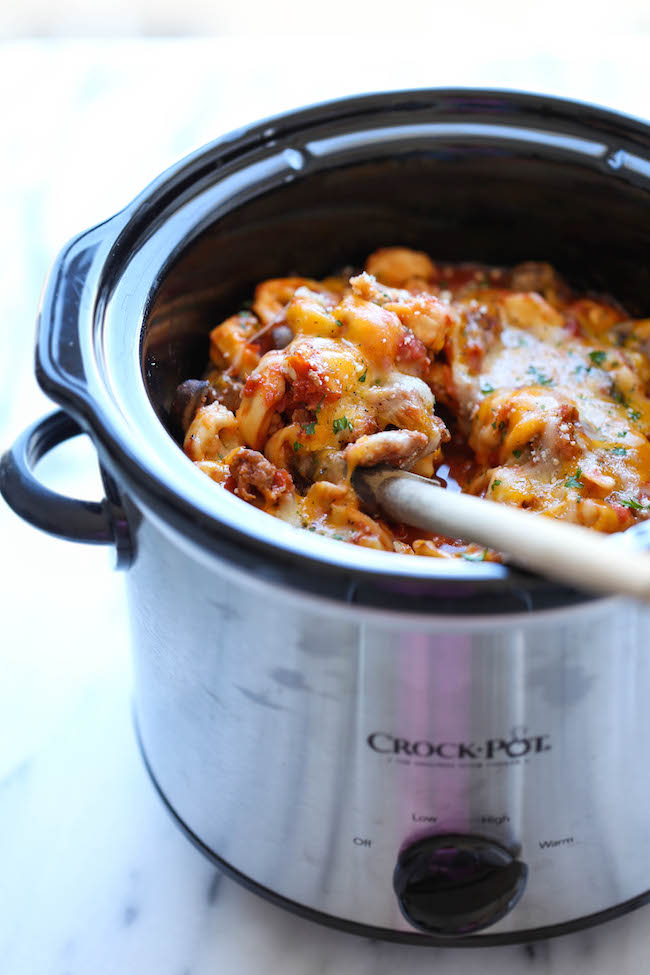 Now the beauty of this recipe is that it comes together so easily right in your slow cooker. All you have to do is crumble up some ground beef and throw everything into the crockpot. Easy enough, right? Then, 15 minutes before serving, you'll throw in your fresh tortellini and that cheesy goodness. That's it!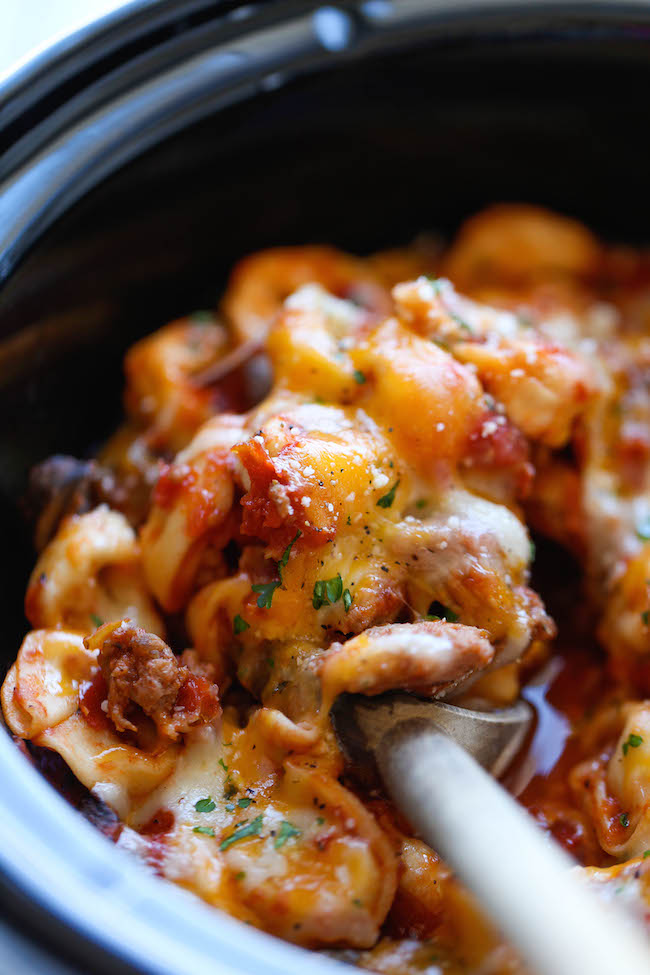 Comfort food has never been so good (or easy!).
There's nothing better than coming home to the cheesiest tortellini ever, and yes, it's easily made right in the crockpot!
Ingredients
1 tablespoon olive oil
1 pound ground beef
1 onion, diced
2 cloves garlic, minced
1 (28-ounce) can crushed tomatoes
1 (10-ounce) can diced tomatoes and green chiles, undrained
1/2 teaspoon dried oregano
1/2 teaspoon dried basil
1/4 teaspoon crushed red pepper flakes, optional
Kosher salt and freshly ground black pepper, to taste
1 (9-ounce) package refrigerated three cheese tortellini
1 cup shredded mozzarella cheese
1/2 cup shredded cheddar cheese
2 tablespoons chopped fresh parsley leaves
Instructions
Heat olive oil in a large skillet over medium high heat. Add ground beef, onion and garlic. Cook until beef has browned, about 3-5 minutes, making sure to crumble the beef as it cooks; drain excess fat.
Place ground beef mixture, crushed tomatoes, diced tomatoes and green chiles, oregano, basil and red pepper flakes into a slow cooker; season with salt and pepper, to taste. Stir until well combined.
Cover and cook on low heat for 7-8 hours or high heat for 3-4 hours.
Uncover and stir in tortellini; top with cheeses. Cover and cook on low heat for an additional 15-30 minutes, or until tender.
Serve immediately, garnished with parsley, if desired.
http://damndelicious.net/2014/12/17/slow-cooker-cheesy-tortellini/
Why It's A Smart Choice
Nutrition Facts
Serving Size
Servings Per Container 6
---
Amount Per Serving
Calories 437 Calories from Fat 179.1
% Daily Value*
Total Fat 19.9g 31%
Saturated Fat 9.0g 45%
Trans Fat 0.2g
Cholesterol 85mg 28%
Sodium 624mg 26%
Total Carbohydrate 34g 11%
Dietary Fiber 3.4g 14%
Sugars 3.75g
Protein 32g 64%
---
*Percent Daily Values are based on a 2,000 calorie diet. Your daily values may be higher or lower depending on your calorie needs.
Tortellini is a popular meal to order when eating out. But when you make it at home, you can almost always be guaranteed that it will be lower in salt, and healthier for you.
Additionally, the portion sizes in restaurants are usually way more than you need! It can be hard to stop eating with the food portioned out in front of you. When you make meals at home, you can easily portion out the amount that's right for you.
Nutritional information provided by Jessica Penner, RD at Smart Nutrition.