Easy One Pot Lasagna
The easiest 30-min lasagna you will ever make in a single pot – no boiling, no layering, nothing – the pasta gets cooked right in the pan!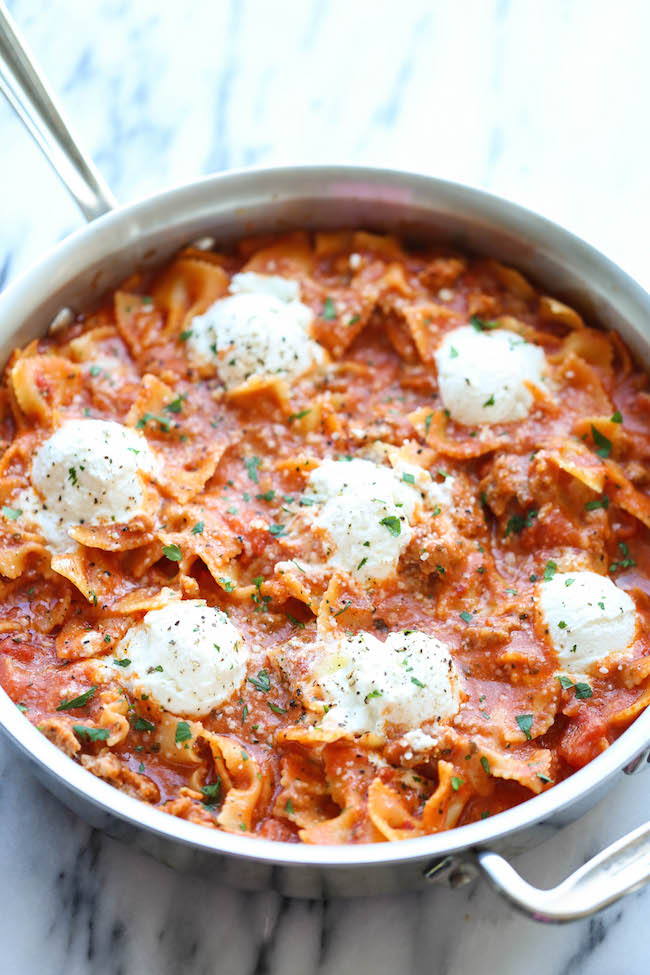 I've made lasagna about 4 times in my entire life, and the last time was an absolute disaster. My pot wasn't big enough for the lasagna noodles so part of them were uncooked, and it was simply an epic mess. Thankfully, this one pot lasagna gives you all the flavors of that comforting lasagna with just a quarter of the work.
MY OTHER RECIPES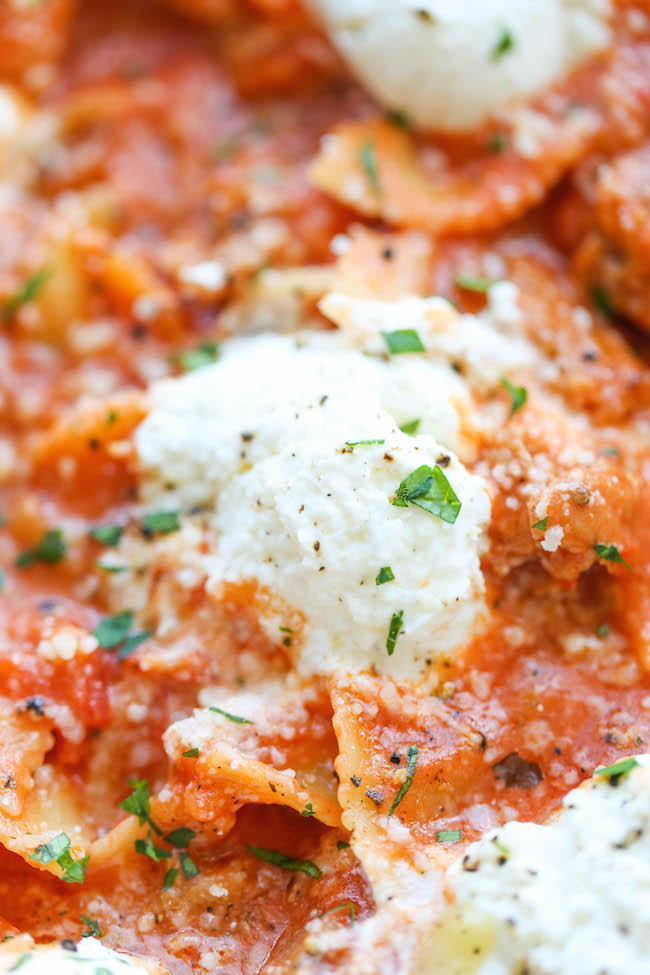 Although I actually prefer this lasagna version over the traditional kind, especially because of those mounds of ricotta topped throughout the pan that just melts right in. Not to mention the easy serving too. But I do recommend eating out of the skillet because then you really have only one pan to clean at the end of dinner.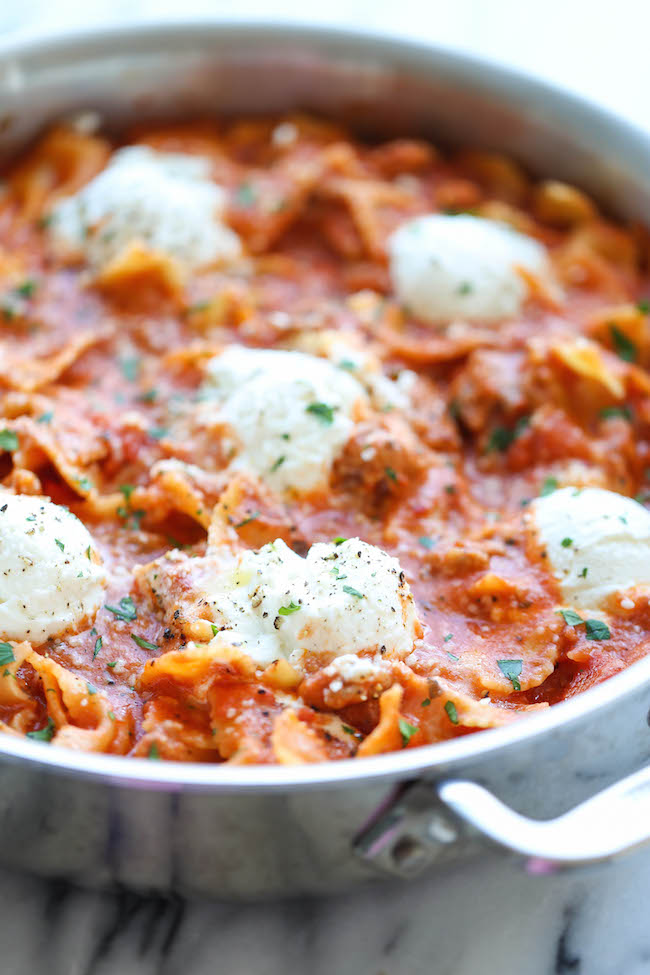 So when you're in a pinch to whip up dinner and need that comforting homemade lasagna, this 30-min one pot meal is sure to save the night!
Easy One Pot Lasagna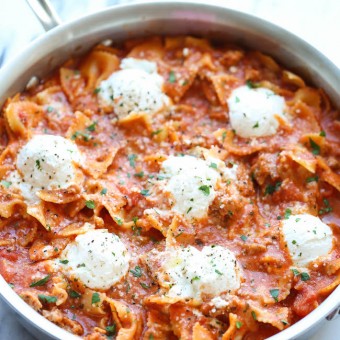 The easiest 30-min lasagna made in a single pot – no boiling, no layering, nothing – the pasta gets cooked right in the pan!
Ingredients:
1 tablespoon olive oil
3 Italian sausage links, casing removed
1 (14.5-ounce) can diced tomatoes
1 (8-ounce) can tomato sauce
1 teaspoon dried oregano
1 teaspoon dried basil
1/2 teaspoon garlic powder
1/2 teaspoon crushed red pepper flakes, optional
8 ounces farfalle pasta
Kosher salt and freshly ground black pepper, to taste
1 cup shredded mozzarella cheese
1/4 cup freshly grated Parmesan
1 cup ricotta cheese
2 tablespoons chopped fresh parsley leaves
Directions:
Heat olive oil in a large skillet over medium high heat. Add Italian sausage and cook until browned, about 3-5 minutes, making sure to crumble the sausage as it cooks; drain excess fat.
Stir in diced tomatoes, tomato sauce, oregano, basil, garlic powder and red pepper flakes; season with salt and pepper, to taste.
Bring to a simmer and stir in pasta and 2 cups water. Bring to a boil; cover, reduce heat and simmer until pasta is cooked through, about 13-15 minutes.
Remove from heat. Stir in mozzarella and Parmesan until well combined. Using a small cookie scoop, top with dollops of ricotta and cover until heated through, about 2-4 minutes.
Serve immediately, garnished with parsley, if desired.
Nutrition Facts
Serving Size
Servings Per Container 6
---
Amount Per Serving
Calories 382.8 Calories from Fat 141.3
% Daily Value*
Total Fat 15.7g 24%
Saturated Fat 7.0g 35%
Trans Fat 0g
Cholesterol 44.8mg 15%
Sodium 1451mg 60%
Total Carbohydrate 39.5g 13%
Dietary Fiber 2.6g 10%
Sugars 1.8g
Protein 21.4g 43%
---
*Percent Daily Values are based on a 2,000 calorie diet. Your daily values may be higher or lower depending on your calorie needs.