Spinach and White Bean Soup
A healthy and hearty, comforting soup – chock full of fresh spinach, white beans and orzo pasta – made in less than 30 min!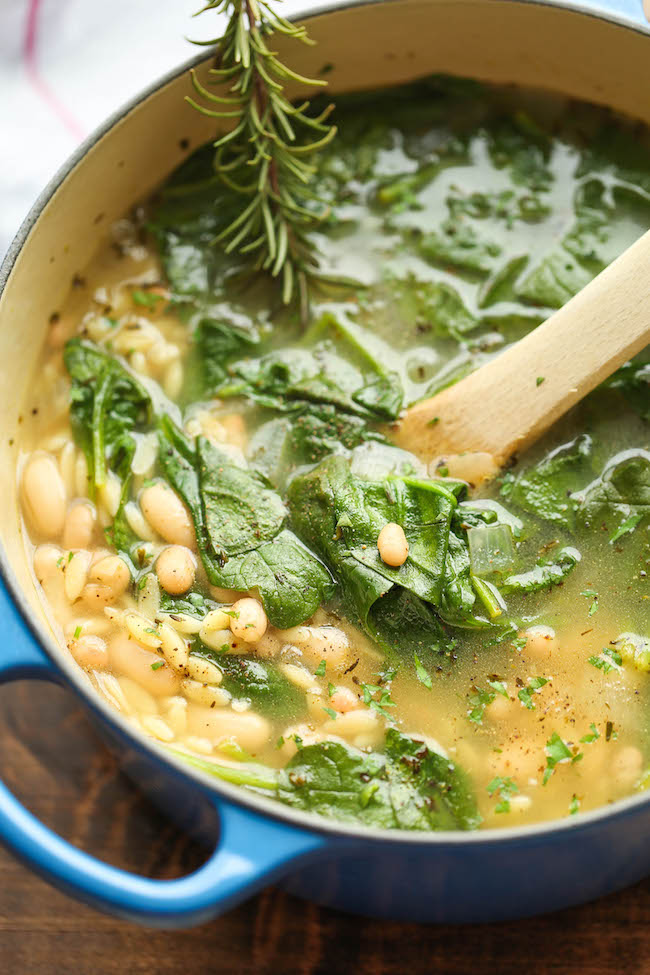 It's been quite warm here in Southern California – so warm that I'm still walking around in my flip flops. And a t-shirt. But that still didn't stop me from devouring this entire pot of soup.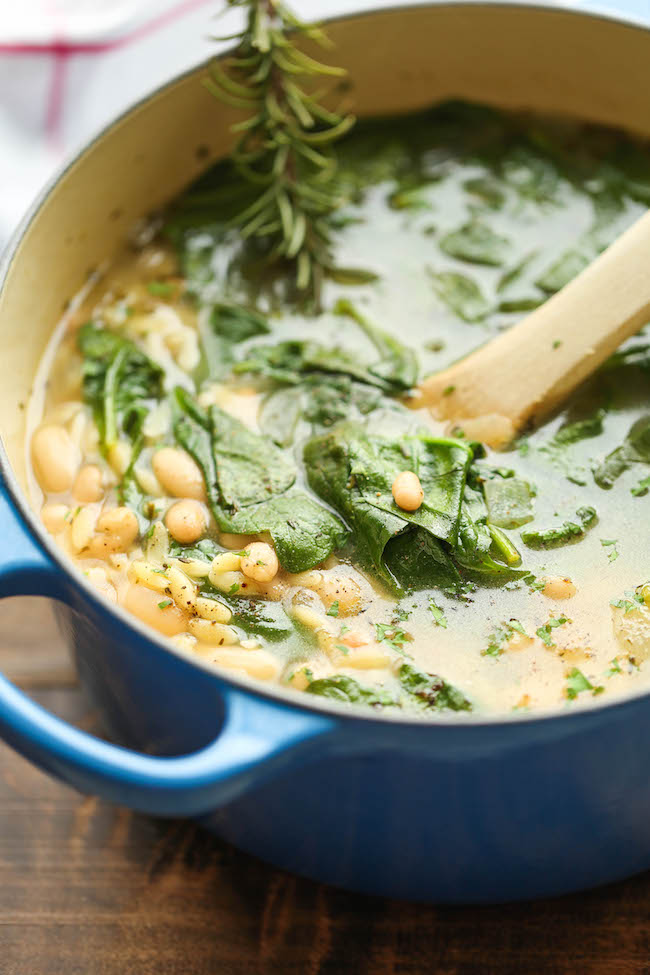 It's just such an amazingly cozy soup, loaded with wilted baby spinach, white beans, and my favorite orzo pasta. And to top it off, I threw in some freshly squeezed lemon juice for that refreshing hit of goodness.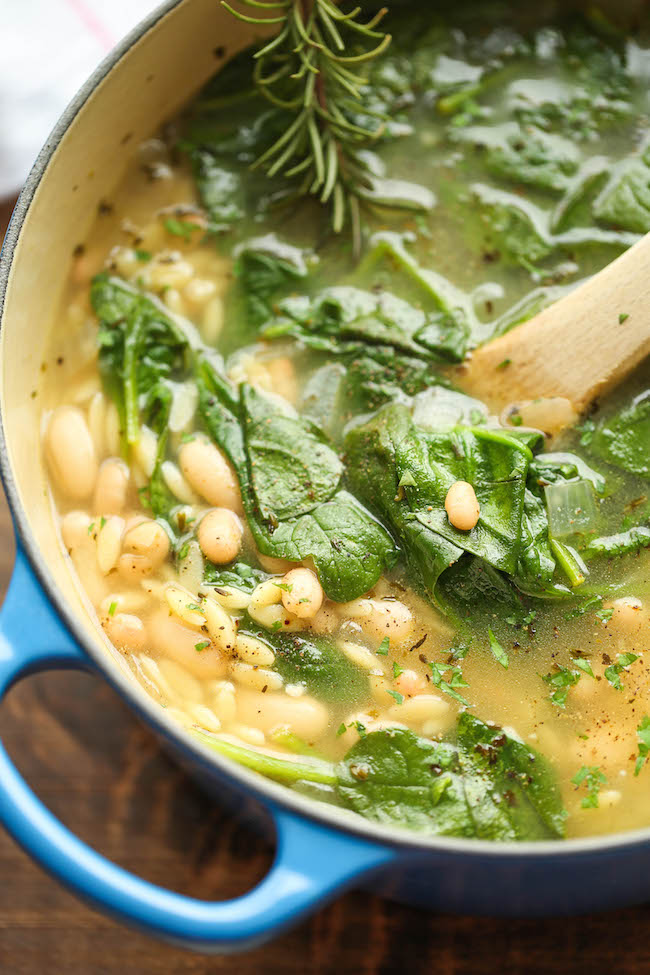 Now this is completely meatless but some andouille sausage or even crumbled Italian sausage would go beautifully in this soup. Either way, rain or shine, you'll want a piping hot bowl of this soup all year long!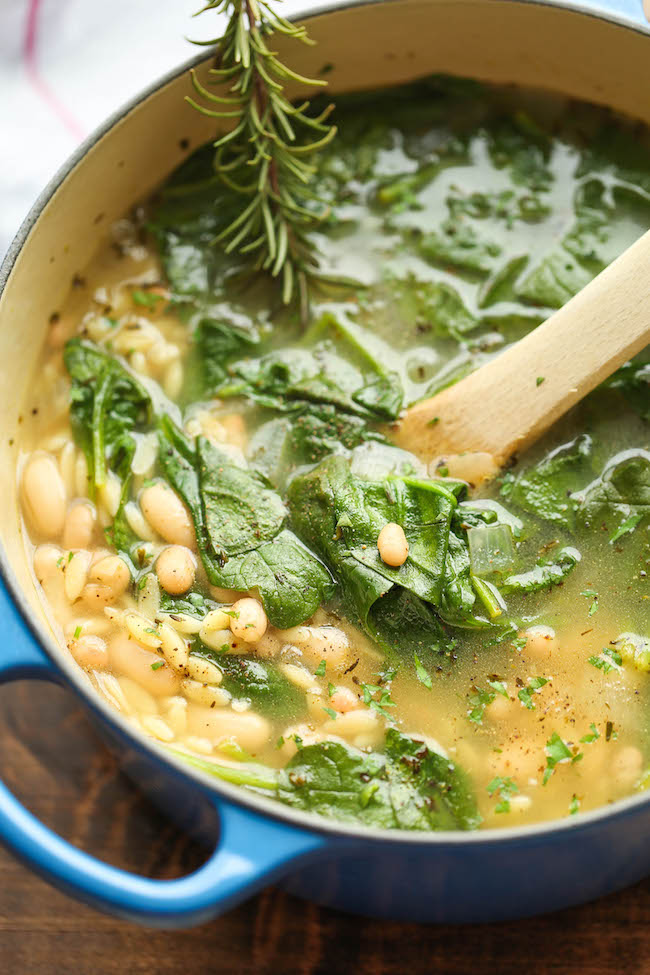 A cozy, comforting soup, chock full of fresh spinach, white beans and orzo pasta, made in less than 30 min!
Ingredients
1 tablespoon olive oil
3 cloves garlic, minced
1 onion, diced
1/2 teaspoon dried thyme
1/2 teaspoon dried basil
4 cups vegetable stock
2 bay leaves
1 cup uncooked orzo pasta
2 cups baby spinach
1 (15-ounce) can cannellini beans, drained and rinsed
Juice of 1 lemon
2 tablespoons chopped fresh parsley leaves
Kosher salt and freshly ground black pepper, to taste
Instructions
Heat olive oil in a large stockpot or Dutch oven over medium heat. Add garlic and onion, and cook, stirring frequently, until onions have become translucent, about 2-3 minutes. Stir in thyme and basil until fragrant, about 1 minute.
Whisk in vegetable stock, bay leaves and 1 cup water; bring to a boil. Stir in orzo; reduce heat and simmer until orzo is tender, about 10-12 minutes.
Stir in spinach and cannellini beans until the spinach has wilted, about 2 minutes. Stir in lemon juice and parsley; season with salt and pepper, to taste.
Serve immediately.
http://damndelicious.net/2015/01/26/spinach-white-bean-soup/
Why It's A Smart Choice
Nutrition Facts
Serving Size
Servings Per Container 6
---
Amount Per Serving
Calories 231.8 Calories from Fat 36
% Daily Value*
Total Fat 4.0g 6%
Saturated Fat 0.8g 4%
Trans Fat 0g
Cholesterol 0mg 0%
Sodium 207.9mg 9%
Total Carbohydrate 38.7g 13%
Dietary Fiber 6.3g 25%
Sugars 2.3g
Protein 11.8g 24%
---
*Percent Daily Values are based on a 2,000 calorie diet. Your daily values may be higher or lower depending on your calorie needs.
Each serving of this soup has 6.3g of fiber. This is a good dose to help you meet your daily target goal: at least 21g if you are female and 30g if you are male.  This soup is also low in sodium and high potassium, which is a great combo for heart health!
Nutritional information provided by Jessica Penner, RD at Smart Nutrition.