Honey Garlic Little Smokies
Easy peasy, fool-proof cocktail sausages that are amazingly sweet and savory, and of course, completely irresistible!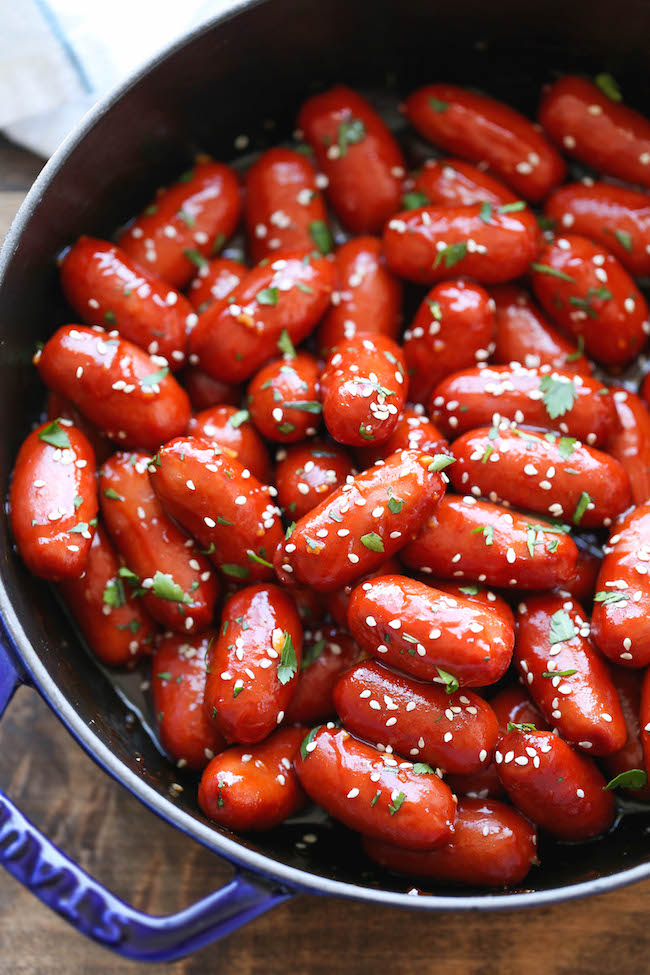 I had planned on sharing this in the coming weeks, but with the Super Bowl on Sunday, I realized that this absolutely needs to be added to your game day menu stat, no questions asked. Because at the end of the day, no one can resist these cute little smokies.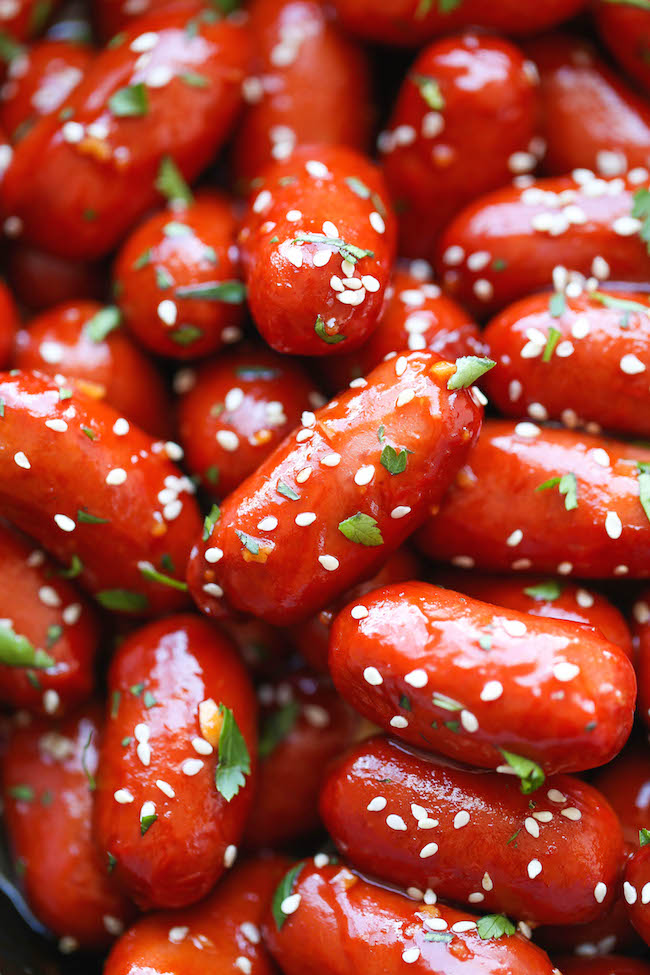 Now I do have a slow cooker version of this but this one here has some Asian flair, extra garlic and of course, those sesame seeds garnish. Just based on the garnish itself, I highly recommend this for your tailgating party. It makes for such a pretty dish to impress your guests!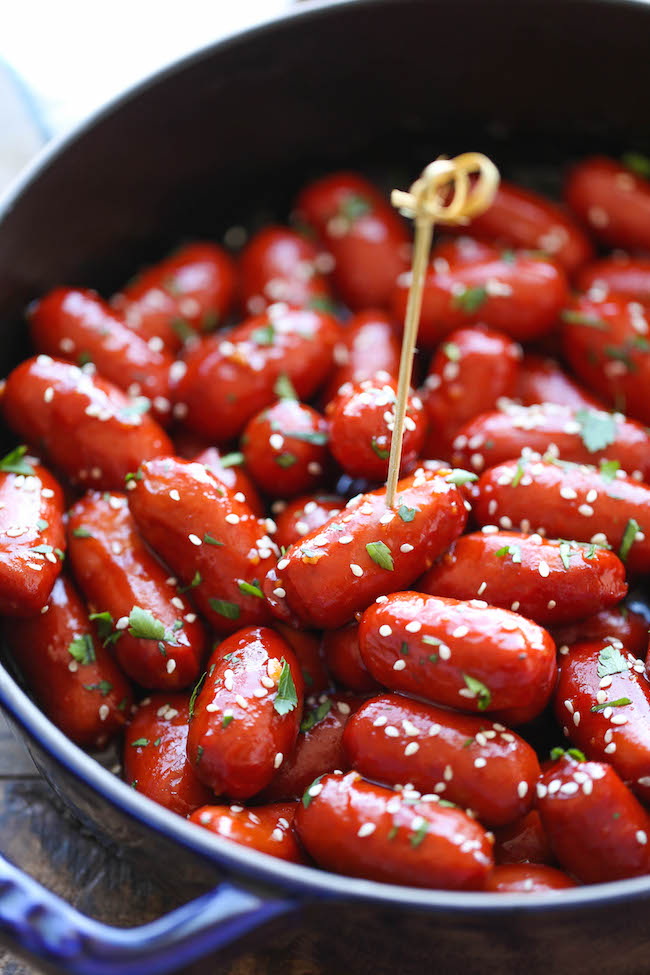 No, but really, these little smokies are unbelievably easy and completely irresistible. Now they should be sufficient for at least 8 appetizer servings but if you end up feeding yourself and only yourself, I won't blame you.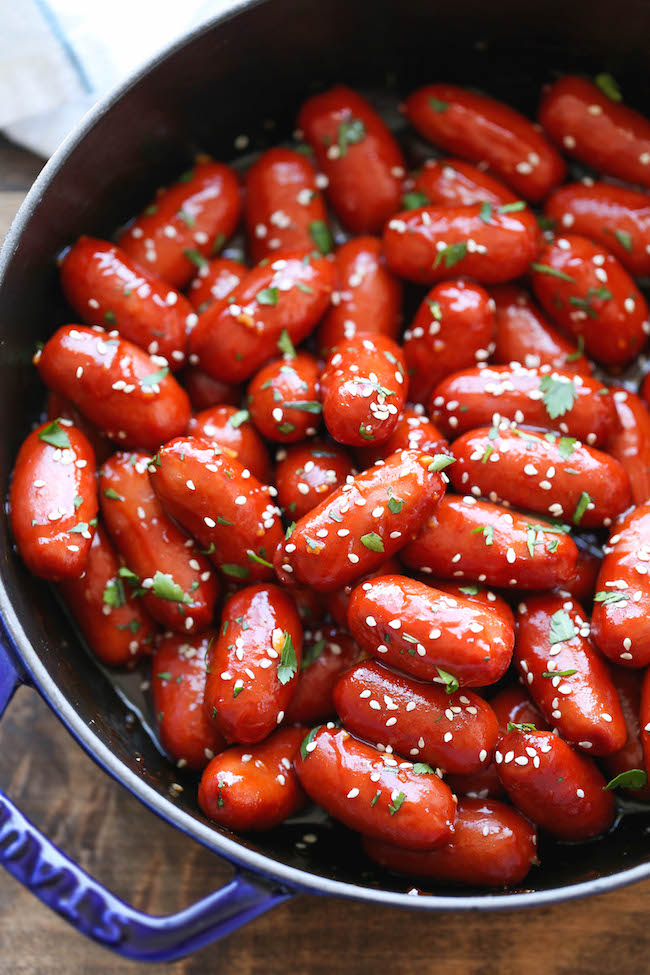 Easy peasy, fool-proof cocktail sausages that are amazingly sweet and savory, and of course, completely irresistible!
Ingredients
2 (16-ounce) packages old fashioned beef franks, drained and rinsed
1 teaspoon sesame seeds
2 tablespoons chopped fresh cilantro leaves

For the sauce

1/2 cup ketchup
1/4 cup brown sugar, packed
3 cloves garlic, minced
2 tablespoons honey
2 tablespoons reduced sodium soy sauce
1 tablespoon freshly grated ginger
1 tablespoon Sriracha
1 teaspoon sesame oil
Instructions
In a large skillet over medium heat, combine ketchup, brown sugar, garlic, honey, soy sauce, ginger, Sriracha and sesame oil. Stir in beef franks.
Bring to a boil; reduce heat and simmer until franks are thoroughly heated and plump, about 25-30 minutes.
Serve immediately, garnished with sesame seeds and cilantro, if desired.
http://damndelicious.net/2015/01/28/honey-garlic-little-smokies/
Why It's A Smart Choice
Nutrition Facts
Serving Size
Servings Per Container 8
---
Amount Per Serving
Calories 433.4 Calories from Fat 308.7
% Daily Value*
Total Fat 34.3g 53%
Saturated Fat 13.4g 67%
Trans Fat 0g
Cholesterol 60.1mg 20%
Sodium 1644.3mg 69%
Total Carbohydrate 18.1g 6%
Dietary Fiber 0.4g 2%
Sugars 16.1g
Protein 13.4g 27%
---
*Percent Daily Values are based on a 2,000 calorie diet. Your daily values may be higher or lower depending on your calorie needs.
All foods can fit in a healthy diet but some foods should be eaten with much less frequency and in much smaller portion sizes. This is one of those more indulgent foods! Now if you choose healthful foods most of the time, you can enjoy this dish on the rare occasion, such as Superbowl Sunday!
Nutritional information provided by Jessica Penner, RD at Smart Nutrition.