Easy Thai Shrimp Soup
Skip the take-out and try making this at home – it's unbelievably easy and 10000x tastier and healthier!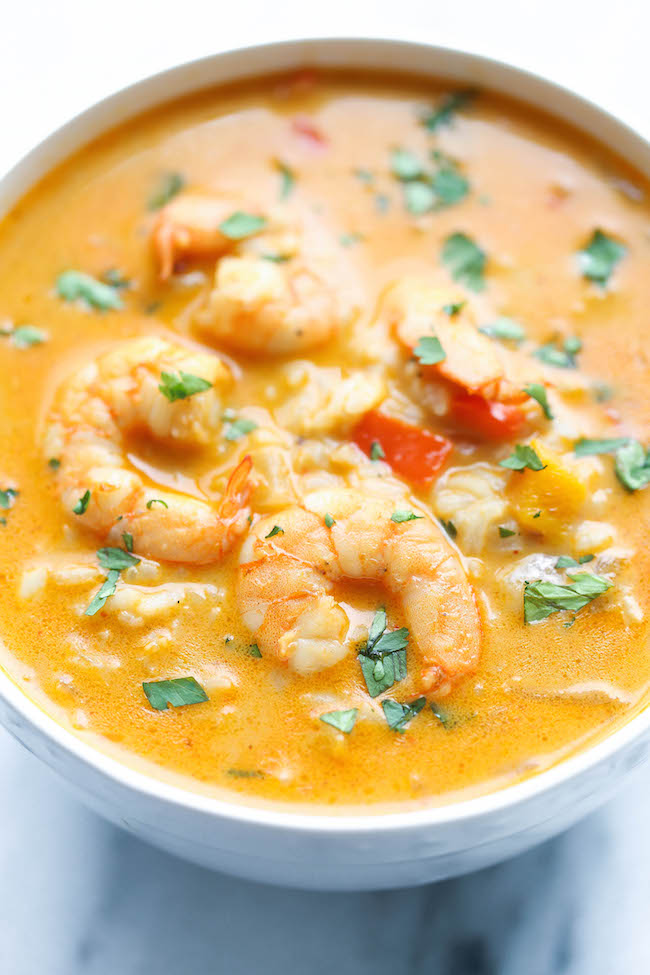 I am such a sucker for Thai take-out, particularly for red curry and coconut soup. I order it on a weekly basis! But ordering take-out this often has been getting a bit costly so this homemade coconut curry soup comes in very handy. And it tastes a million times better too.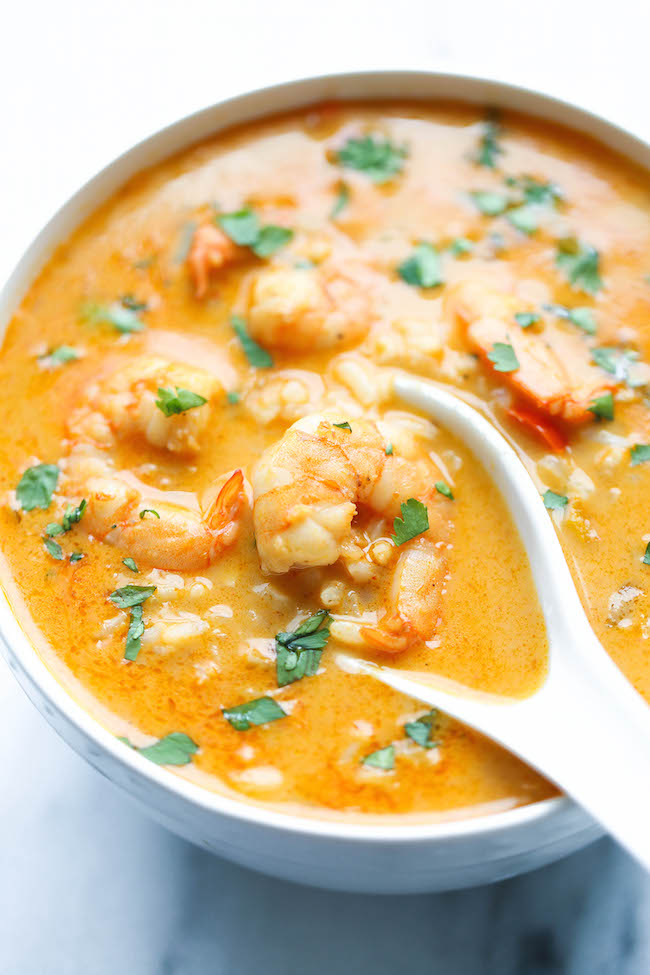 Best of all, it's so easy to make, and it doesn't require ingredients that are hard to find. And if you're not a fan of shrimp, you can easily swap that out for chicken, pork or even tofu for a vegetarian option. Either way, you'll be sure to skip your usual Thai take-out and indulge in this budget-friendly version instead!
Easy Thai Shrimp Soup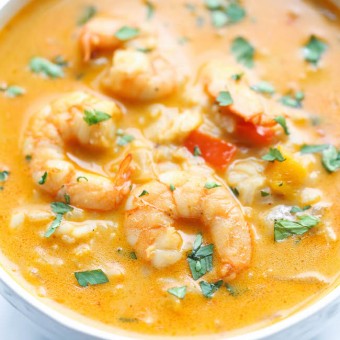 Skip the take-out and try making this at home – it's unbelievably easy and 10000x tastier and healthier!
Ingredients:
1 cup uncooked basmati rice
2 tablespoons unsalted butter
1 pound medium shrimp, peeled and deveined
Kosher salt and freshly ground black pepper, to taste
2 cloves garlic, minced
1 onion, diced
1 red bell pepper, diced
1 tablespoon freshly grated ginger
2 tablespoon red curry paste
2 (12-ounce) cans unsweetened coconut milk
4 cups vegetable stock
Juice of 1 lime
2 tablespoons chopped fresh cilantro leaves
Directions:
In a large saucepan of 1 1 /2 cups water, cook rice according to package instructions; set aside.
Melt butter in a large stockpot or Dutch oven over medium high heat. Add shrimp, salt and pepper, to taste. Cook, stirring occasionally, until pink, about 2-3 minutes; set aside.
Add garlic, onion and bell pepper to the stockpot. Cook, stirring occasionally, until tender, about 3-4 minutes. Stir in ginger until fragrant, about 1 minute.
Whisk in curry paste until well combined, about 1 minute. Gradually whisk in coconut milk and vegetable stock, and cook, whisking constantly, until incorporated, about 1-2 minutes.
Bring to a boil; reduce heat and simmer until slightly thickened, about 8-10 minutes.
Stir in rice, shrimp, lime juice and cilantro.
Serve immediately.
Why It's A Smart Choice
Nutrition Facts
Serving Size
Servings Per Container 6
---
Amount Per Serving
Calories 537.8 Calories from Fat 297
% Daily Value*
Total Fat 33.0g 51%
Saturated Fat 27.0g 135%
Trans Fat 0.2g
Cholesterol 153.3mg 51%
Sodium 347.3mg 14%
Total Carbohydrate 40.3g 13%
Dietary Fiber 2.3g 9%
Sugars 6.5g
Protein 24.6g 49%
---
*Percent Daily Values are based on a 2,000 calorie diet. Your daily values may be higher or lower depending on your calorie needs.
This is a nice, well-rounded meal that has a good amount of several nutrients including folate, potassium, and iron. Eating soup is also a good way to fill up faster. The water in the soup will fill you up faster than eating solid food and drinking water on the side!
Nutritional information provided by Jessica Penner, RD at Smart Nutrition.