Garlic Butter Shrimp Pasta
An easy peasy pasta dish that's simple, flavorful and incredibly hearty. And all you need is 20 min to whip this up!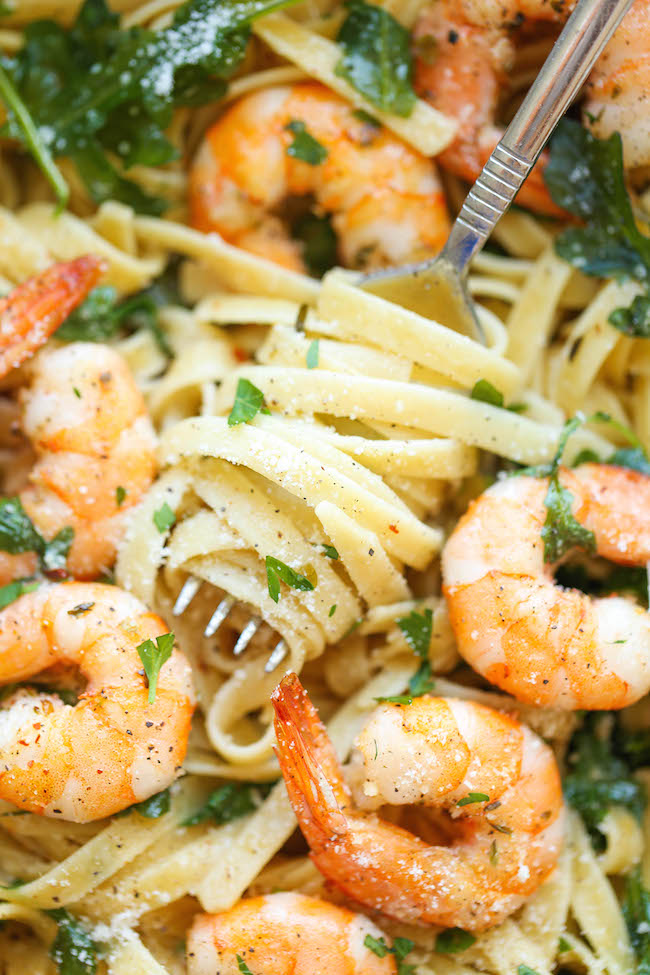 With the cold weather upon us, it's all about staying in with your sweatpants and cooking up some major comfort food. Although I should mention it's pushing 80 degrees F out here in Southern California and I'm still walking around in shorts and flip flops.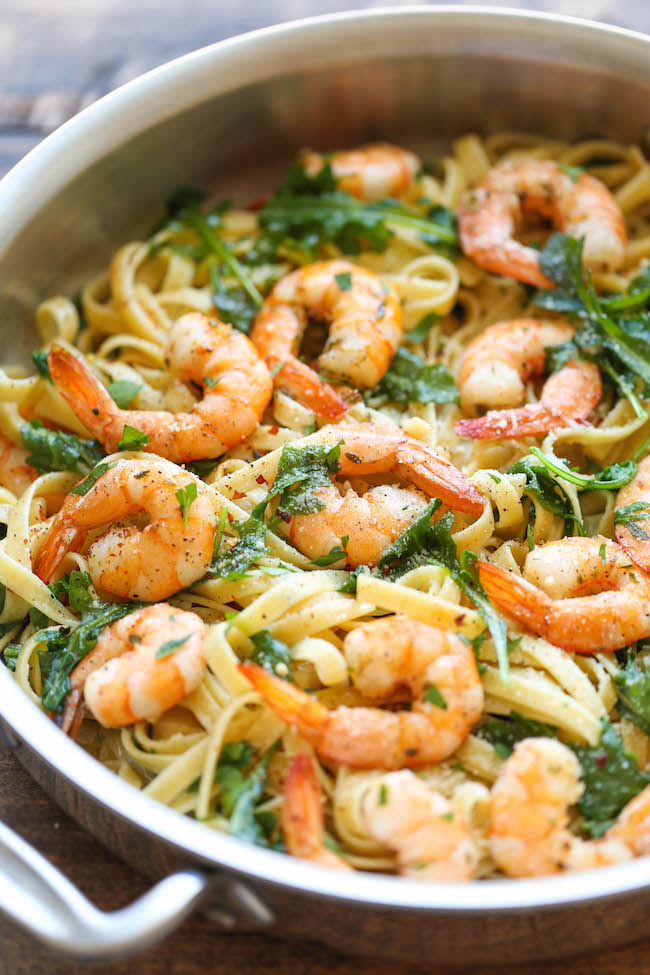 Still, that's not stopping me from indulging in the ultimate kind of comfort food and throwing a shrimp and pasta party with Eat Shrimp and Calphalon. And with the help of Calphalon's Contemporary Nonstick 3.5 qt. Pour and Strain Sauce Pan and Stainless Steel Utensils Silicone Tipped Tongs, this dish will come together in just 20 minutes from start to finish.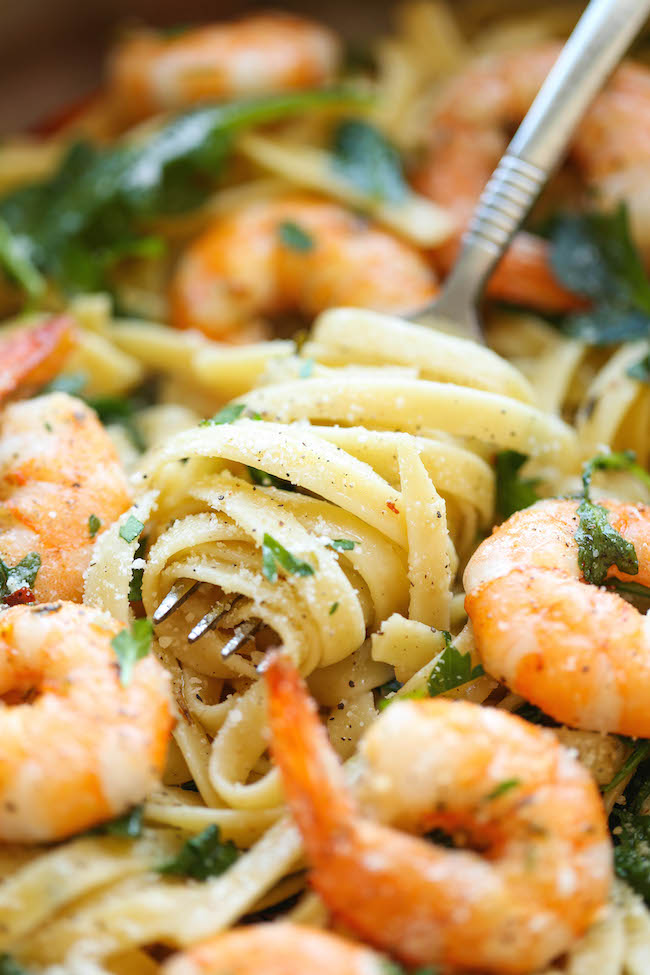 All you have to do is boil up some pasta and saute your shrimp in a pool of garlic-butter-herb goodness. Once that's ready, just toss in your pasta and some fresh greens. That's it. It's easy, quick, and comforting in any kind of weather!
You can follow Eat Shrimp on Facebook and Pinterest for more shrimp recipe inspiration!
Garlic Butter Shrimp Pasta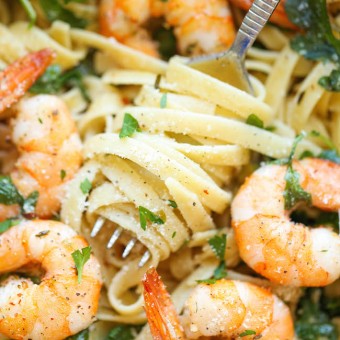 An easy peasy pasta dish that's simple, flavorful and incredibly hearty. And all you need is 20 min to whip this up!
Ingredients:
8 ounces fettuccine
1 pound medium shrimp, peeled and deveined
Kosher salt and freshly ground black pepper, to taste
8 tablespoons (1 stick) unsalted butter, divided
4 cloves garlic, minced
1/2 teaspoon dried oregano
1/2 teaspoon crushed red pepper flakes
2 cups baby arugula
1/4 cup freshly grated Parmesan
2 tablespoons chopped fresh parsley leaves
Directions:
In a large pot of boiling salted water, cook pasta according to package instructions; drain well.
Season shrimp with salt and pepper, to taste; set aside.
Melt 2 tablespoons butter in a large skillet over medium high heat. Add garlic, oregano and red pepper flakes, and cook, stirring frequently, until fragrant, about 1-2 minutes.
Add shrimp and cook, stirring occasionally, until pink, about 2-3 minutes; set aside.
Melt remaining 6 tablespoons butter in the skillet. Stir in pasta, arugula and Parmesan until arugula begins to wilt, about 2 minutes. Stir in shrimp.
Serve immediately, garnished with parsley, if desired.
Why It's A Smart Choice
Nutrition Facts
Serving Size
Servings Per Container 4
---
Amount Per Serving
Calories 556.4 Calories from Fat 242.1
% Daily Value*
Total Fat 26.9g 41%
Saturated Fat 16.2g 81%
Trans Fat 1.3g
Cholesterol 280.2mg 93%
Sodium 363.4mg 15%
Total Carbohydrate 44.0g 15%
Dietary Fiber 2.0g 8%
Sugars 1.8g
Protein 33.5g 67%
---
*Percent Daily Values are based on a 2,000 calorie diet. Your daily values may be higher or lower depending on your calorie needs.
Omega 3 fats are essential and healthy fats that are important for the health of your blood vessels, vision, skin, mood, and memory. Unfortunately, they can be difficult to work into your diet since there are only to be found in a handful of foods. Wild salmon is one of the highest sources for Omega 3 fats, and as such, always gets pointed out as a source. but you can get them through other foods as well, such as shrimp.
Nutritional information provided by Jessica Penner, RD at Smart Nutrition.
Disclosure: This post is sponsored by the National Fisheries Institute Shrimp Council. All opinions expressed are my own.