Slow Cooker Sausage, Spinach and White Bean Soup
So hearty, so comforting, and so easy to make right in the crock-pot with just 10 min prep. Easy peasy!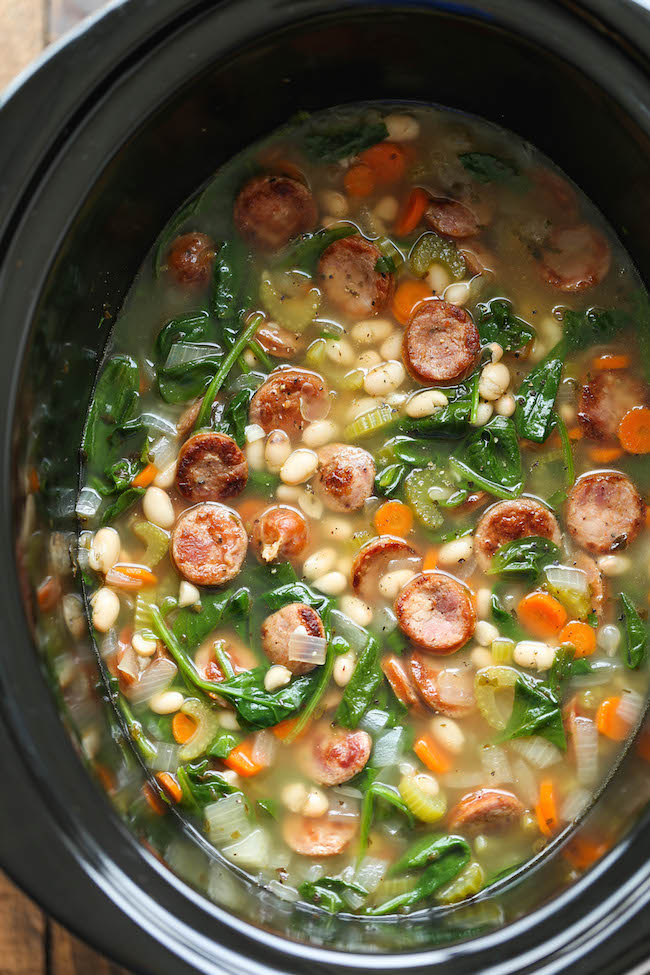 Slow cooker soups are the best. There's absolutely no sautéing or stirring involved, and you can simply set the crock-pot and forget it, letting the slow cooker do all the work for you.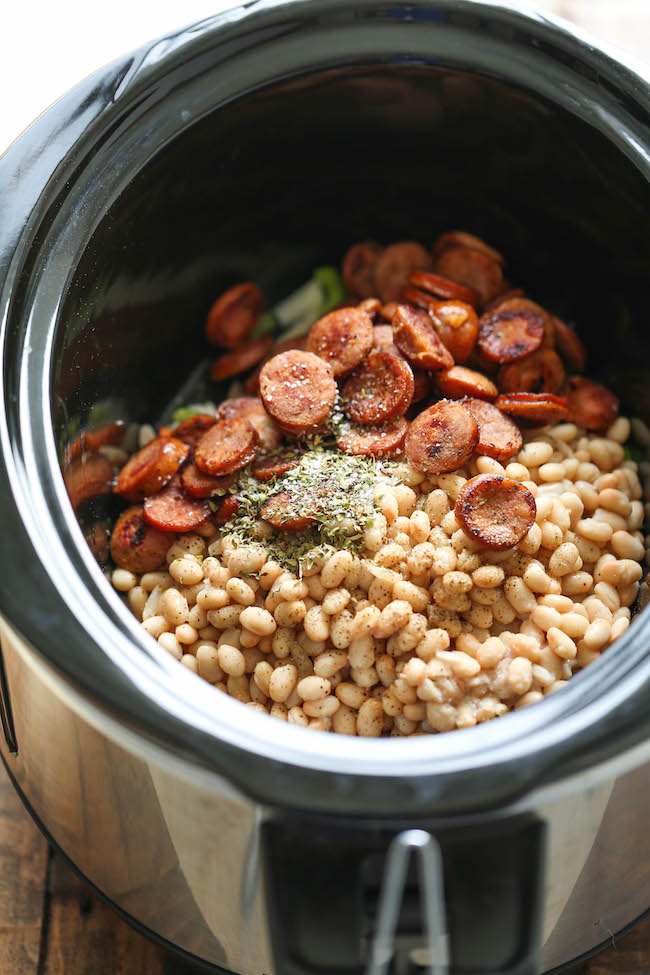 And with this, all you have to do is simply cook up your sausage and throw everything else into the slow cooker. Done and done. When you're ready to serve, go ahead and stir in your spinach until wilted. Easy enough, right?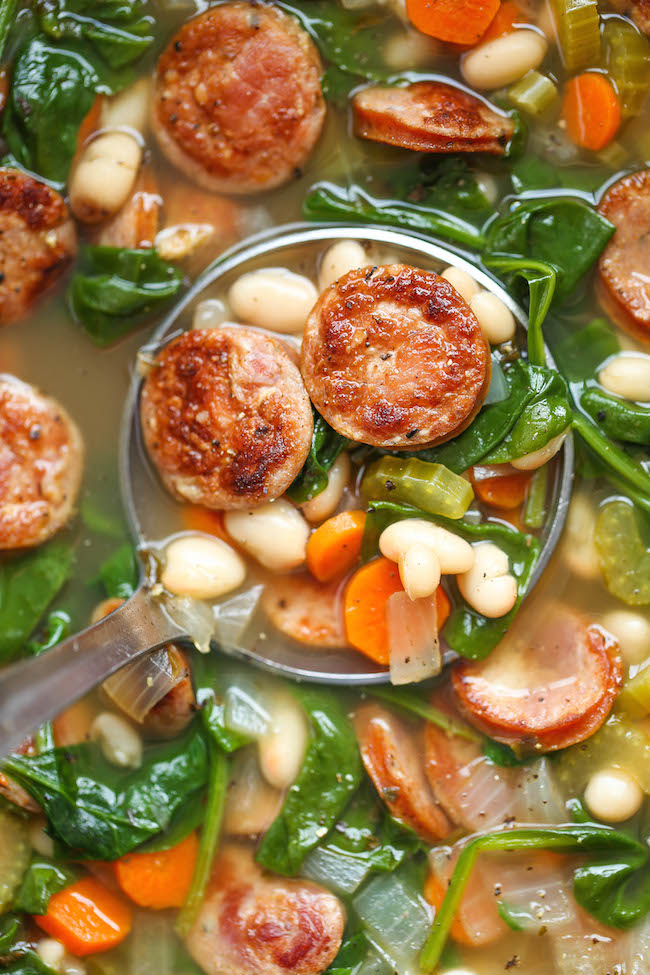 The best part about this soup is how it can really be served in any kind of weather, especially in the 90+ degree weather we've been having!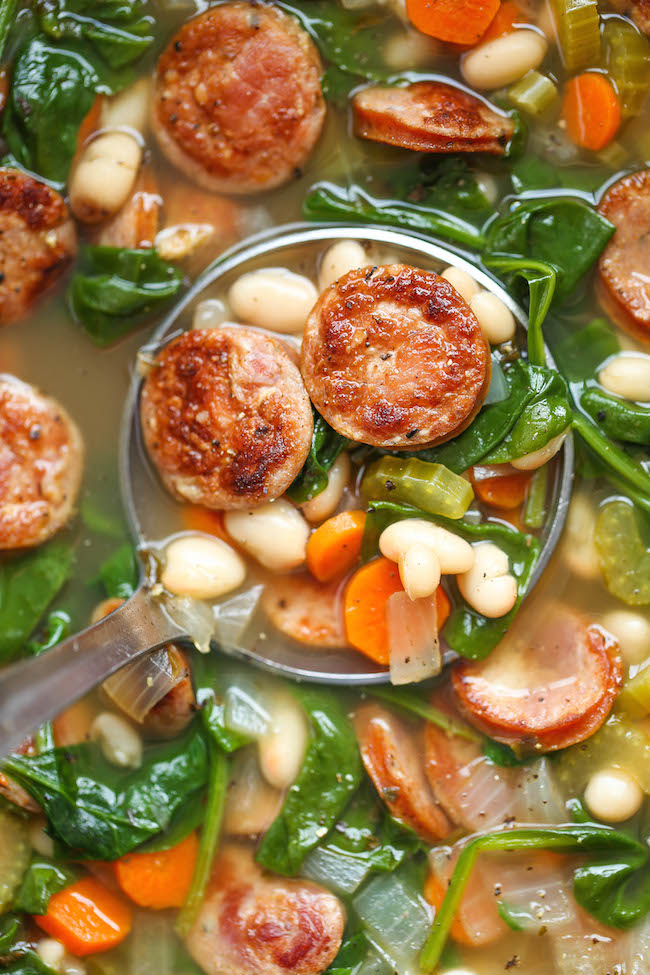 So hearty, so comforting, and so easy to make right in the crock-pot with just 10 min prep. Easy peasy!
Ingredients
1 tablespoon olive oil
1 (12.8-ounce) package smoked andouille sausage, thinly sliced
3 cloves garlic, minced
1 onion, diced
3 carrots, peeled and diced
2 stalks celery, diced
2 (15-ounce) cans Great Northern beans, drained and rinsed
1/2 teaspoon dried oregano
2 bay leaves
4 cups chicken broth
Kosher salt and freshly ground black pepper, to taste
3 cups baby spinach
Instructions
Heat olive oil in a large skillet over medium high heat. Add sausage, and cook, stirring frequently, until lightly browned, about 3-4 minutes.
Place sausage, garlic, onion, carrots, celery, beans, oregano and bay leaves into a 6-qt slow cooker. Stir in chicken broth and 2 cups water until well combined; season with salt and pepper, to taste.
Cover and cook on low heat for 7-8 hours or high heat for 3-4 hours. Stir in spinach until wilted.
Serve immediately.
Notes
http://damndelicious.net/2015/03/21/slow-cooker-sausage-spinach-and-white-bean-soup/
Why It's A Smart Choice
Nutrition Facts
Serving Size
Servings Per Container 8
---
Amount Per Serving
Calories 319.3 Calories from Fat 142.2
% Daily Value*
Total Fat 15.8g 24%
Saturated Fat 4.8g 24%
Trans Fat 0g
Cholesterol 27.7mg 9%
Sodium 453.0mg 19%
Total Carbohydrate 29.0g 10%
Dietary Fiber 6.6g 26%
Sugars 2.8g
Protein 16.6g 33%
---
*Percent Daily Values are based on a 2,000 calorie diet. Your daily values may be higher or lower depending on your calorie needs.
This soup is a great source of Vitamin A, folate, potassium, iron, and fiber. And unlike canned or restaurant soups, it's not loaded with sodium!
Nutritional information provided by Jessica Penner, RD at Smart Nutrition.