One Pan Ranch Pork Chops and Veggies
The easiest 5-ingredient meal EVER! And yes, you just need one pan with 5 min prep. It's quick, easy and effortless!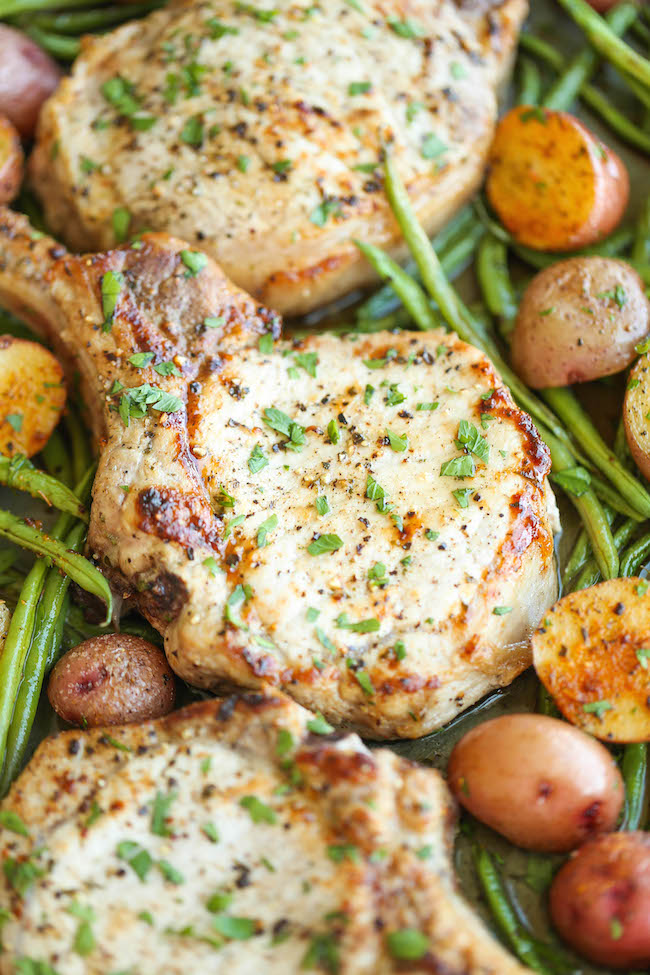 Yes. It's the other white meat. Damn Delicious is taking a momentary break from all the chicken recipes and bringing out the pork goodness made on a single sheet pan.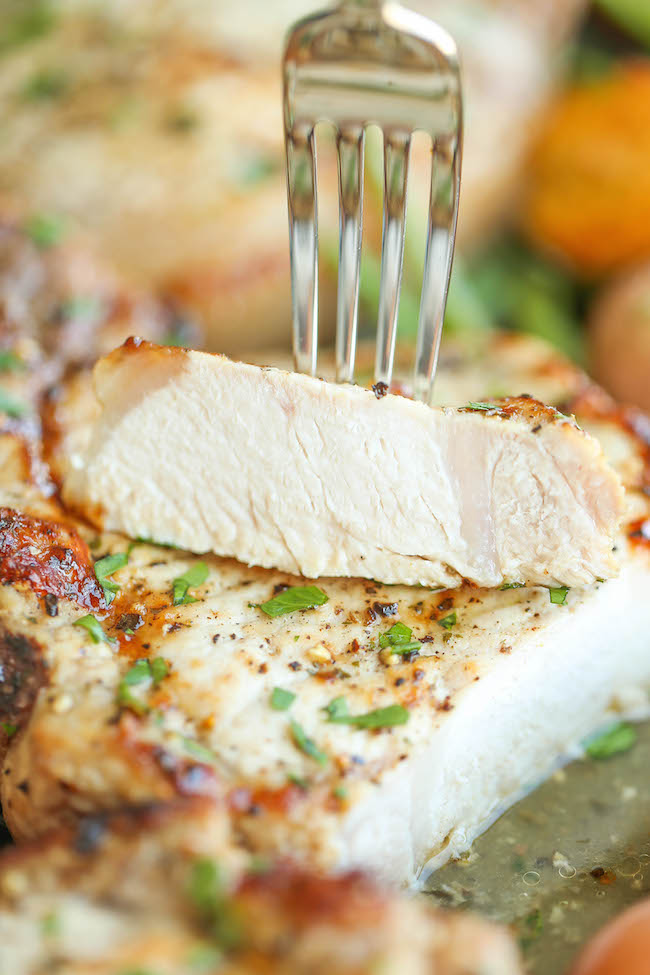 And not only does this come together on a single pan with your desired veggies but you only need 5 ingredients! The main ingredient here is of course, the Ranch Seasoning and Salad Dressing Mix. If this product is not available in your country, there are many DIY recipes available online.
But for those of you who have access to this, I would stock up on this seasoning mix because you can really put this on anything and everything.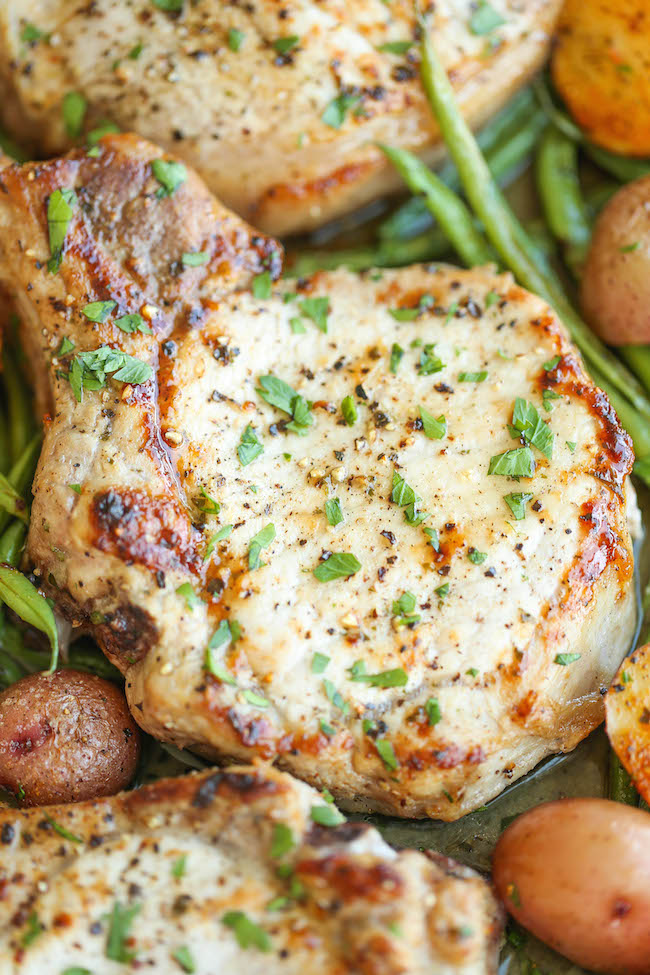 Now all you have to do here is sprinkle on that Ranch seasoning onto your pork chops, toss in your veggies, and pop it in the oven. That is it. Really. It's just 5 ingredients, 5 min prep and one pan. Done.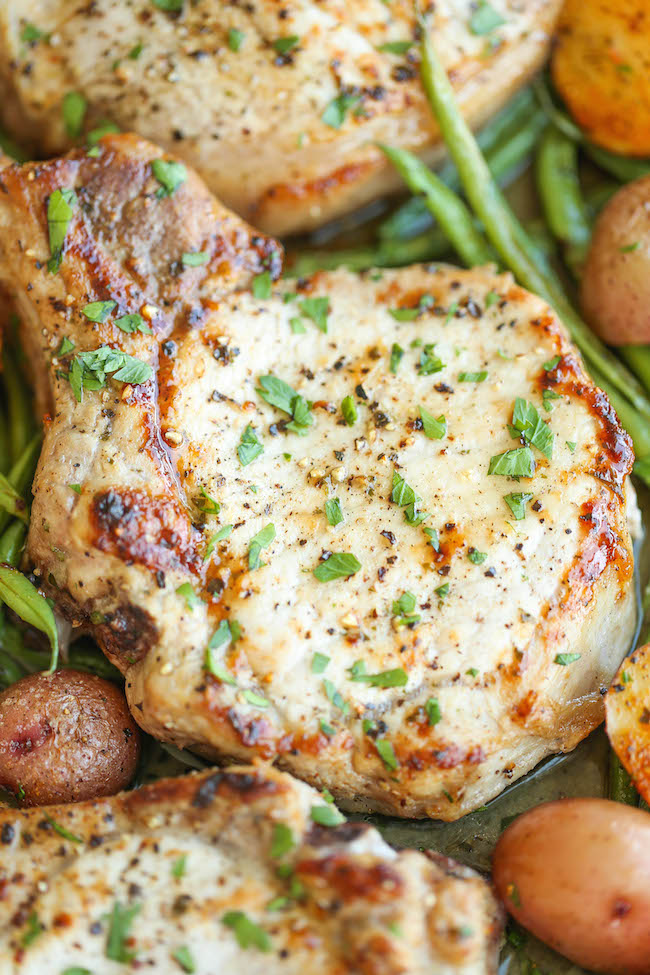 The easiest 5-ingredient meal EVER! And yes, you just need one pan with 5 min prep. It's quick, easy and effortless!
Ingredients
4 (8-ounce) pork chops, bone-in, 3/4-inch to 1-inch thick
16 ounces baby red potatoes, halved
16 ounces green beans, trimmed
2 tablespoons olive oil
1 (1-ounce) package Ranch Seasoning and Salad Dressing Mix
3 cloves garlic, minced
Kosher salt and freshly ground black pepper, to taste
2 tablespoons chopped fresh parsley leaves
Instructions
Preheat oven to 400 degrees F. Lightly oil a baking sheet or coat with nonstick spray.
Place pork chops, potatoes and green beans in a single layer onto the prepared baking sheet. Drizzle with olive oil and sprinkle with Ranch Seasoning and garlic; season with salt and pepper, to taste.
Place into oven and roast until the pork is completely cooked through, reaching an internal temperature of 140 degrees F, about 20-22 minutes.* Then broil for 2-3 minutes, or until caramelized and slightly charred.
Serve immediately, garnished with parsley, if desired.
Notes
*Cooking time will vary depending on the size and thickness of the pork chops and potatoes.
http://damndelicious.net/2015/07/29/one-pan-ranch-pork-chops-and-veggies/
Why It's A Smart Choice
Nutrition Facts
Serving Size
Servings Per Container 4
---
Amount Per Serving
Calories 533.3 Calories from Fat 242.1
% Daily Value*
Total Fat 26.9g 41%
Saturated Fat 8.3g 42%
Trans Fat 0g
Cholesterol 110.2mg 37%
Sodium 634.5mg 26%
Total Carbohydrate 30.8g 10%
Dietary Fiber 5.1g 20%
Sugars 4.9g
Protein 40.8g 82%
---
*Percent Daily Values are based on a 2,000 calorie diet. Your daily values may be higher or lower depending on your calorie needs.
This is a very well-rounded meal with about 2 servings each of veggies, starches, and meat. Serve with a glass of milk or a serving of cheese to hit all of the food groups!
Nutritional information provided by Jessica Penner, RD at Smart Nutrition.