Baked Cream Cheese Spaghetti
A baked spaghetti casserole that's amazingly cheesy and creamy. It's comfort food at its best, and EASIEST!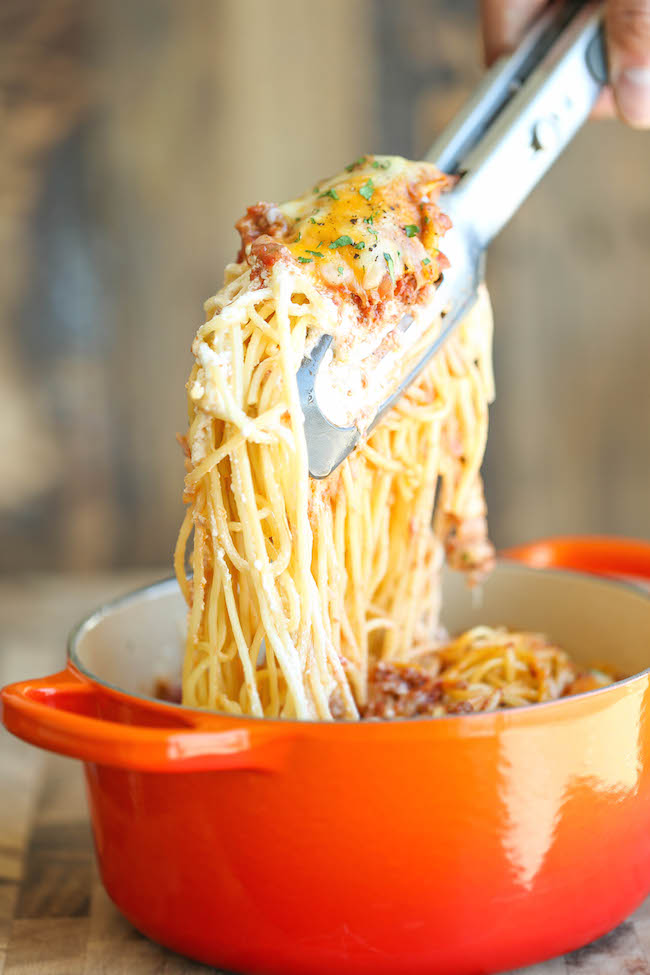 I know. It's the day after Labor Day, we're just about to start football season, and I post this instead of some sort of post-Labor-Day-juice-cleanse-quinoa-health-kick type recipe.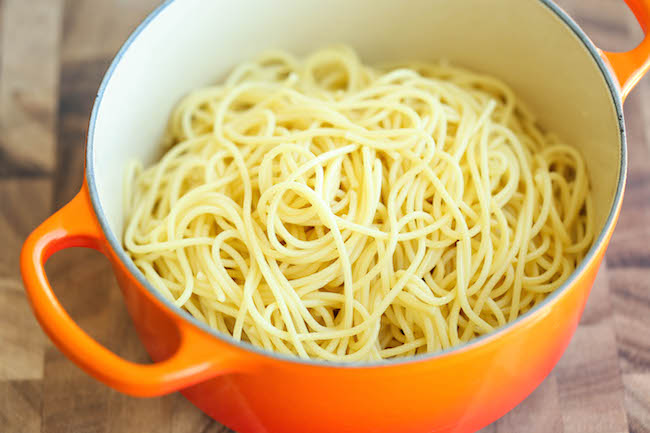 Sorry guys, but you'll need your stretchy pants for this.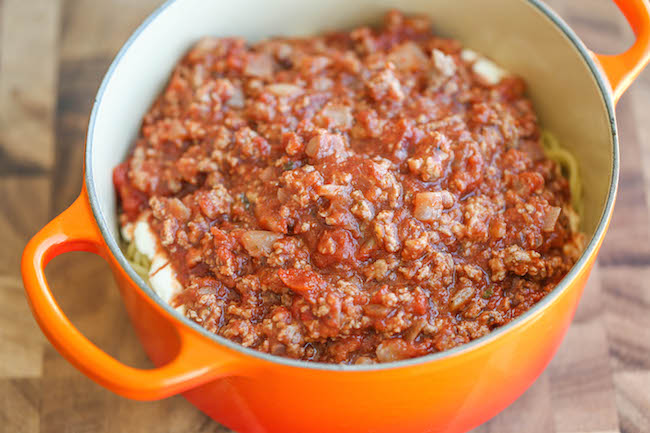 It's pure comfort food at its best – so no. It is not diet-friendly. It is not skinny. It is not light. It's just the best kind of spaghetti.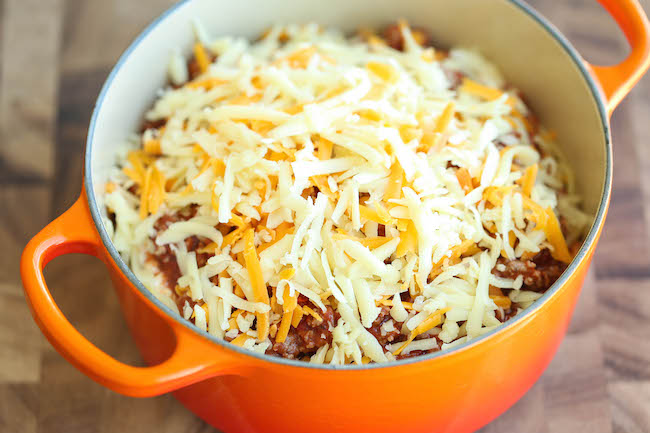 It's a spaghetti casserole with layers of pasta noodles, cream cheese and sour cream, and a meaty-marinara sauce, baked to cheesy perfection.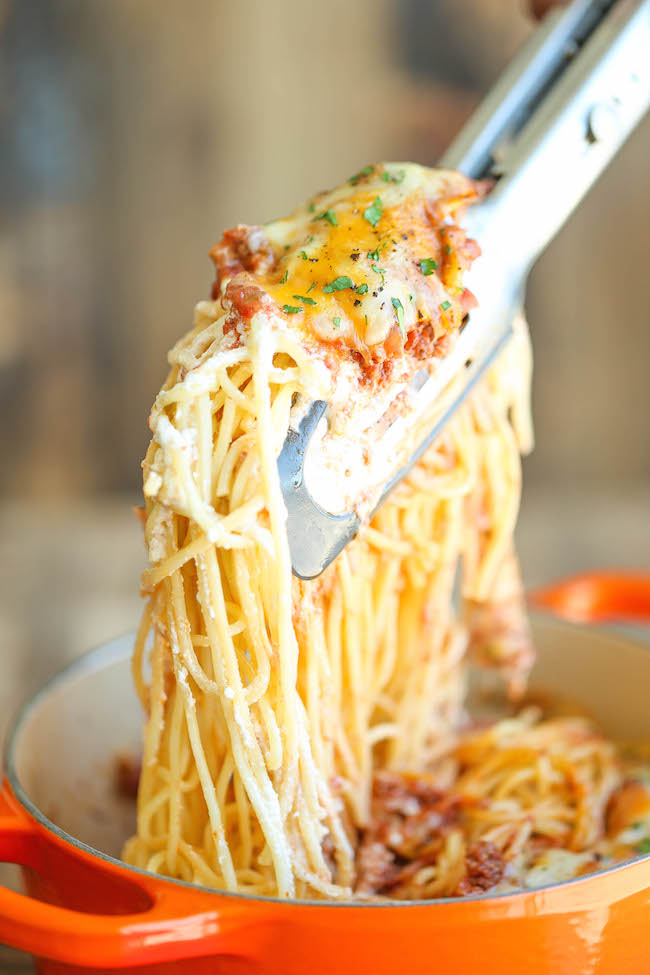 It's enough to feed a crowd or feed a party of two all week long. You win either way.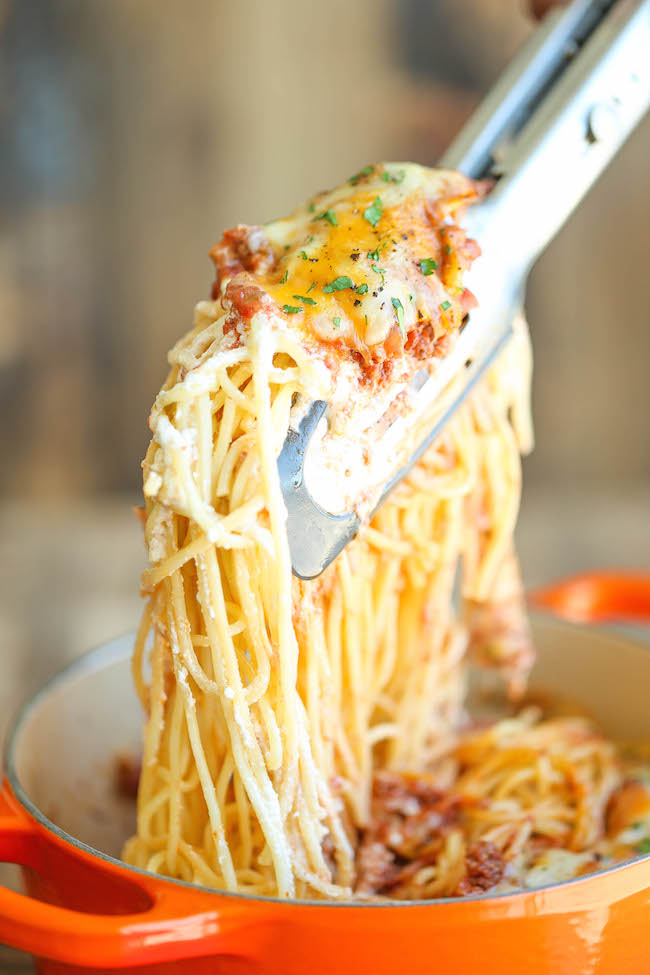 A baked spaghetti casserole that's amazingly cheesy and creamy. It's comfort food at its best, and EASIEST!
Ingredients
1 pound spaghetti
1 tablespoon olive oil
1 pound ground beef
1 small onion, diced
Kosher salt and freshly ground black pepper
1 (28-ounce) can crushed tomatoes
1 teaspoon dried basil
1/2 teaspoon dried oregano
1/2 teaspoon dried parsley
1/2 teaspoon crushed red pepper flakes, optional
1/2 cup whipped cream cheese
1/2 cup sour cream
1/2 cup shredded cheddar cheese
1/2 cup shredded Monterey Jack cheese
2 tablespoons chopped fresh parsley leaves
Instructions
Preheat oven to 350 degrees F. Lightly oil a 9x13 baking dish or coat with nonstick spray.
In a large pot of boiling salted water, cook pasta according to package instructions; drain well.
Heat olive oil in a large skillet over medium high heat. Add ground beef and onion and cook until beef has browned, about 3-5 minutes, making sure to crumble the beef as it cooks; season with salt and pepper, to taste. Drain excess fat.
Stir in crushed tomatoes, basil, oregano, parsley and red pepper flakes; season with salt and pepper, to taste.
In a small bowl, whisk together cream cheese and sour cream.
Add pasta to the prepared baking dish and layer with cream cheese and beef mixture; sprinkle with cheeses.
Place into oven and bake until bubbly and heated through, about 15-20 minutes.
Serve immediately, garnished with parsley, if desired.
http://damndelicious.net/2015/09/07/baked-cream-cheese-spaghetti/
Why It's A Smart Choice
Nutrition Facts
Serving Size
Servings Per Container 8
---
Amount Per Serving
Calories 480.4 Calories from Fat 177.3
% Daily Value*
Total Fat 19.7g 30%
Saturated Fat 9.2g 46%
Trans Fat 0g
Cholesterol 58.4mg 19%
Sodium 290.6mg 12%
Total Carbohydrate 52.5g 18%
Dietary Fiber 4.1g 16%
Sugars 2.5g
Protein 23.6g 47%
---
*Percent Daily Values are based on a 2,000 calorie diet. Your daily values may be higher or lower depending on your calorie needs.
This recipe is a great source of many key nutrients needed during pregnancy: iron, folate, calcium, and protein. This is a smart choice for all your expecting mamas out there!
Nutritional information provided by Jessica Penner, RD at Smart Nutrition.