Slow Cooker Stuffed Peppers
Hearty, protein/fiber loaded peppers packed with so much flavor – and it's all made in the crockpot. Easy and effortless!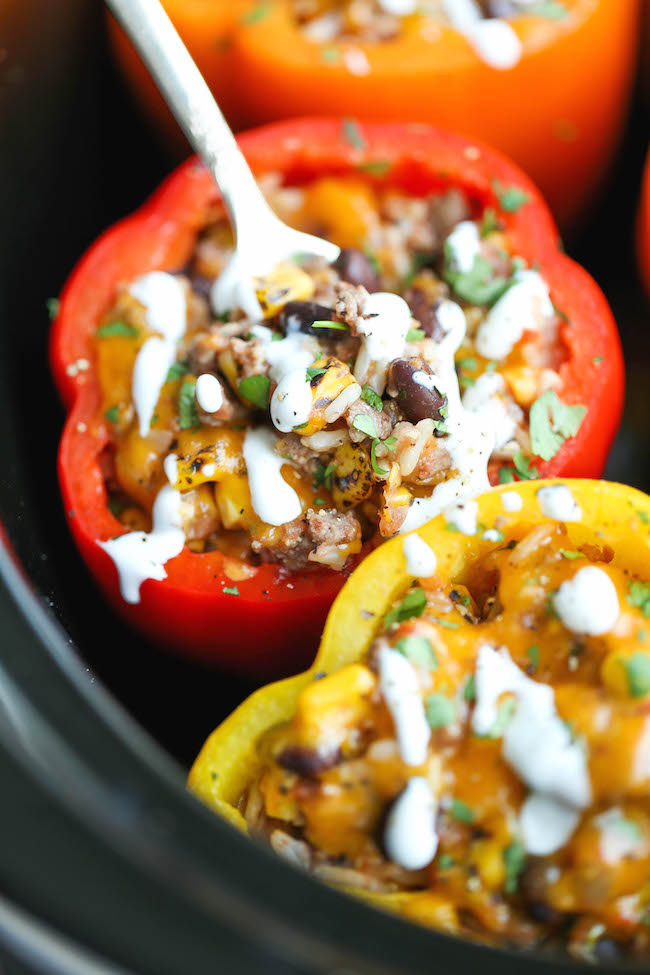 I really want to say that Fall is right around the corner, pumpkin season has been set, and we're all about to wear our cute knitted sweater cardigans. Except it's 90+ degrees here in Southern California. And I have no intention of walking into pumpkin season in this summer heat.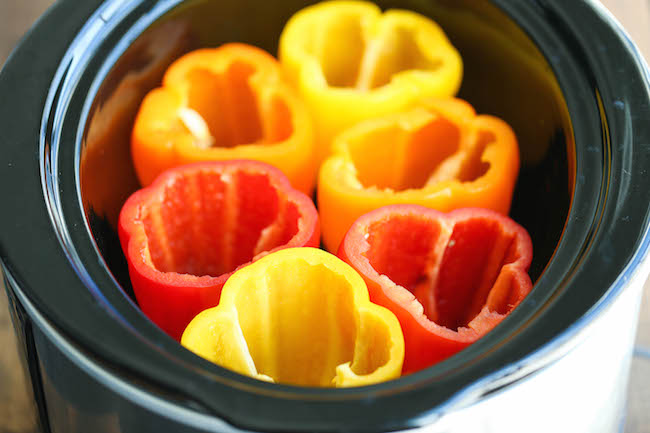 But I can still dust off that crockpot with balls and balls of baby corgi fur and stuff my face with these, well, stuffed peppers.
Yes, stuffed with brown rice, ground beef, beans, corn, salsa and cheese. Lots and lots of cheese.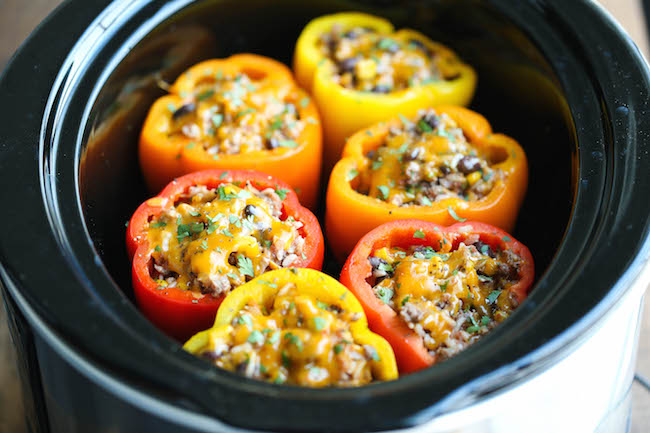 You can also swap out the brown rice for white rice or even quinoa for a healthy kick. Or ground turkey instead of the ground beef. It's all up to you.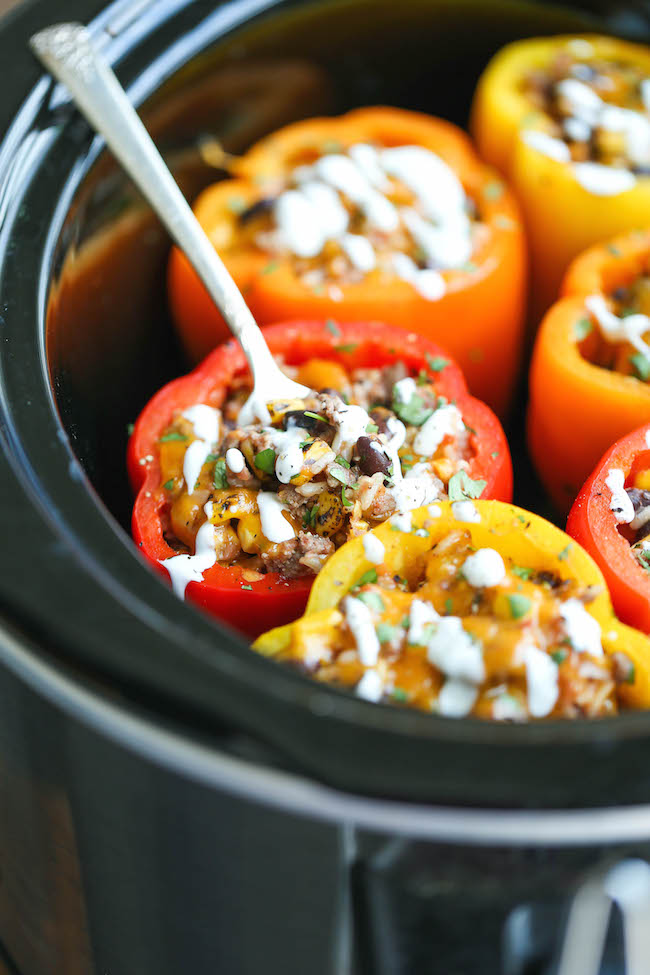 And then you can finish these off with a sour cream drizzle. And maybe some extra salsa. And guacamole. The guacamole is a must.
Slow Cooker Stuffed Peppers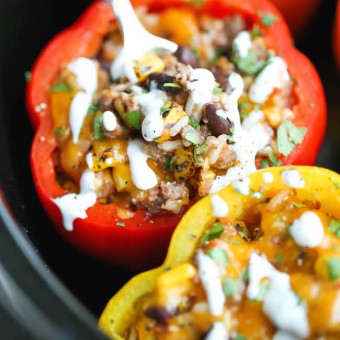 Hearty, protein/fiber loaded peppers packed with so much flavor – and it's all made in the crockpot. Easy and effortless!
Ingredients:
1 pound lean ground beef*
1 1/2 cups cooked brown rice*
1 1/2 cups shredded cheddar cheese, divided
1 (15-ounce) can black beans, drained and rinsed
1 cup corn kernels, frozen, canned or roasted
1 cup salsa, homemade or store-bought
2 tablespoons chopped fresh cilantro leaves
1 teaspoon cumin
1/2 teaspoon chili powder, or more to taste
Kosher salt and freshly ground black pepper, to taste
6 bell peppers, tops cut, stemmed and seeded
2 tablespoons sour cream, optional
Directions:
Lightly coat the inside of a 6-qt slow cooker with nonstick spray.
In a large bowl, combine beef, rice, 1 cup cheese, black beans, corn, salsa, cilantro, cumin and chili powder; season with salt and pepper, to taste. Spoon the filling into each bell pepper cavity.
Place peppers into the slow cooker. Cover and cook on low heat for 5-6 hours or high for 2-3 hours, or until the peppers are tender and the beef is cooked through.
Uncover and top with remaining 1/2 cup cheese. Cover and cook on low heat for an additional 10-15 minutes, or until the cheese has melted.
Serve immediately, drizzled with sour cream, if desired.
*The ground beef does not have to be cooked prior to using.

*White rice or quinoa can be substituted.
Why It's A Smart Choice
Nutrition Facts
Serving Size
Servings Per Container 6
---
Amount Per Serving
Calories 470.9 Calories from Fat 194.4
% Daily Value*
Total Fat 21.6g 33%
Saturated Fat 10.7g 54%
Trans Fat 0.4g
Cholesterol 76.6mg 26%
Sodium 774.0mg 32%
Total Carbohydrate 39.4g 13%
Dietary Fiber 8.9g 36%
Sugars 7.4g
Protein 30.4g 61%
---
*Percent Daily Values are based on a 2,000 calorie diet. Your daily values may be higher or lower depending on your calorie needs.
This is a very well-rounded meal. It hits each of the food groups and provides a good amount of a variety of nutrients from iron to calcium and from Vitamin A to Vitamin E. It's also a great source of fiber!
Nutritional information provided by Jessica Penner, RD at Smart Nutrition.