Asian Garlic Noodles
Easy peasy Asian noodle stir-fry using pantry ingredients that you already have on hand. Quick, no-fuss, and made in less than 30min!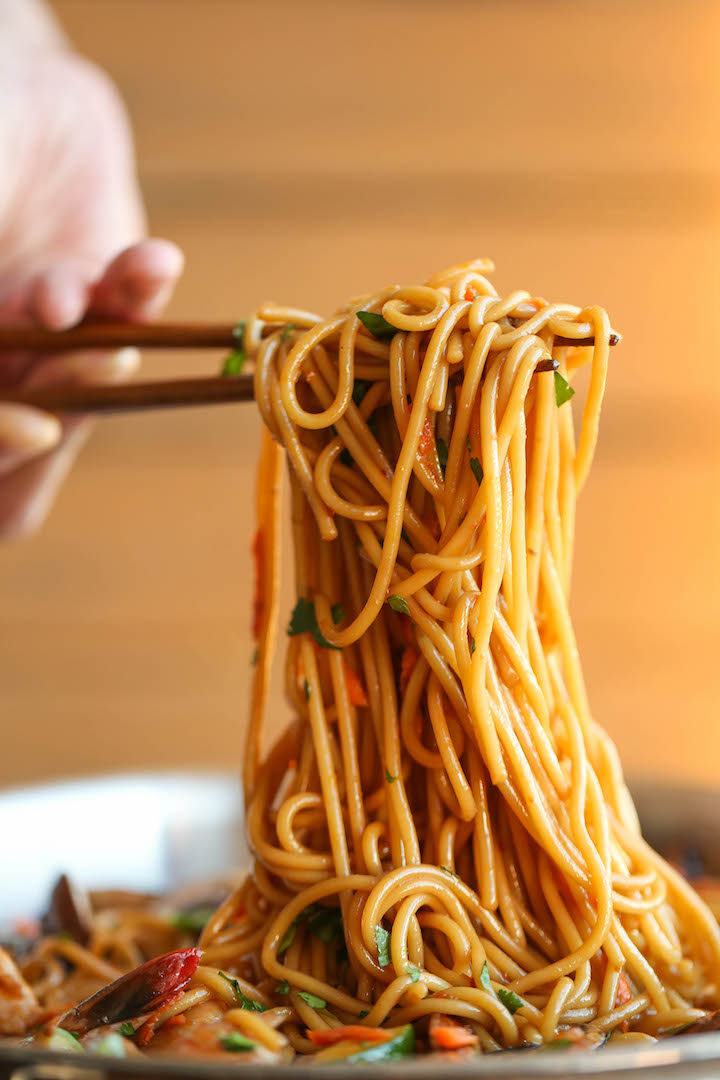 I am such a sucker for any kind of Asian noodles – hot, sticky, cold – you name it. I will eat every single strand of noodle left on my plate, guaranteed.
But when you can make a quick noodle stir-fry right at home and use up all those lingering veggies in your fridge, it's even better.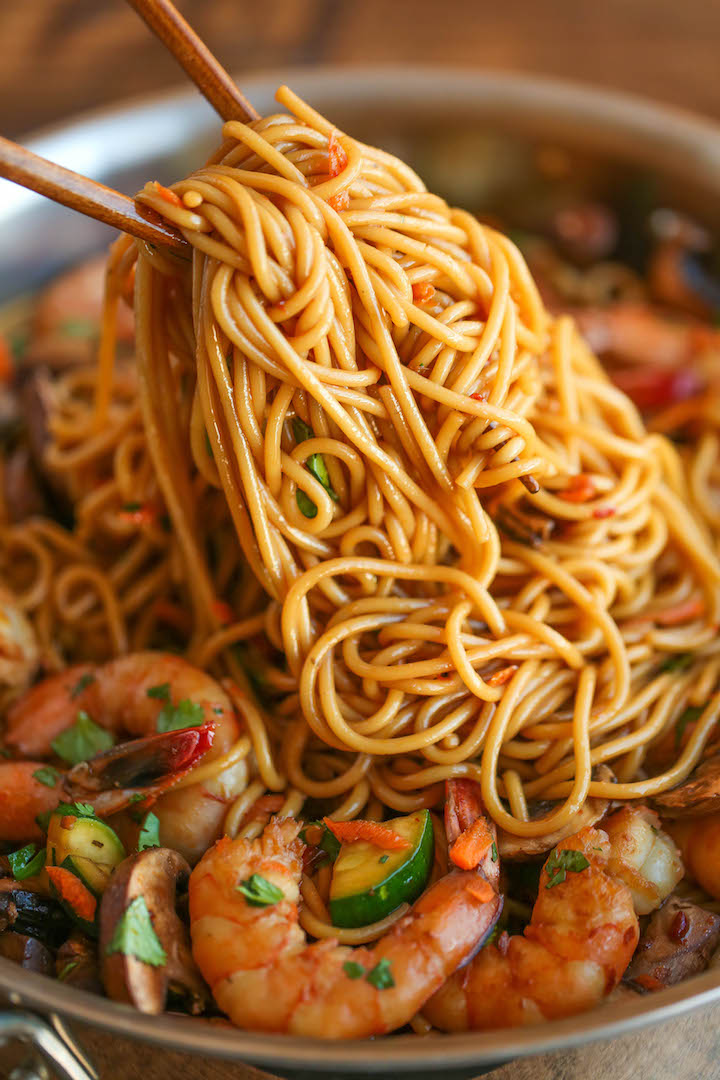 Hey, it's quicker than ordering delivery, right? And you can load up on all that garlic goodness. The hubs is just going to have to deal.
Plus, you don't need any kind of special noodles here. I used standard spaghetti noodles. Done. If you don't have spaghetti pasta, you can use linguine, fettuccine, or even angel hair.
Let's just make this easy enough so you don't have to visit any kind of specialty store.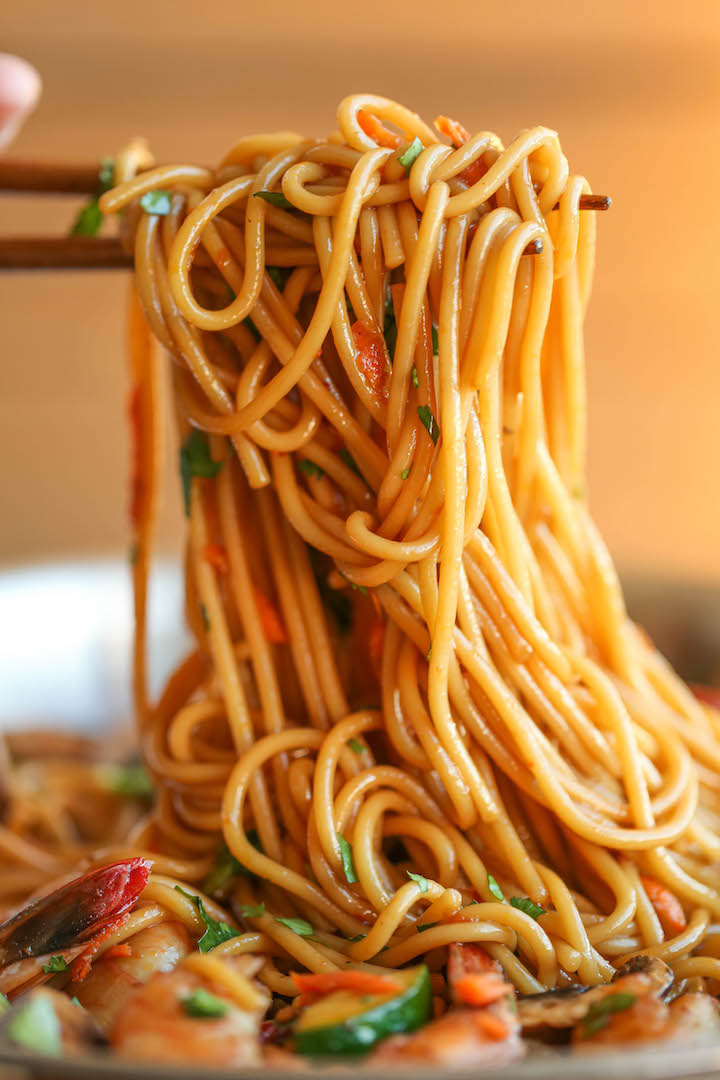 You can also keep this completely meatless or add your desired protein as needed.
I used shrimp because that's what I had on hand but a combination of shrimp, chicken and even beef would be absolute perfection!
Asian Garlic Noodles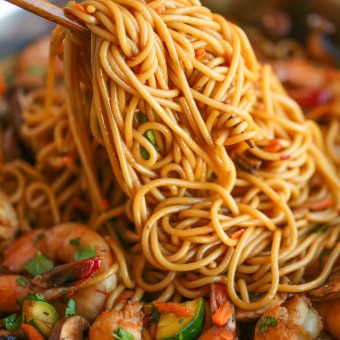 Easy peasy Asian noodle stir-fry using pantry ingredients that you already have on hand. Quick, no-fuss, and made in less than 30min!
Ingredients:
8 ounces spaghetti
12 ounces medium shrimp, peeled and deveined
1 tablespoon olive oil
8 ounces cremini mushrooms, sliced
1 red bell pepper, diced
2 zucchinis, diced
1 carrot, grated
2 tablespoons chopped fresh cilantro leaves
For the sauce
1/3 cup reduced sodium soy sauce
3 cloves, garlic, minced
2 tablespoon browns sugar, packed
1 tablespoons sambal oelek (ground fresh chile paste), or more, to taste*
1 tablespoon oyster sauce
1 tablespoon freshly grated ginger
1 teaspoon sesame oil
Directions:
In a small bowl, whisk together soy sauce, garlic, brown sugar, sambal oelek, oyster sauce, ginger and sesame oil; set aside.
In a large pot of boiling salted water, cook pasta according to package instructions; drain well.
Heat olive oil in a large skillet over medium high heat. Add shrimp and 2 tablespoons soy sauce mixture, and cook, stirring occasionally, until pink, about 2-3 minutes; set aside.
Stir in mushrooms, bell pepper, zucchinis and carrot to the skillet. Cook, stirring frequently, until tender, about 3-4 minutes. Stir in spaghetti, shrimp and remaining soy sauce mixture until well combined, about 2-3 minutes.
Serve immediately, garnished with cilantro, if desired.
*Sriracha can be substituted.
Why It's A Smart Choice
Nutrition Facts
Serving Size
Servings Per Container 4
---
Amount Per Serving
Calories 426.1 Calories from Fat 63
% Daily Value*
Total Fat 7.0g 11%
Saturated Fat 1.2g 6%
Trans Fat 0g
Cholesterol 160.9mg 54%
Sodium 1039.2mg 43%
Total Carbohydrate 62.0g 21%
Dietary Fiber 4.5g 18%
Sugars 14.6g
Protein 29.5g 59%
---
*Percent Daily Values are based on a 2,000 calorie diet. Your daily values may be higher or lower depending on your calorie needs.
This is a phenomenal meal choice for getting a good source of many nutrients that people often don't get enough of: iron, Vitamin A, potassium, and folate. It's also a good source of protein and fiber; both of which help to keep you feeling fuller for longer.
Nutritional information provided by Jessica Penner, RD at Smart Nutrition.