Chicken Zoodle Soup
Just like mom's cozy chicken noodle soup but made with zucchini noodles instead! So comforting AND healthy! 227.3 calories.
I think we're having the coldest winter of all. And when I say coldest winter, I mean 40 degree F weather. No joke.
Californians are serious wimps in the cold considering we wear flip flops 350 days out of the year.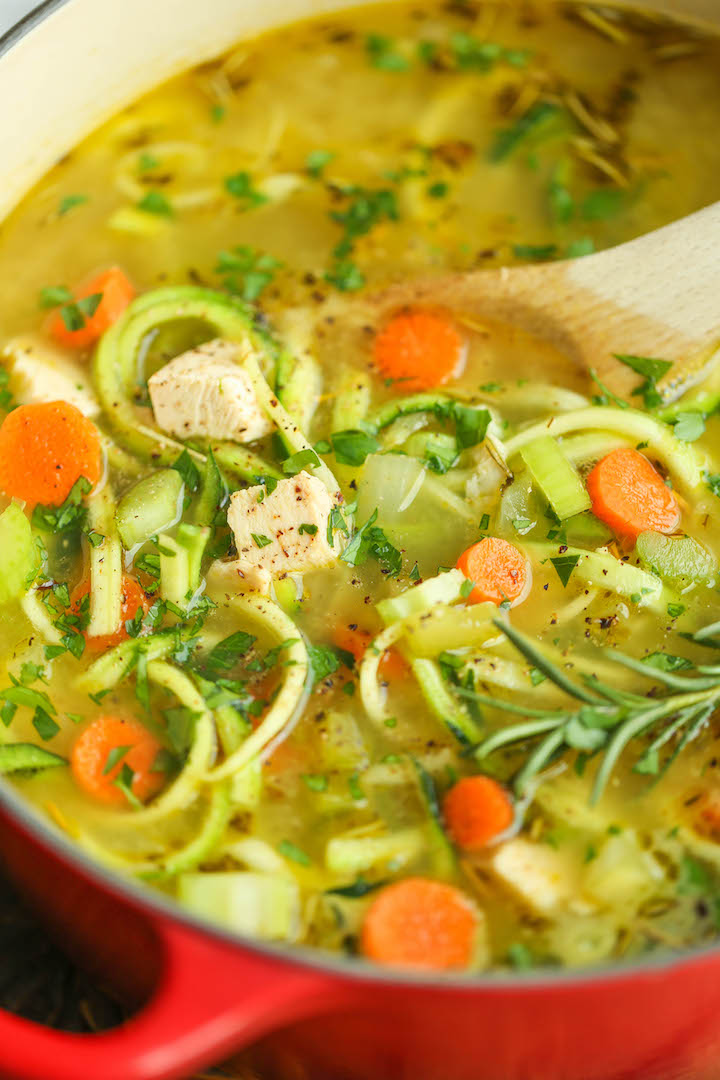 But this chicken soup is everything. Seriously, it. is. everything.
You have all your veggies in one pot, simmering away in all of it's glory, swapping out traditional noodles for spiralized zucchini noodles (AKA zoodles), and then adding in a squeeze of lemon juice for that hint of refreshing goodness.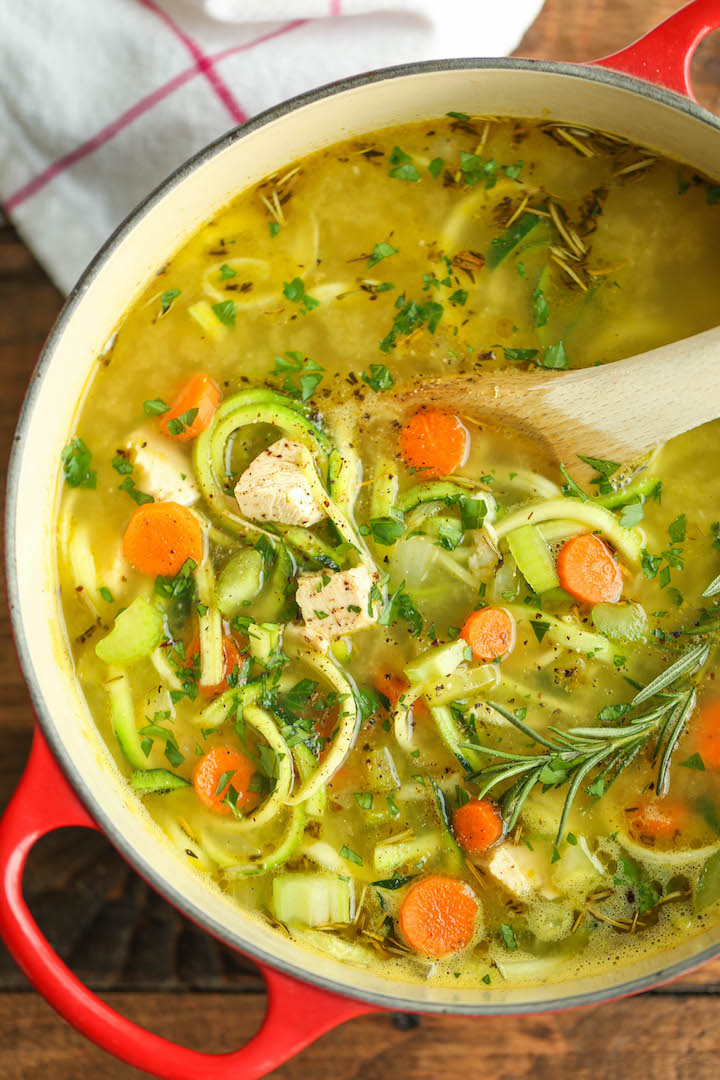 It's super cozy, comforting and healthy – except it doesn't even taste healthy.
You win all around.
Chicken Zoodle Soup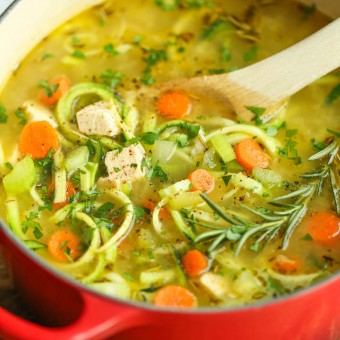 Just like mom's cozy chicken noodle soup but made with zucchini noodles instead! So comforting AND healthy! 227.3 calories.
Ingredients:
2 tablespoons olive oil, divided
1 pound boneless, skinless chicken breasts, cut into 1-inch chunks
Kosher salt and freshly ground black pepper
3 cloves garlic, minced
1 onion, diced
3 carrots, peeled and diced
2 stalks celery, diced
1/2 teaspoon dried thyme
1/4 teaspoon dried rosemary
4 cups chicken stock
1 bay leaf
1 pound (3 medium-sized) zucchini, spiralized*
2 tablespoons freshly squeezed lemon juice
1 sprig rosemary
2 tablespoons chopped fresh parsley leaves
Directions:
Heat 1 tablespoon olive oil in a large stockpot or Dutch oven over medium heat. Season chicken with salt and pepper, to taste. Add chicken to the stockpot and cook until golden, about 2-3 minutes; set aside.
Add remaining 1 tablespoon oil to the stockpot. Add garlic, onion, carrots and celery. Cook, stirring occasionally, until tender, about 3-4 minutes. Stir in thyme and rosemary until fragrant, about 1 minute.
Whisk in chicken stock, bay leaf and 2 cups water; bring to a boil. Stir in zucchini noodles and chicken; reduce heat and simmer until zucchini is tender, about 3-5 minutes. Stir in lemon juice; season with salt and pepper, to taste.
Serve immediately, garnished with rosemary and parsley, if desired.
*This is the spiral slicer that I use. It's so easy to use – it honestly just takes minutes to spiralize!
Why It's A Smart Choice
Nutrition Facts
Serving Size
Servings Per Container 6
---
Amount Per Serving
Calories 227.3 Calories from Fat 72
% Daily Value*
Total Fat 8.0g 12%
Saturated Fat 1.6g 8%
Trans Fat 0g
Cholesterol 51.7mg 17%
Sodium 309.7mg 13%
Total Carbohydrate 14.7g 5%
Dietary Fiber 2.3g 9%
Sugars 7.3g
Protein 23.9g 48%
---
*Percent Daily Values are based on a 2,000 calorie diet. Your daily values may be higher or lower depending on your calorie needs.
A lot of people find it difficult to meet the recommended daily amount of fruits and veggies but swapping the noodles for zucchini makes it easy! One bowl of this soup gives nearly 2.5 servings of veggies!
Nutritional information provided by Jessica Penner, RD at Smart Nutrition.