Chicken Enchilada Skillet
An easy, no-fuss, 30 min cheesy skillet dish that the whole family will love!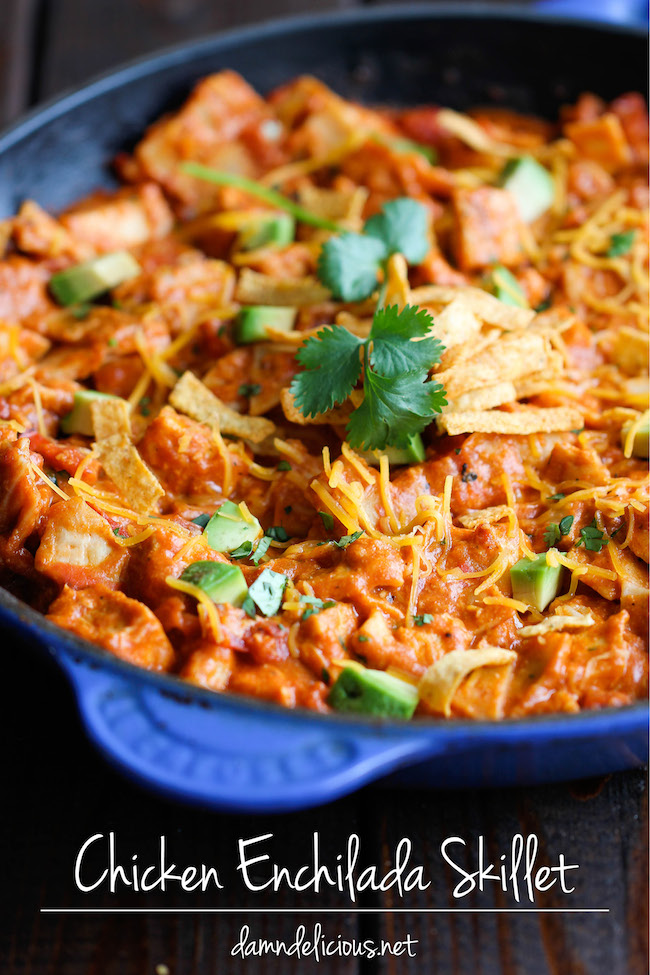 This chicken enchilada skillet is one of those one pot meals that I've been obsessed with lately. One pot meals have quickly become a favorite of mine since you can simply dump everything into a single skillet and poof, dinner is served. Plus, you only end up with one dirty pan! You can even save on more dishes if you eat right out of the skillet. Or wait, is that just me?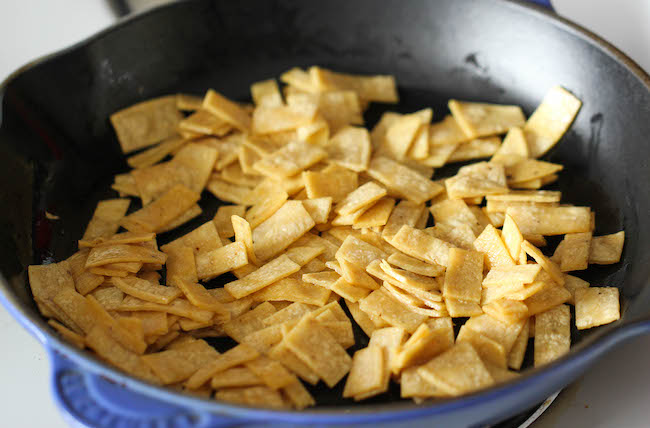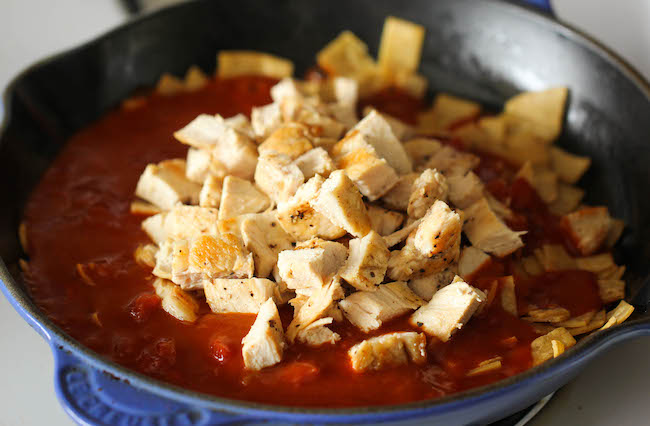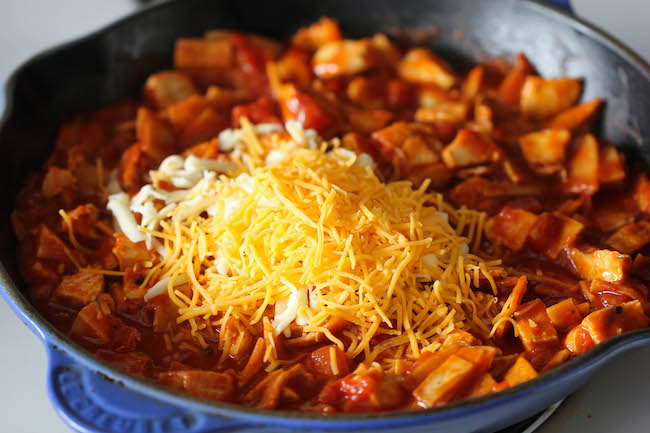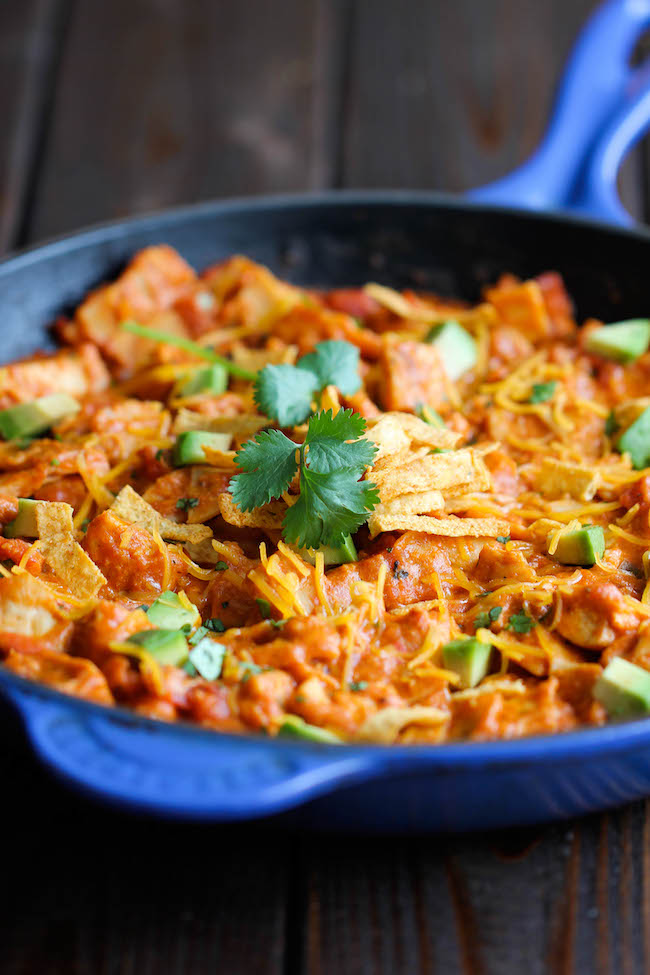 So what exactly is in this skillet? Well, you first toss in some tortilla pieces to crisp up (feel free to use either corn or flour tortillas), then you'll add in red enchilada sauce and diced up chicken breast, and then you'll toss in your favorite kind of cheese to get melted right in the skillet for that cheesy goodness. It's pretty much an inside out enchilada in a skillet!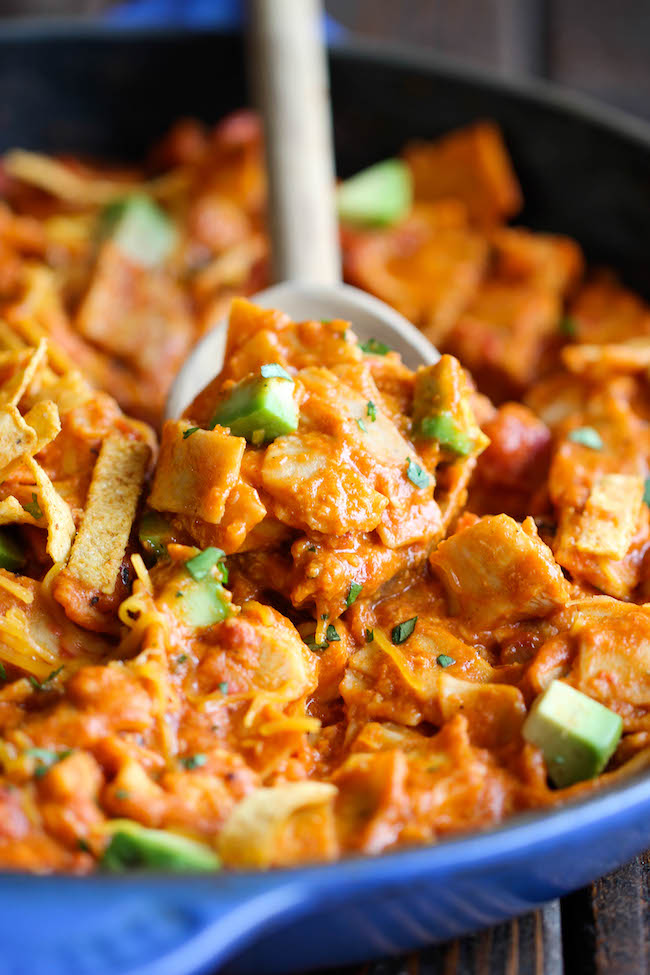 When you're all set, you can serve it as is or add some fun garnishes, like avocado and tortilla strips. Either way, your family will be gobbling this up and begging for seconds!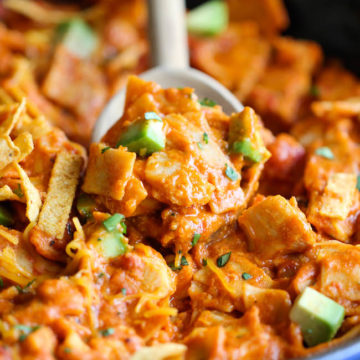 Chicken Enchilada Skillet
An easy, no-fuss, 30 min cheesy skillet dish that the whole family will love!
15 minutes15 minutes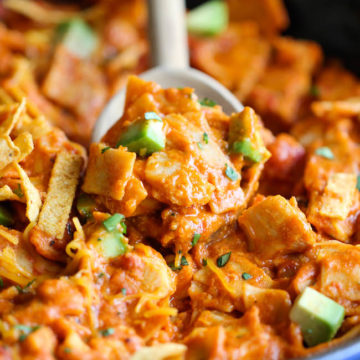 Ingredients:
1 tablespoon olive oil
3 boneless, skinless thin-sliced chicken breasts
Kosher salt and freshly ground black pepper, to taste
6 corn tortillas, cut into bite-size pieces
1 (14.5-ounce) can diced tomatoes with green chiles
1 1/4 cup red enchilada sauce
1 (8-ounce) can tomato sauce
1/2 cup shredded cheddar cheese
1/2 cup shredded Monterey Jack cheese
1 avocado, halved, seeded, peeled and diced
1/4 cup tortila strips
2 tablespoons chopped fresh cilantro leaves
Directions:
Heat olive oil in a medium skillet over medium high heat.
Season chicken breasts with salt and pepper, to taste. Add to skillet and cook, flipping once, until cooked through, about 3-4 minutes per side. Let cool before dicing into bite-size pieces.
Add corn tortillas to the skillet, and cook, stirring often until golden brown and crisp, about 4 minutes. Stir in diced tomatoes, enchilada sauce, tomato sauce and chicken until well combined and heated through, about 2 minutes. Top with cheeses and cover until melted, about 2 minutes.
Serve immediately, garnished with avocado, tortilla strips and cilantro, if desired.
Did you Make This Recipe?
Tag @damn_delicious on Instagram and hashtag it #damndelicious.
Nutrition Facts
Serving Size
Servings Per Container 6
---
Amount Per Serving
Calories 372.1
Calories from Fat 155.7
% Daily Value*
Total Carbohydrate 26.5g
9%
---
*Percent Daily Values are based on a 2,000 calorie diet. Your daily values may be higher or lower depending on your calorie needs.