Creamy Tomato Soup with Grilled Cheese "Croutons"
The perfect kind of comfort food together in one cozy bowl of soup!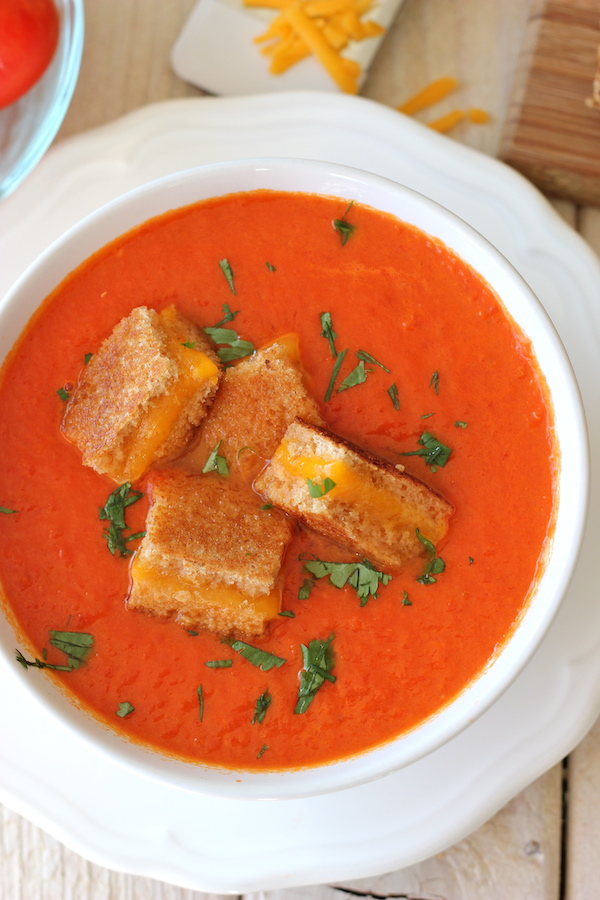 I hope you all are recovering from Thanksgiving. I obviously ate way too much than I could actually handle and then had a second round of Thanksgiving leftovers on Friday where we had the most amazing turkey ham sandwiches with cranberry sauce and gravy-drenched boxed stuffing. Yeah, you heard right, boxed stuffing. We all devoured the chestnut-pancetta stuffing that was made for Thursday so we had to resort to Mrs. Cubbison's classic dressing. And surprisingly enough, the boxed ones are actually pretty good!
MY OTHER RECIPES
I am so grateful to be spending Thanksgiving with such an amazing family and to be surrounded by such awesome food. Although it saddens me that there are still many Hurricane Sandy victims left homeless on this holiday. With $50 billion in damages, the deaths of over a 100 people and thousands left homeless or without power, today's #SundaySupper is to lend a helping hand to those affected in the Northeast.
We were told to cook from our hearts and with that in mind, I couldn't help but make a huge batch of creamy tomato soup. Tomato soup brings such comfort, especially when some grilled cheese "croutons" are thrown in there. It has that soothing effect and definitely serves as the ultimate feel-good meal!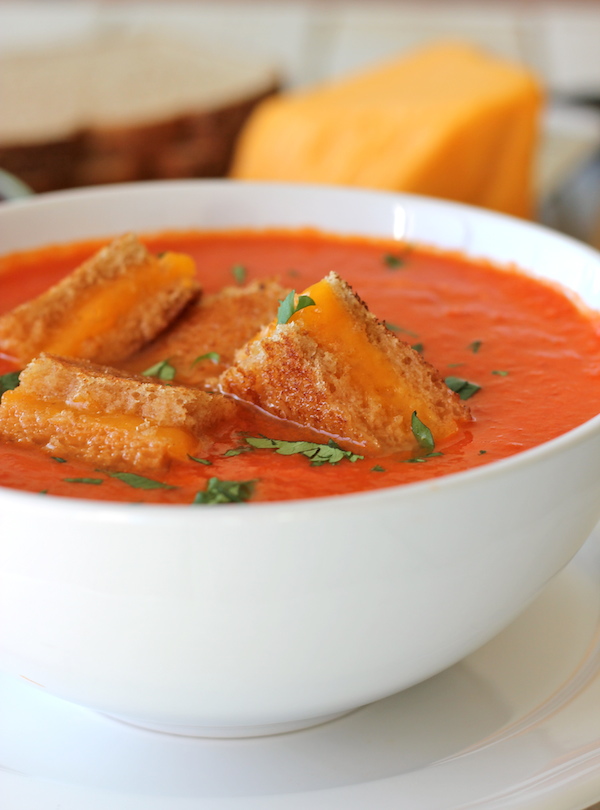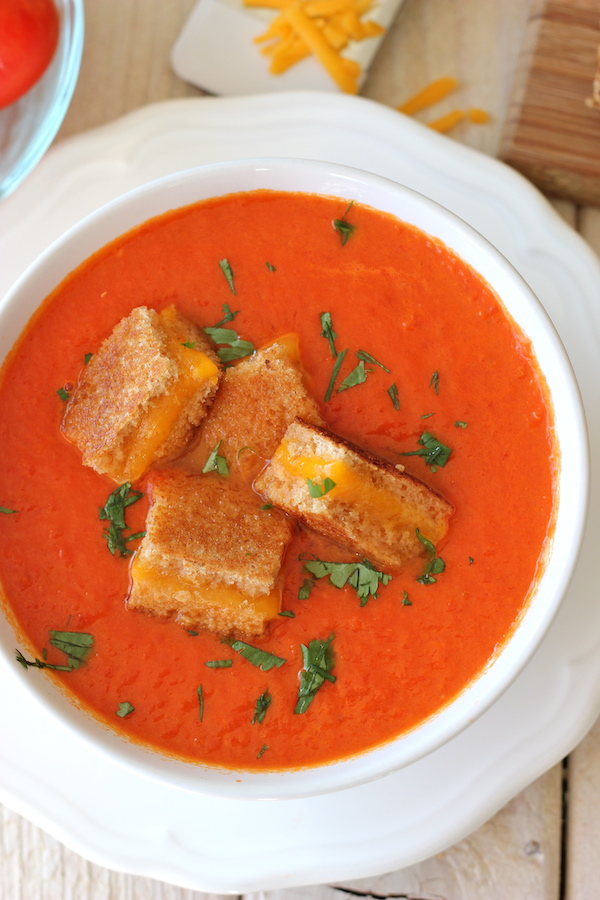 The perfect kind of comfort food together in one cozy bowl of soup!
Ingredients
1 tablespoon olive oil
1 onion, diced
3 garlic cloves, minced
1/4 teaspoon crushed red pepper flakes
1 bay leaf
2 (28-ounce) cans whole tomatoes
1/2 cup heavy cream
1 tablespoon brown sugar
3/4 cup low-sodium vegetable broth
1 tablespoon chopped fresh parsley leaves, for garnish

For the grilled cheese croutons

1 tablespoon olive oil
4 slices wheat bread
2 tablespoons unsalted butter, softened
4 ounces shredded sharp cheddar cheese
Instructions
Heat olive oil in a grill pan over medium-high heat. Spread 1/2 tablespoon butter over 1 side of each bread slice. Turn the slices over and top 2 slices with cheddar and pleace remaining 2 slices of bread on top, buttered sides up. Add sandwich to pan and grill until the bread is golden and the cheese is melted, about 2-3 minutes per side. Let cool for 1 minute and cut into 1-inch cubes.
Heat olive oil in a large stockpot or Dutch oven over medium heat. Add onion, garlic, red pepper flakes and bay leaf and cook, stirring frequently, until onion is translucent, about 3-5 minutes.
Stir in tomatoes and mash, using a potato masher, until broken down into smaller pieces. Stir in heavy cream and brown sugar.
Bring to a boil; reduce heat and simmer until slightly thickened, about 8-10 minutes. Remove bay leaf.
Puree with an immersion blender. Stir in vegetable broth until heated through, about 2 minutes; season with salt and pepper to taste.
Serve immediately with "croutons", garnished with parsley.
Notes
http://damndelicious.net/2012/11/25/creamy-tomato-soup-with-grilled-cheese-croutons/