Stuffed sweet potatoes with scrambled eggs, maple sausage, cherry tomatoes and avocado. It's the breakfast of champions!
I don't know about you guys but anything that's "stuffed" is always a plus in my book. Oreo stuffed cookies, quinoa stuffed bell peppers, stuffed portobello mushrooms, cream cheese avocado stuffed puff pastries, and so forth. I love it all! And now, I've found something else to stuff: sweet potatoes.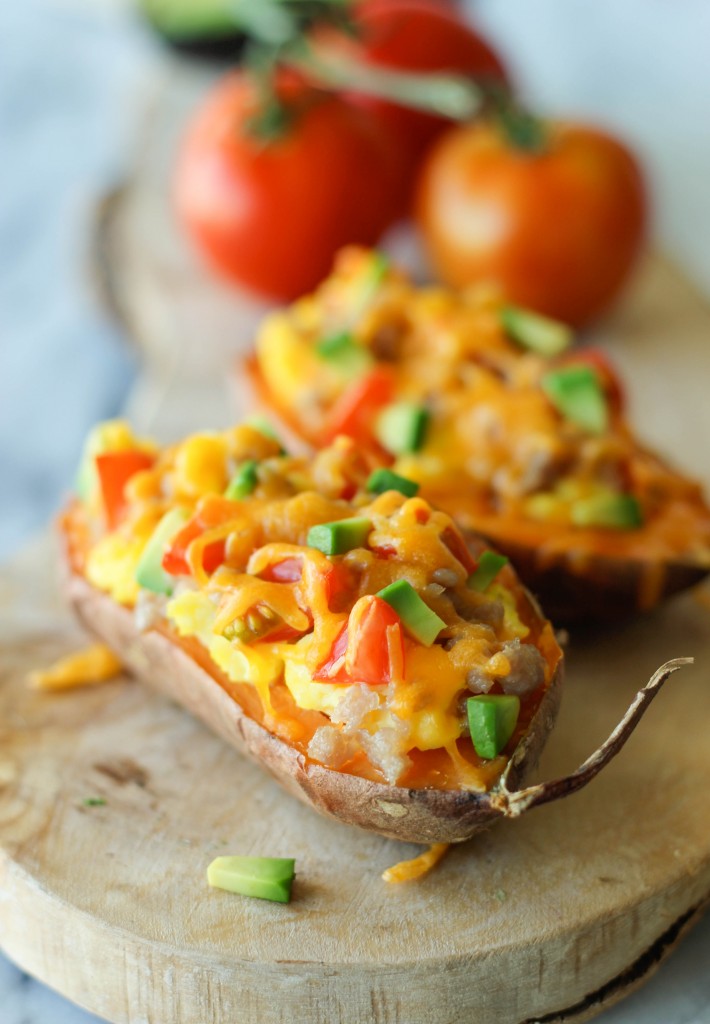 Scrambled eggs, cherry tomatoes, sweet maple sausage crumbles, and of course, California Avocados with oozing melting cheese on top. Yeah, that all gets stuffed in this sweet potato. It's pretty epic. So epic that I had at least 3 of these.
Okay, I lied. I had 5. But hey, it was worth every single bite and the hour that I spent at spin class!
Be sure to check out what everyone else is bringing to the breakfast table!
Breakfast Stuffed Sweet Potatoes
Stuffed sweet potatoes with scrambled eggs, maple sausage, cherry tomatoes and avocado!
Ingredients
4 sweet potatoes
3 large eggs, scrambled
3 maple sausage links
1/2 cup cherry tomatoes, halved
1 cup shredded cheddar cheese
1 avocado, halved, seeded, peeled and diced
Instructions
Preheat oven to 400 degrees F. Place potatoes onto a baking sheet. Place into oven and bake for 1 hour, or until tender; let cool enough to handle.
Cut each potato in half horizontally, then carefully scoop out the center of the potato, reserving for another use, leaving about 1/2-inch of potato on the skin.
In a medium skillet, add sausage links and cook until browned, about 2-3 minutes, making sure to crumble the beef as it cooks; drain excess fat.
Add eggs, crumbled sausage, cherry tomatoes and cheese to each potato skin. Place into oven and bake for an additional 5 minutes, or until the cheese has melted.
Serve immediately, topped with avocados.
http://damndelicious.net/2013/09/03/breakfast-stuffed-sweet-potatoes/
Disclosure: I have been selected to be an ambassador for California Avocado. While I have been compensated for my time, my opinions are my own.