One Pan Mexican Quinoa
Wonderfully light, healthy and nutritious. And it's so easy to make – even the quinoa is cooked right in the pan!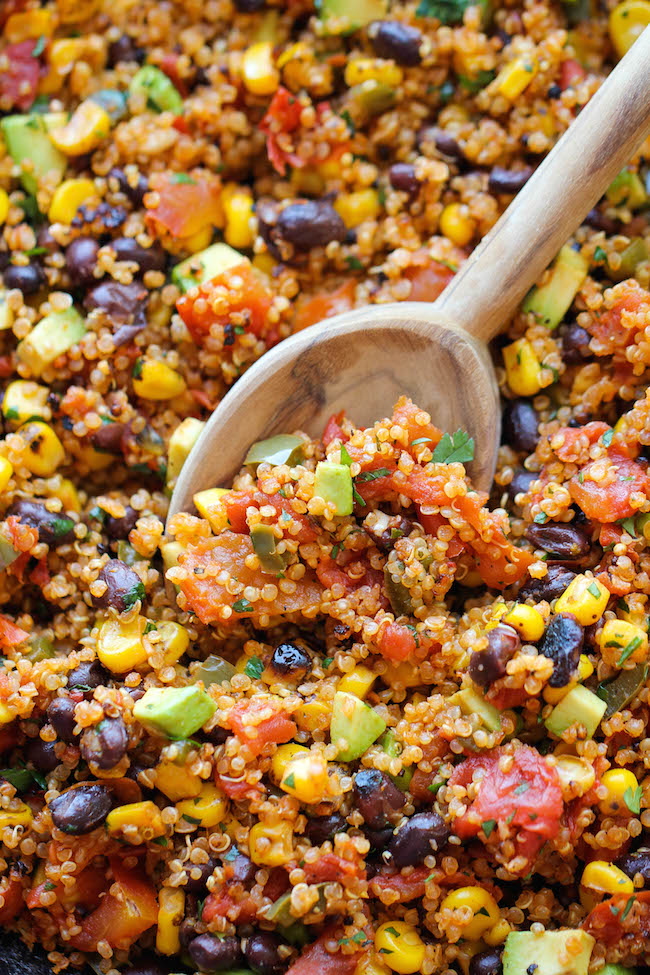 Despite my daily 3-mile runs, all the morning donuts have finally caught up with me. So Jason and I made a pact to lighten up our diet before our Cabo trip in 6 weeks. But instead of eating bland, boring salads, I decided to make a fun, healthy quinoa dish that we would both really enjoy.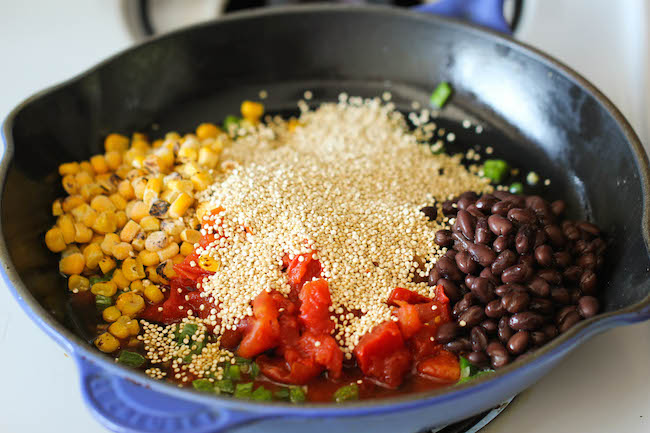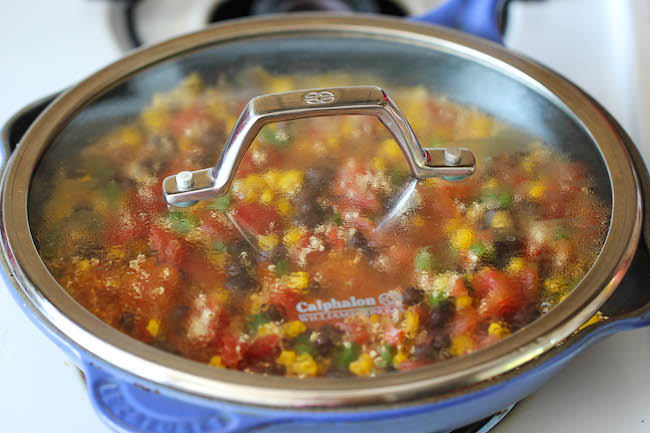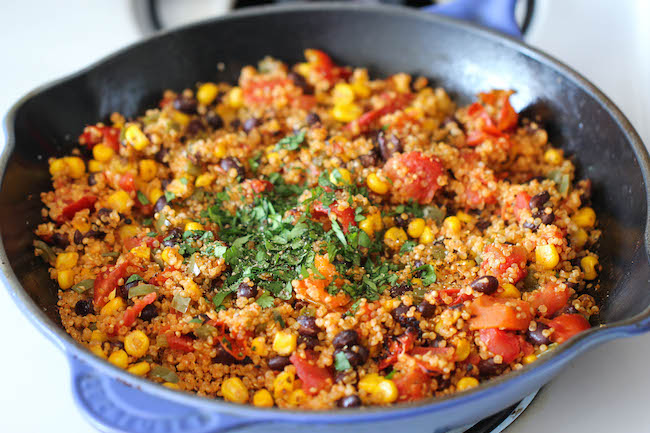 And that's exactly what this quinoa dish is. With a fun Mexican twist, this dish is chockfull of so many amazing flavors, from the tangy lime juice to the hint of spiciness from the chili powder and jalapeno. And not only is this healthy and nutritious but it's also unbelievably easy to make. Simply throw everything into the skillet and that's it. Even the quinoa is cooked right in the pan, really letting the flavors soak in.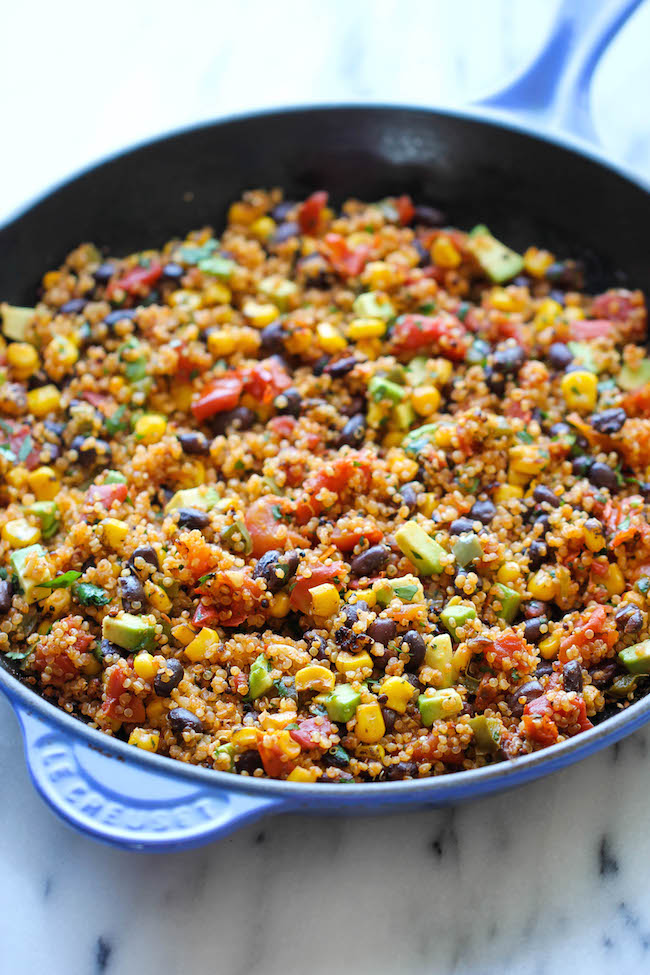 Now who said healthy food has to be boring?
One Pan Mexican Quinoa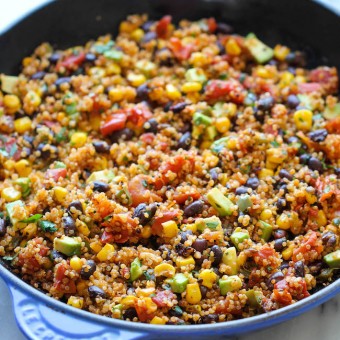 Wonderfully light, healthy and nutritious. And it's so easy to make – even the quinoa is cooked right in the pan!
Ingredients:
1 tablespoon olive oil
2 cloves garlic, minced
1 jalapeno, minced
1 cup quinoa
1 cup vegetable broth
1 (15-ounce) can black beans, drained and rinsed
1 (14.5 oz) can fire-roasted diced tomatoes
1 cup corn kernels, frozen, canned or roasted
1 teaspoon chili powder
1/2 teaspoon cumin
Kosher salt and freshly ground black pepper, to taste
1 avocado, halved, seeded, peeled and diced
Juice of 1 lime
2 tablespoons chopped fresh cilantro leaves
Directions:
Heat olive oil in a large skillet over medium high heat. Add garlic and jalapeno, and cook, stirring frequently, until fragrant, about 1 minute.
Stir in quinoa, vegetable broth, beans, tomatoes, corn, chili powder and cumin; season with salt and pepper, to taste. Bring to a boil; cover, reduce heat and simmer until quinoa is cooked through, about 20 minutes. Stir in avocado, lime juice and cilantro.
Serve immediately.
Why It's A Smart Choice
Nutrition Facts

Serving Size

Servings Per Container 4
---
Amount Per Serving

Calories 401.8 Calories from Fat 130.5

% Daily Value*

Total Fat 14.5g 22%

Saturated Fat 2.1g 11%

Trans Fat 0g

Cholesterol 0mg 0%

Sodium 262.6mg 11%

Total Carbohydrate 57.2g 19%

Dietary Fiber 13.7g 55%

Sugars 1.7g

Protein 15.2g 30%
---
*Percent Daily Values are based on a 2,000 calorie diet. Your daily values may be higher or lower depending on your calorie needs.
Coming in at 13.7 grams of fiber per serving, this dish makes it easy to meet your fiber goals for the day! Fiber reduces risk of chronic diseases, helps you stay full and regular, and helps keep your blood sugars even. Women should aim for at least 21-25 grams per day while the daily goal for men is 35-38 grams per day.
This recipe is low in sodium and very high in potassium. This winning combination is excellent for heart health!
Nutritional information provided by Jessica Penner, RD at Smart Nutrition.