Harvest Cobb Salad
The perfect fall salad with the creamiest poppy seed salad dressing. So good, you'll want to make this all year long!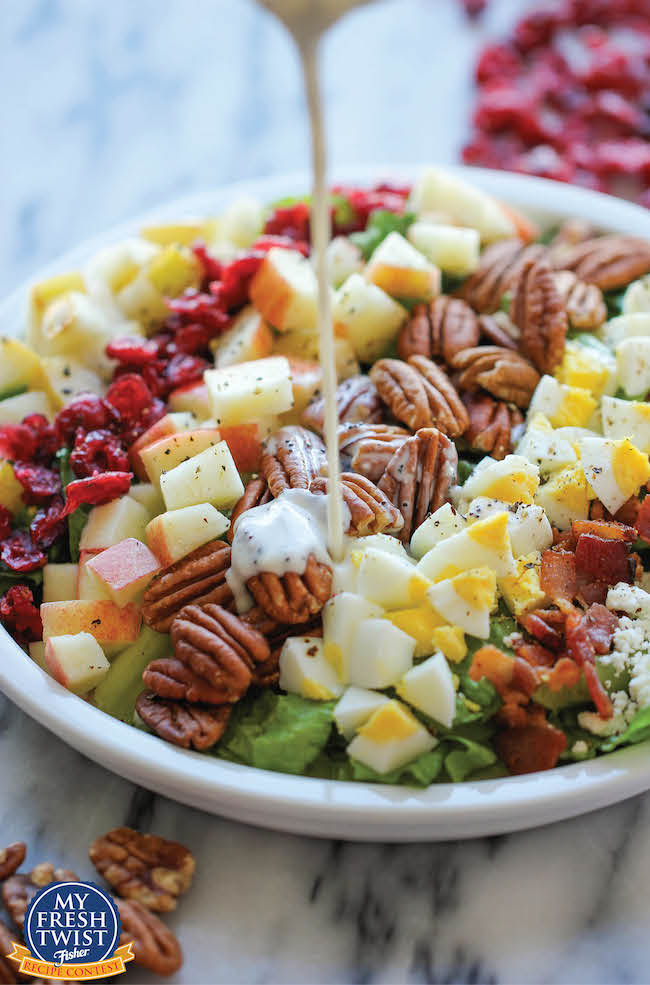 After the AC debacle last week, the weather is finally cooling down here in LA, and it's really beginning to feel like fall, my favorite season of all. From the crisp autumn breeze to the pumpkin spice lattes to the hot dog Halloween costume, what's not to love?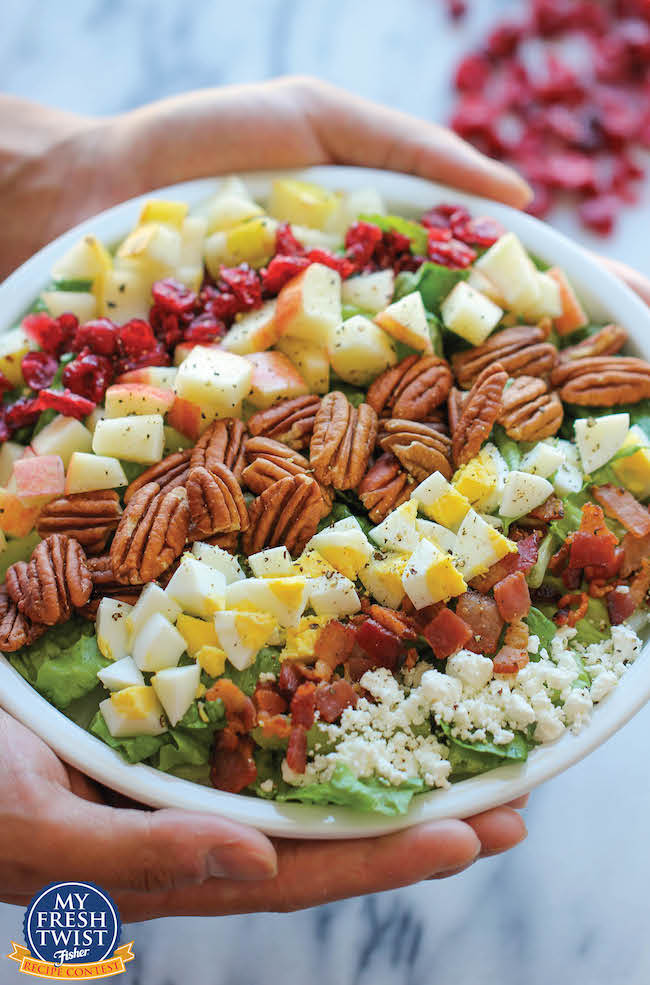 And to add to this list is this glorious autumn harvest cobb salad, a recipe I developed as a Fisher Fresh Thinker, which just means that I'll be bringing you plenty of fun recipes using preservative-free Fisher Nuts, just in time for the holidays.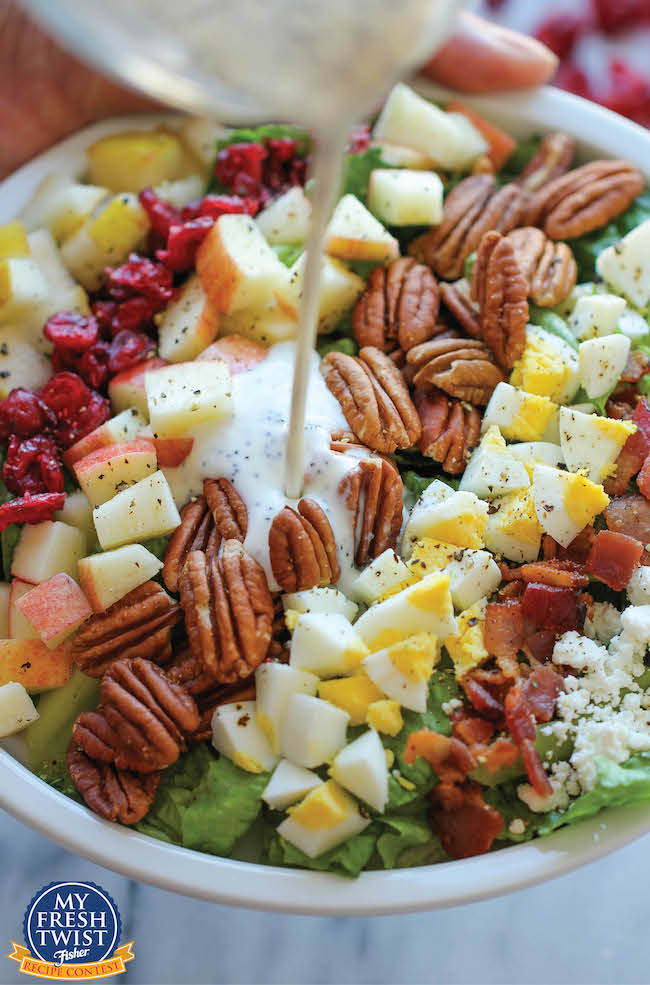 Best of all, Fisher Nuts is hosting a recipe contest using their pecans, walnuts, or almonds for a chance to win a trip to 2 to NYC to meet celebrity chef Alex Guaraschelli! More details below.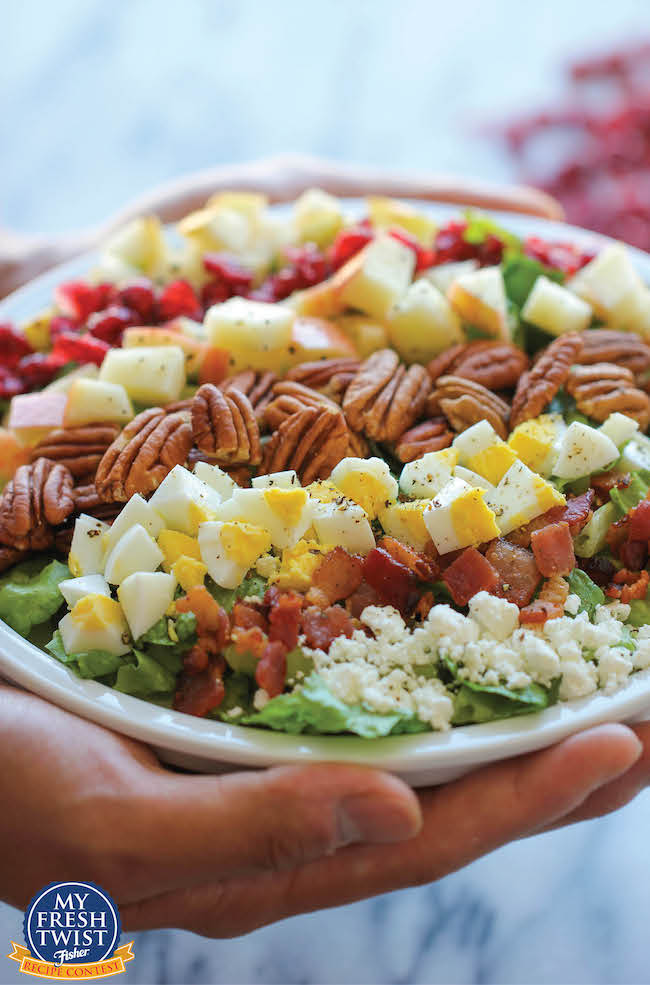 So while you think about that winning recipe to get you to New York City, this cobb salad should tide you over.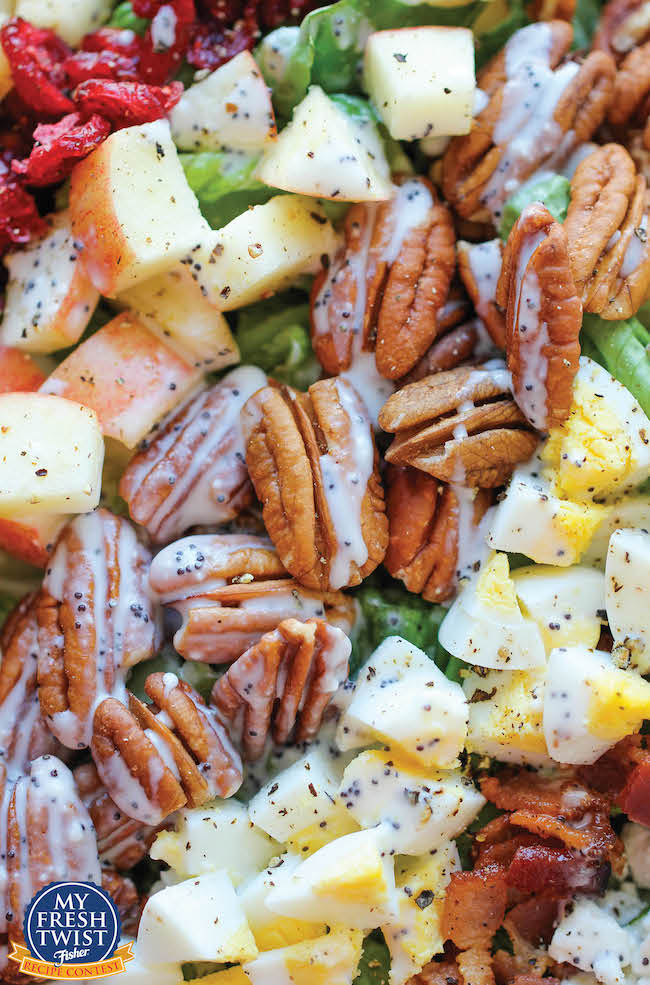 From the crisp bacon to the fall apples and pears along with the crunchy pecans drizzled in an oh-so-creamy poppy seed dressing, you'll want to make this salad all year long!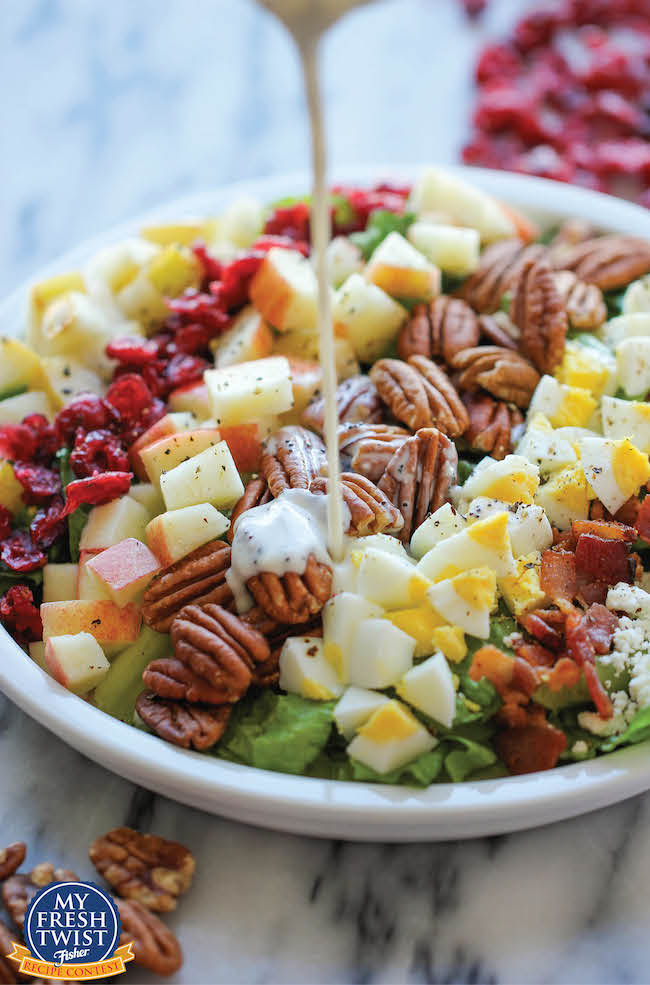 The perfect fall salad with the creamiest poppyseed salad dressing. So good, you'll want to make this all year long!
Ingredients
4 slices bacon, diced
2 large eggs
6 cups chopped romaine lettuce
1 apple, diced
1 pear, diced
1/2 cup Fisher Nuts Pecan Halves
1/3 cup dried cranberries
1/3 cup crumbled goat cheese

For the poppy seed dressing

1/3 cup mayonnaise
1/4 cup milk
2 tablespoons sugar
1 tablespoon apple cider vinegar
1 tablespoon poppy seeds
Instructions
To make the poppy seed dressing, whisk together mayonnaise, milk, sugar, apple cider vinegar and poppy seeds in a small bowl; set aside.
Heat a large skillet over medium high heat. Add bacon and cook until brown and crispy, about 6-8 minutes. Transfer to a paper towel-lined plate; set aside.
Place eggs in a large saucepan and cover with cold water by 1 inch. Bring to a boil and cook for 1 minute. Cover eggs with a tight-fitting lid and remove from heat; set aside for 8-10 minutes. Drain well and let cool before peeling and dicing.
To assemble the salad, place romaine lettuce in a large bowl; top with arranged rows of bacon, eggs, apple, pear, pecans, cranberries and goat cheese.
Serve immediately with poppy seed dressing.
http://damndelicious.net/2014/09/22/harvest-cobb-salad/
Why It's A Smart Choice
Nutrition Facts
Serving Size
Servings Per Container 4
---
Amount Per Serving
Calories 614.5 Calories from Fat 468
% Daily Value*
Total Fat 52.0g 80%
Saturated Fat 12.6g 63%
Trans Fat 0.1g
Cholesterol 125.4mg 42%
Sodium 201.1mg 8%
Total Carbohydrate 33.0g 11%
Dietary Fiber 6.0g 24%
Sugars 23.4g
Protein 8.9g 18%
---
*Percent Daily Values are based on a 2,000 calorie diet. Your daily values may be higher or lower depending on your calorie needs.
This is a whole meal in a salad. It's a great source of fiber and Vitamin A, and a good source of calcium and iron as well! To add more protein and to cut down on some of the calories, swap the mayo for greek yogurt.
Nutritional information provided by Jessica Penner, RD at Smart Nutrition.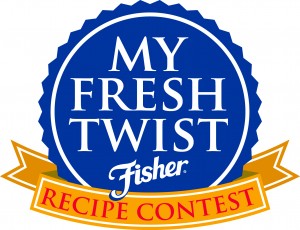 My Fresh Twist Recipe Contest
Entries can be submitted at www.MyFreshTwist.com from 9/9 to 10/21.
Recipes must include pecans, walnuts or almonds and will be judged on their originality, integration of nuts, taste, and visual appeal.
Each submission will be featured onwww.MyFreshTwist.com where Fisher Fans and their friends and families will be able to vote to select the top fifteen finalists.
Voting will take place 10/22 through 11/4. Chef Alex Guarnaschelli and a panel of judges will choose the grand prize winner from the finalists.
Prizes
Grand Prize Winner

Trip for 2 to NYC including airfare, dinner and accommodations, meet Chef Alex Guarnaschelli and $500 cash

14 Semi-Finalists

$100 Visa gift card and signed copy of Chef Alex Guarnaschelli's cookbook Old-School Comfort Food

Weekly Prizes

Fisher Nut products and copy of Chef Alex Guarnaschelli's cookbook Old-School Comfort Food
Disclosure: This post is sponsored by Fisher Nuts. All opinions expressed are my own.