Asian Salmon in Foil
The best and easiest way to make salmon in foil – and you won't believe how much flavor is packed right in!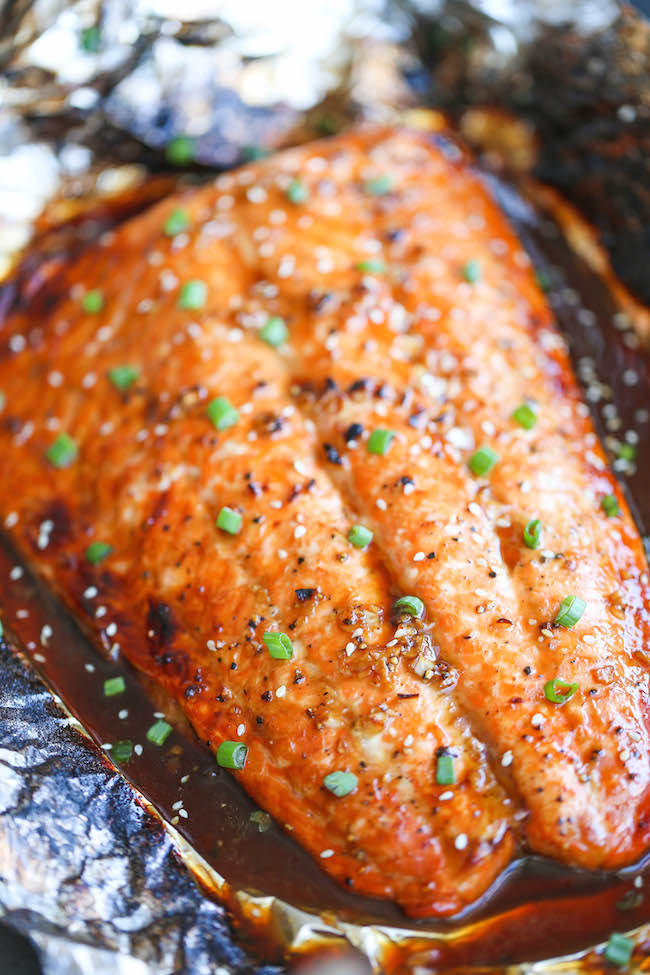 You know that signature line by The Most Interesting Man in the World? Well, I'm going to have to steal his meme for just a second here to say this.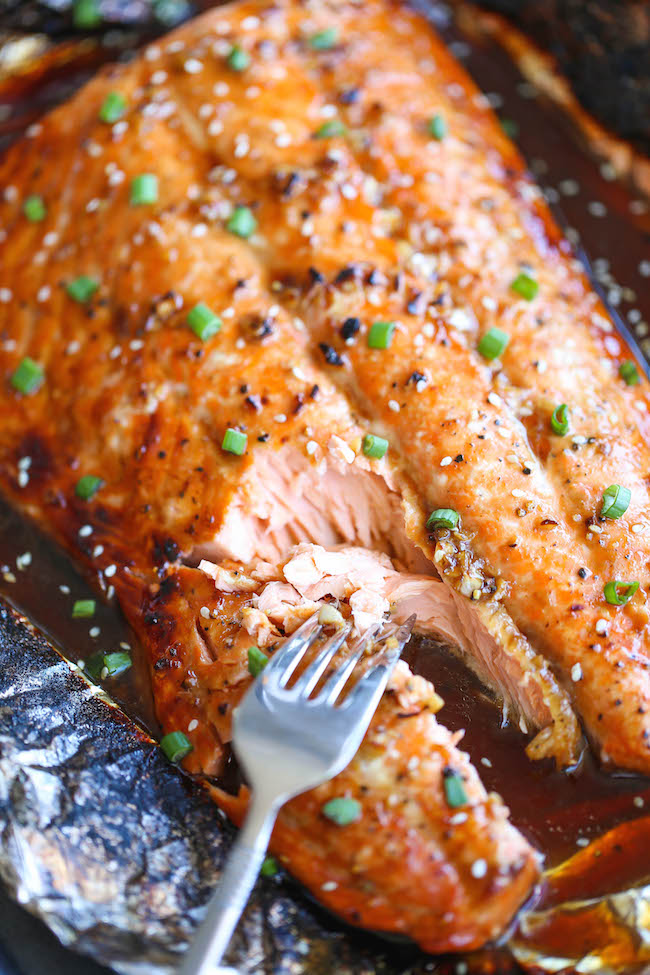 I don't always cook salmon, but when I do, I prefer foil. Stay hungry, my friends.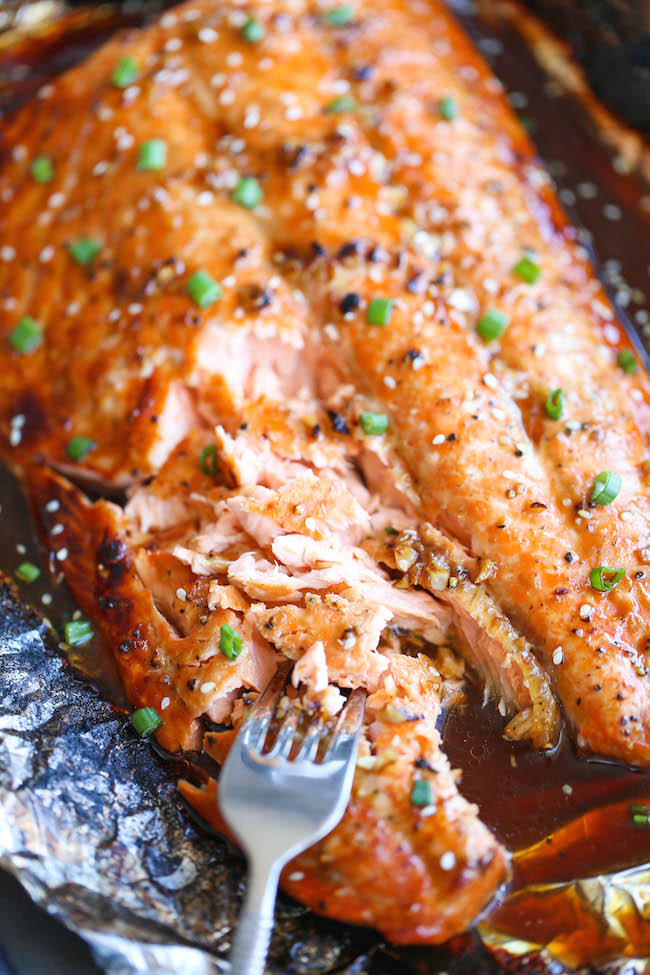 No, but really, foil is the only way to cook salmon. The only way. It seals in all that flavor and the clean-up is a breeze. All you have to do is toss the foil. It doesn't get easier than that, right?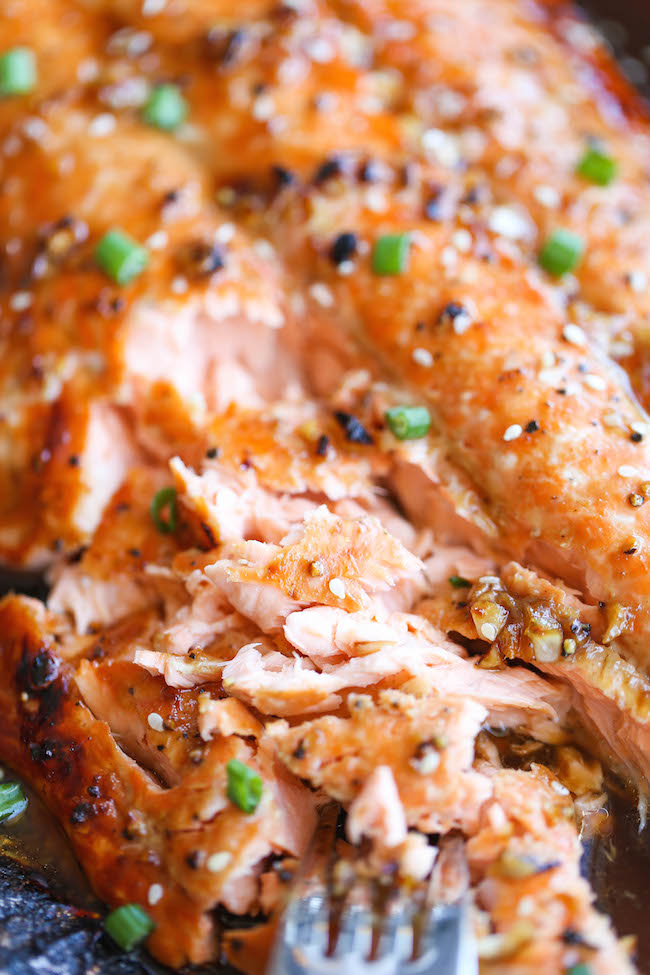 And the flavors are soaked right in, leaving you with the most tender, flavorful salmon ever that flakes so easily. You can't beat that!
Asian Salmon in Foil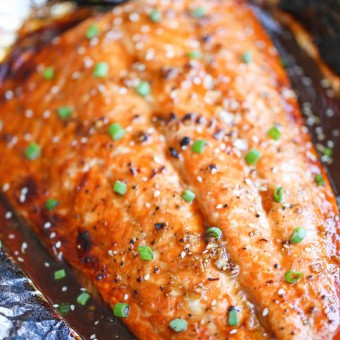 The best and easiest way to make salmon in foil – and you won't believe how much flavor is packed right in!
Ingredients:
1/4 cup honey
3 cloves garlic, minced
2 tablespoons reduced sodium soy sauce
1 tablespoon seasoned rice vinegar
1 tablespoon sesame oil
1 tablespoon freshly grated ginger
1 teaspoon Sriracha, optional
Freshly ground black pepper, to taste
2 pounds salmon
2 green onions, thinly sliced
1/2 teaspoon sesame seeds
Directions:
Preheat oven to 375 degrees F. Line a baking sheet with foil.
In a small bowl, whisk together honey, garlic, soy sauce, rice vinegar, sesame oil, ginger, Sriracha and pepper, to taste.
Place salmon onto the prepared baking sheet and fold up all 4 sides of the foil. Spoon the honey mixture over the salmon. Fold the sides of the foil over the salmon, covering completely and sealing the packet closed.
Place into oven and bake until cooked through, about 15-20 minutes.* Open the packet and broil for 2-3 minutes, or until caramelized and slightly charred.
Serve immediately, garnished with green onions and sesame seeds, if desired.
*Baking time may need to be adjusted depending on the thickness of the salmon.
Why It's A Smart Choice
Nutrition Facts
Serving Size
Servings Per Container 4
---
Amount Per Serving
Calories 434.0 Calories from Fat 161.1
% Daily Value*
Total Fat 17.9g 28%
Saturated Fat 2.7g 14%
Trans Fat 0g
Cholesterol 125.6mg 42%
Sodium 368.7mg 15%
Total Carbohydrate 20.7g 7%
Dietary Fiber 0.6g 2%
Sugars 17.7g
Protein 46.1g 92%
---
*Percent Daily Values are based on a 2,000 calorie diet. Your daily values may be higher or lower depending on your calorie needs.
Vitamin D is most famously known for its bone health, but recent research shows that it plays a key role in many other parts of the body. For example, Vitamin D is very important for a strong and healthy immune system.
As it so happens, fish is one of the few food sources with naturally occurring vitamin D. With this meal, you get nearly 800 IU of vitamin D per serving. That's more than the minimum daily recommended amount of 600 IU!
Nutritional information provided by Jessica Penner, RD at Smart Nutrition.