Easy Shrimp and Broccoli Stir Fry
The easiest stir fry you will ever make in just 20 min – it doesn't get easier (or quicker) than that! 287.3 calories.
Stir fry recipes are the best. They are so versatile and you can pretty much use whatever lingering ingredient you have in your fridge.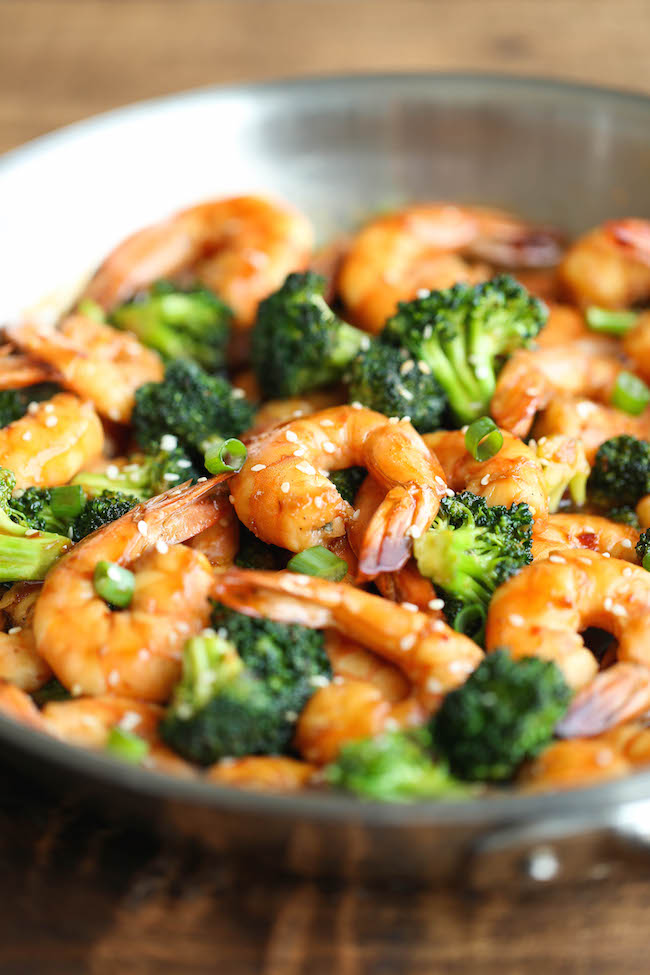 But I decided to keep this stir fry nice and simple. Just shrimp and broccoli.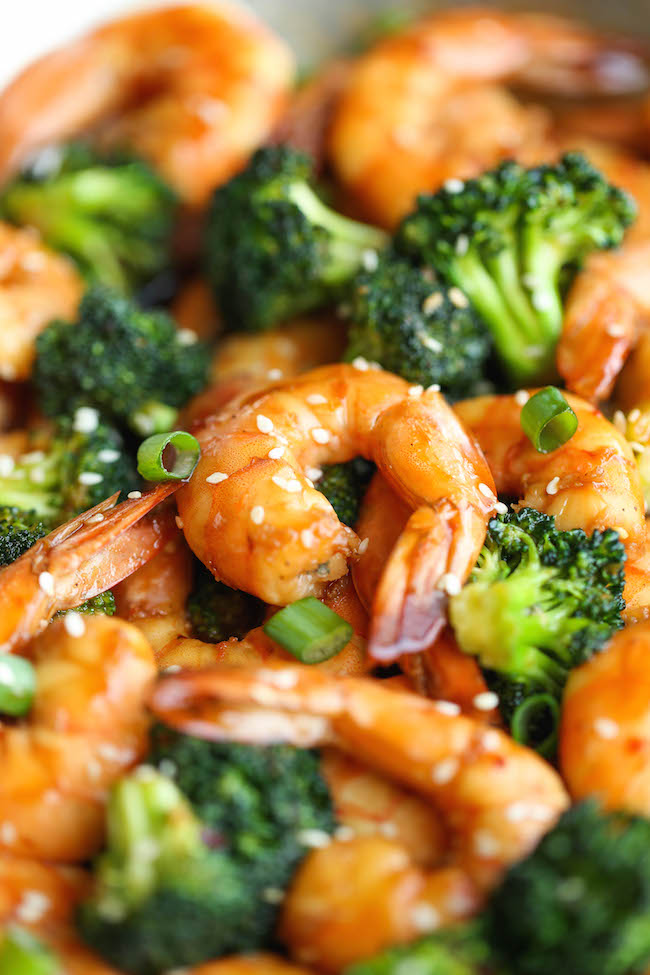 Because believe it or not, these two ingredients are a match made in heaven. And in less than 20 minutes, you'll really have this on the dinner table in no time.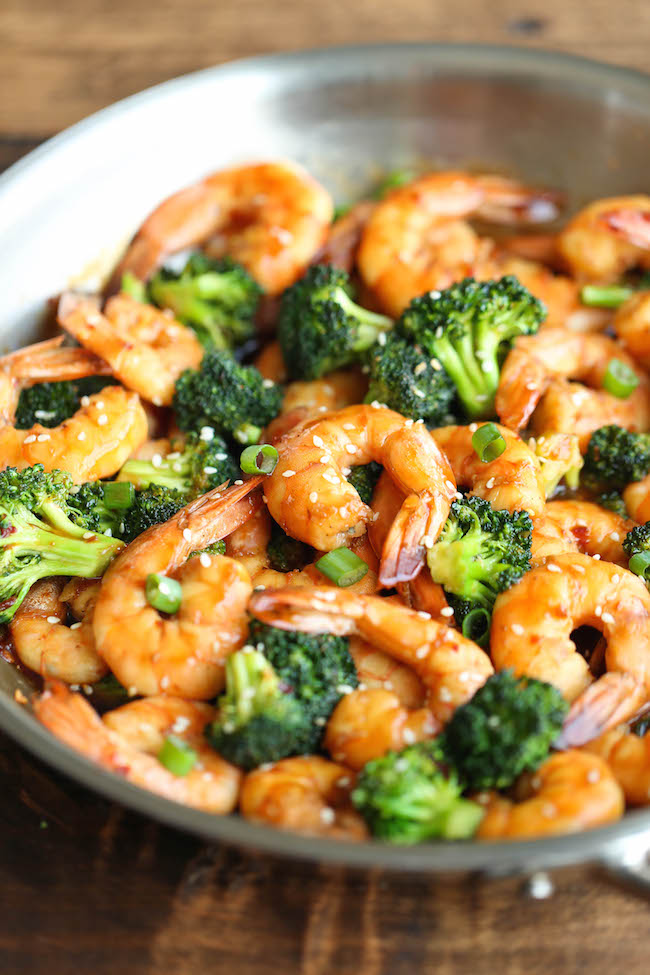 Just be sure to have some brown rice available – cooking the rice will take longer than making this actual dish!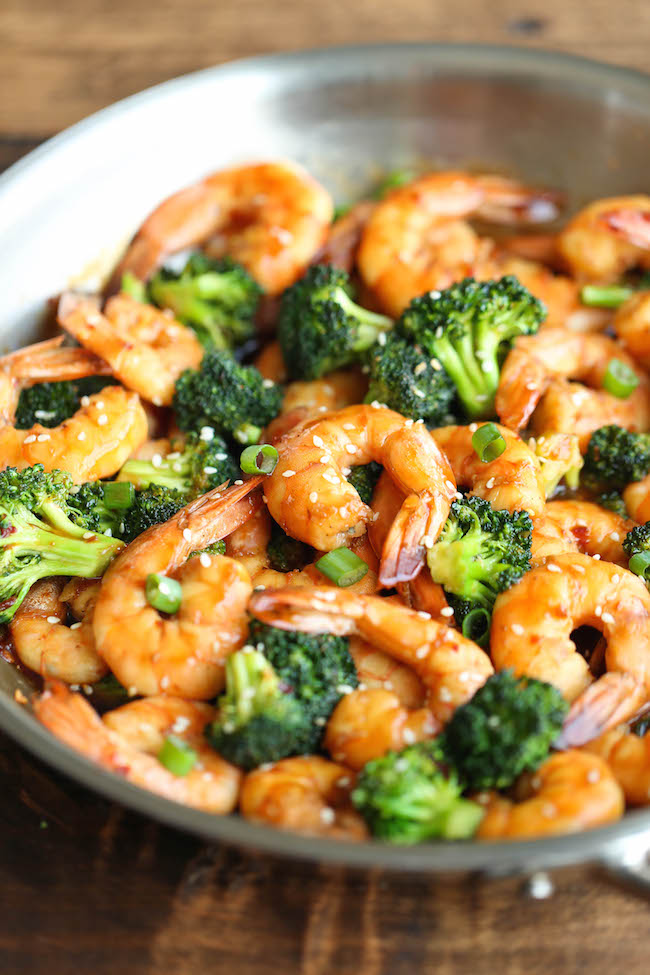 The easiest stir fry you will ever make in just 20 min - it doesn't get easier (or quicker) than that! 287.3 calories.
Ingredients
1 tablespoon olive oil
1 1/2 pounds medium shrimp, peeled and deveined
24 ounces broccoli florets*
1 teaspoon sesame seeds
1 green onion, thinly sliced

For the sauce

3 tablespoons reduced sodium soy sauce
2 tablespoons oyster sauce
1 tablespoon rice wine vinegar
1 tablespoon brown sugar, packed
1 tablespoon freshly grated ginger
2 cloves garlic, minced
1 teaspoon sesame oil
1 teaspoon cornstarch
1 teaspoon Sriracha, optional
Instructions
In a small bowl, whisk together soy sauce, oyster sauce, rice wine vinegar, brown sugar, ginger, garlic, sesame oil, cornstarch and Sriracha; set aside.
Heat olive oil in a large skillet over medium high heat. Add shrimp, and cook, stirring occasionally, until pink, about 2-3 minutes. Add broccoli, and cook, stirring frequently, until tender, about 2-3 minutes.
Stir in soy sauce mixture until well combined and slightly thickened, about 1-2 minutes.
Serve immediately, garnished with sesame seeds and green onion, if desired.
Notes
*24 ounces broccoli florets is equal to about 5 cups.
http://damndelicious.net/2015/01/16/easy-shrimp-broccoli-stir-fry/
Why It's A Smart Choice
Nutrition Facts
Serving Size
Servings Per Container 4
---
Amount Per Serving
Calories 287.3 Calories from Fat 65.7
% Daily Value*
Total Fat 7.3g 11%
Saturated Fat 1.3g 7%
Trans Fat 0g
Cholesterol 321.7mg 107%
Sodium 1062mg 44%
Total Carbohydrate 16.2g 5%
Dietary Fiber 0.4g 2%
Sugars 3.7g
Protein 40.8g 82%
---
*Percent Daily Values are based on a 2,000 calorie diet. Your daily values may be higher or lower depending on your calorie needs.
This recipe is a vitamin and mineral superstar – high in Vitamin C, Vitamin A, folate, Vitamin B12, calcium, iron, and potassium! But if you have high blood pressure, watch the portion size. This recipe is also high in sodium due to the soy and oyster sauces. Try substituting low-sodium versions of these sauces.
Nutritional information provided by Jessica Penner, RD at Smart Nutrition.