Homemade Tater Tots
Say goodbye to those frozen bags of tater tots. This homemade version is so easy, freezer-friendly and way better than store-bought!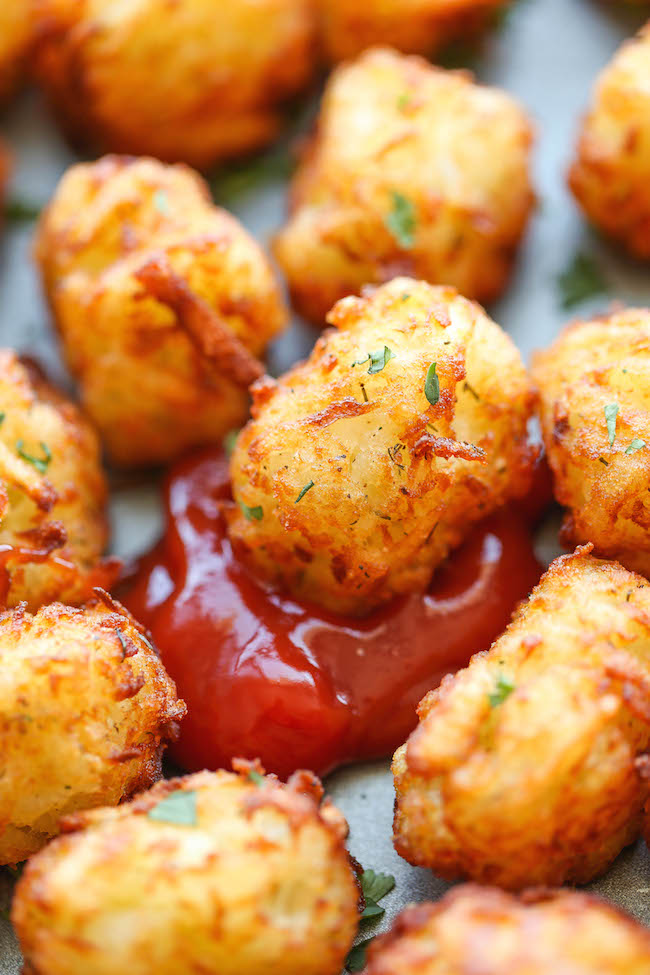 Homemade tater tots has been on my bucket list for 3 yrs now, and I'm happy to report back that I can finally cross this off.
MY OTHER RECIPES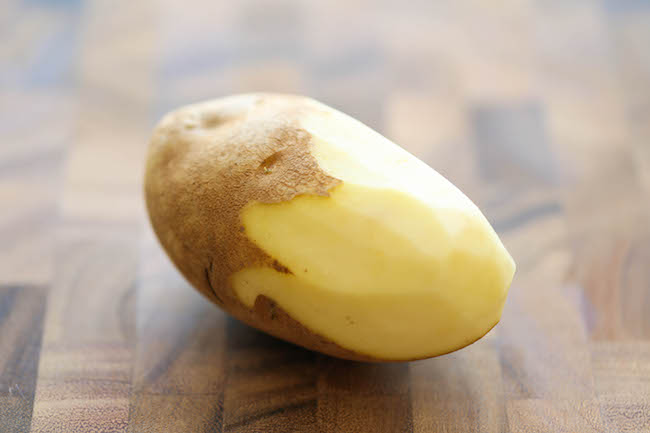 I'm not entirely sure why it took me so long to get this done. No wait. I do. It's because I keep stocking up on those Orelda frozen tots every time they go on sale. Sometimes I come back home with ten bags. It's an obsession.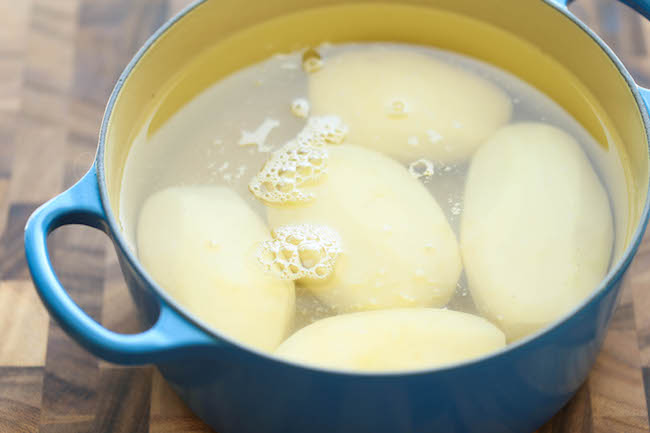 But after seeing an empty freezer sans tots, I finally bit the bullet and tried making it completely form scratch. And boy, it was certainly a life-changing experience.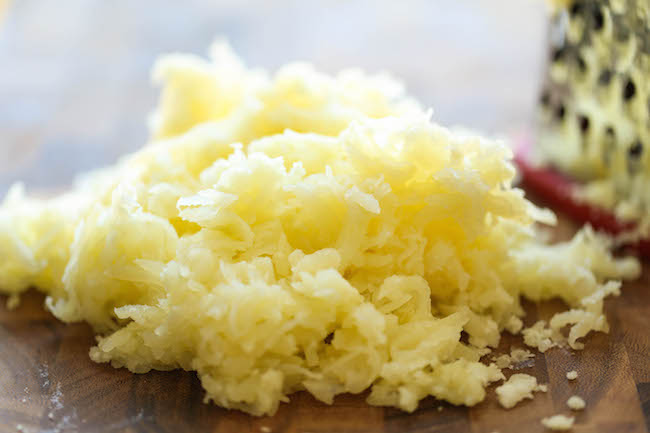 Seriously. After trying this homemade version, I will never have to walk down the freezer aisle again because nothing ever tops the homemade version, and it's even more true when it comes to a freezer version.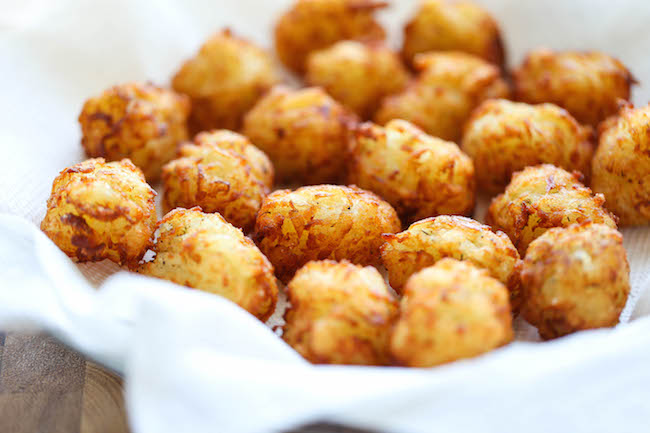 Now this recipe here does not require any special equipment like a potato mill or potato masher. All you need is a cheese grater to shred those parboiled potatoes. That's it.
From there, you can add in your desired seasonings, form them into tots, and throw them into some hot oil to let these babies get amazingly crisp and golden brown.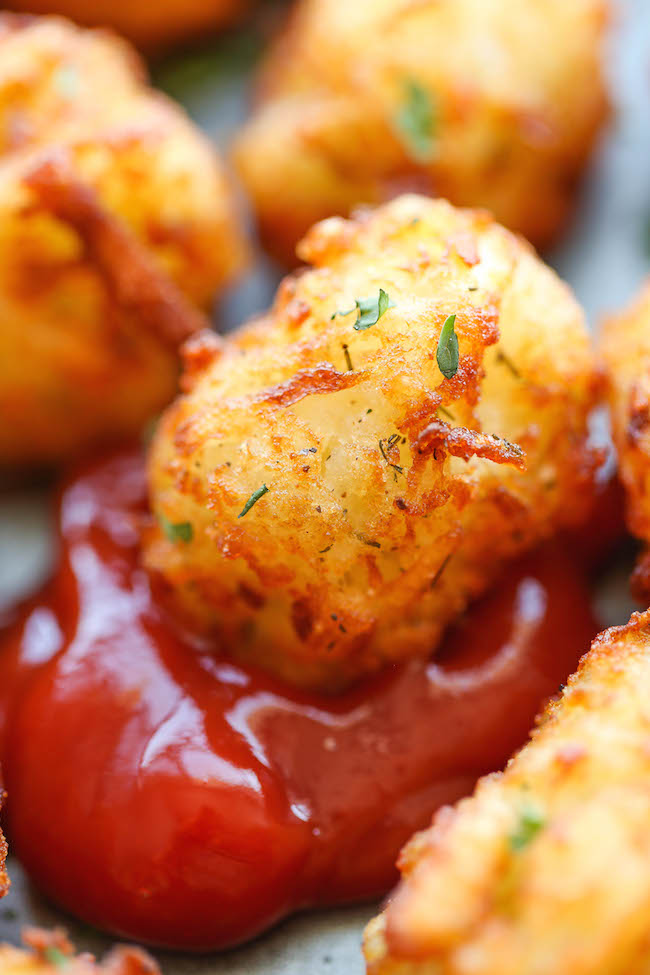 All that's left to do is serve these with some ketchup and you're set. And if you don't manage to eat these all in a single serving, you can freeze them for next time!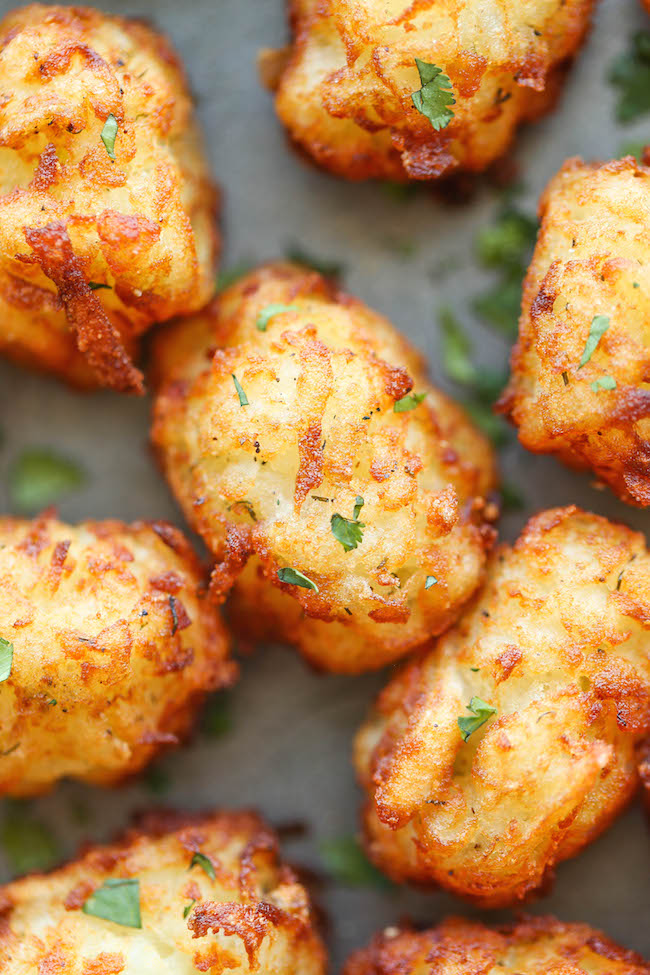 Homemade Tater Tots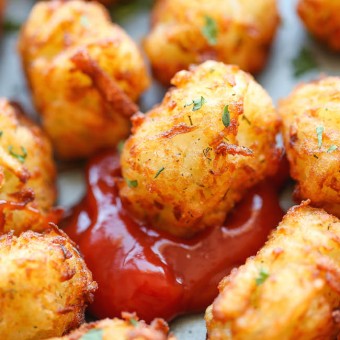 Say goodbye to those frozen bags of tater tots. This homemade version is so easy, freezer-friendly and way better than store-bought!
Ingredients:
2 pounds russet potatoes, peeled
1 tablespoon all-purpose flour
1 teaspoon garlic powder
1/2 teaspoon onion powder
1/4 teaspoon dried oregano
1/4 teaspoon dried dill
Kosher salt and freshly ground black pepper, to taste
1 cup vegetable oil
2 tablespoons chopped fresh parsley leaves
Directions:
Place potatoes in a large saucepan and cover with cold water by 1 inch. Bring to a boil and cook until parboiled, about 6-7 minutes; drain well and let cool.
Using a box grater, finely shred potatoes. Using a clean dish towel or cheese cloth, drain potatoes completely, removing as much water as possible.
Transfer potatoes to a large bowl. Stir in flour, garlic powder, onion powder, oregano and dill; season with salt and pepper, to taste. The mixture should be workable but dry. Form potatoes into tots.
Heat vegetable oil in a large stockpot or Dutch oven over medium heat.
Add tots to the skillet, 5 or 6 at a time, and cook until evenly golden and crispy, about 3-4 minutes. Transfer to a paper towel-lined plate.
Serve immediately, garnished with parsley, if desired.*
*TO FREEZE: Transfer cooled tater tots to an airtight container. Freeze up to 1 month. To bake, preheat oven to 400 degrees F and bake until heated through, about 15-17 minutes.
Nutrition Facts
Serving Size
Servings Per Container 6
---
Amount Per Serving
Calories 219.9 Calories from Fat 99.9
% Daily Value*
Total Fat 11.1g 17%
Saturated Fat 0.9g 5%
Trans Fat 0.3g
Cholesterol 0mg 0%
Sodium 10.2mg 0%
Total Carbohydrate 28.2g 9%
Dietary Fiber 2.4g 10%
Sugars 1.2g
Protein 3.3g 7%
---
*Percent Daily Values are based on a 2,000 calorie diet. Your daily values may be higher or lower depending on your calorie needs.