Parmesan Cauliflower Bites
Crisp, crunchy cauliflower bites that even the pickiest of eaters will love – perfect as an appetizer or after school snack!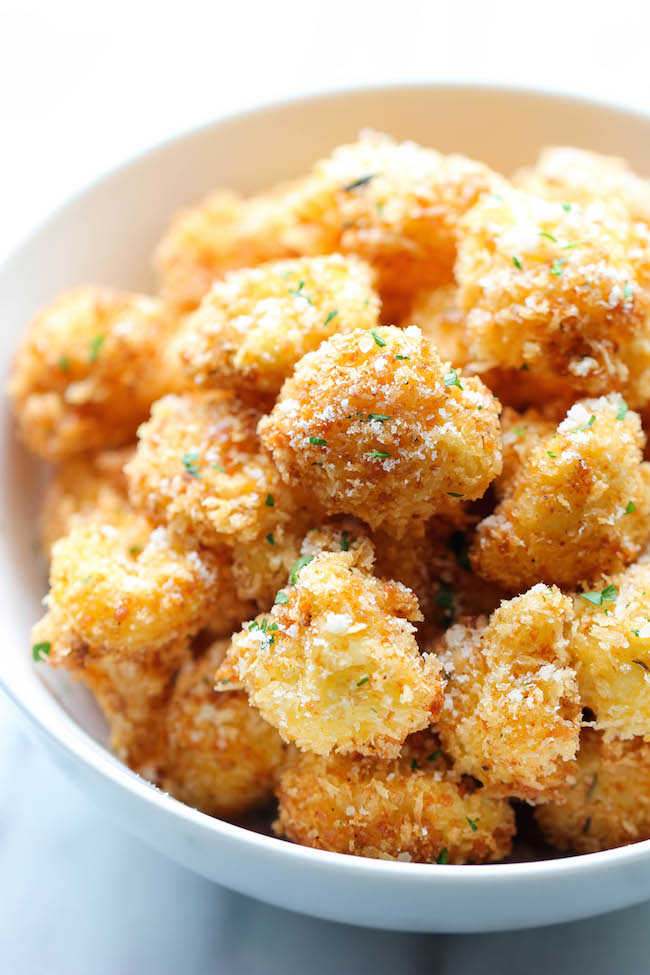 When it comes to snacking, I'll munch on anything – donuts, chips, almonds, cookies – you name it. And since I work from home and snack for pretty much every minute of every day, I just had to find a way to sneak in some veggie snacking, like these cauliflower bites.
MY OTHER RECIPES
Now I'm all for veggies but I can't just snack on raw cauliflower. I could, but I'd really rather not. So instead, I did something bad. Like really, really, really bad.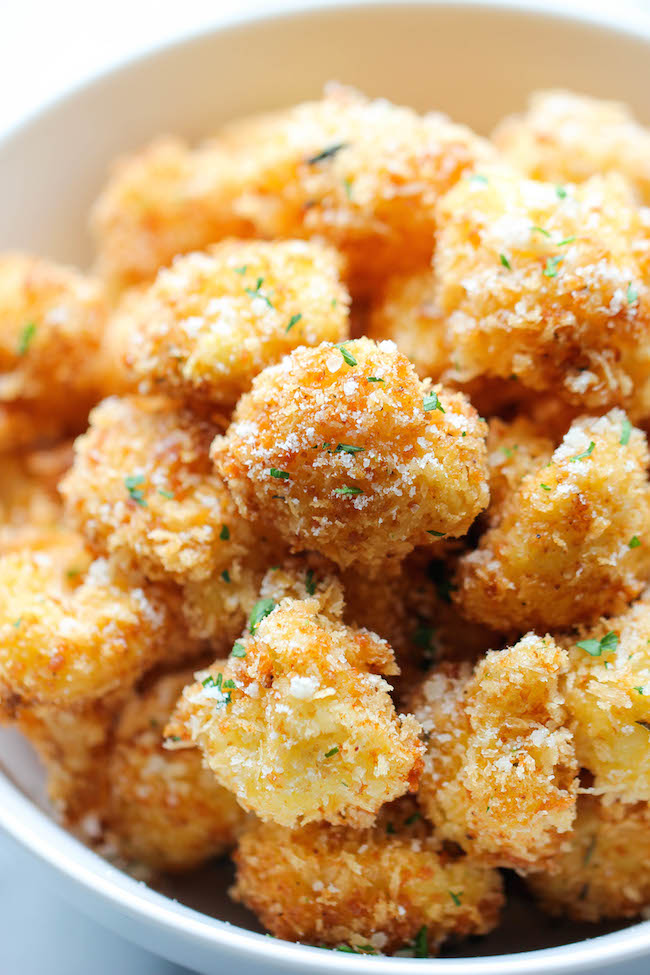 I tossed them in a light Parmesan coating and deep fried them to absolute crisp perfection. And then I dipped them in Ranch. And then I devoured every last one of them. Seriously, even the pickiest of eaters will want to lick the plate clean!
At least I'm getting my daily serving of vegetables with these, right?
Parmesan Cauliflower Bites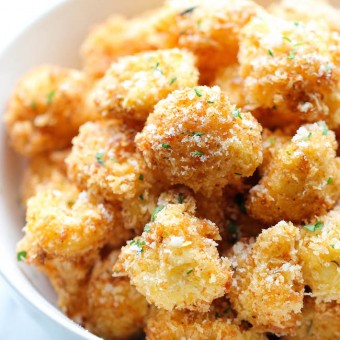 Crisp, crunchy cauliflower bites that even the pickiest of eaters will love. Perfect as an appetizer or snack!
Ingredients:
1/2 cup vegetable oil
1 cup Panko*
1/4 cup freshly grated Parmesan
1 tablespoon Emeril's Essence Creole Seasoning
4 cups cauliflower florets
1/2 cup all-purpose flour
2 large eggs, beaten
Directions:
Heat vegetable oil in a large skillet over medium high heat.
In a large bowl, combine Panko, Parmesan and Emeril's Essence; set aside.
Working in batches, dredge cauliflower in flour, dip into eggs, then dredge in Panko mixture, pressing to coat.
Add cauliflower to the skillet, 5 or 6 at a time, and cook until evenly golden and crispy, about 2-3 minutes. Transfer to a paper towel-lined plate.
Serve immediately.
*Panko is a Japanese-style breadcrumb and can be found in the Asian section of your local grocery store.
Nutrition Facts
Serving Size
Servings Per Container 4
---
Amount Per Serving
Calories 256.8 Calories from Fat 107.1
% Daily Value*
Total Fat 11.9g 18%
Saturated Fat 2.5g 13%
Trans Fat 0.2g
Cholesterol 96.0mg 32%
Sodium 500.5mg 21%
Total Carbohydrate 28.2g 9%
Dietary Fiber 2.5g 10%
Sugars 2.8g
Protein 10.8g 22%
---
*Percent Daily Values are based on a 2,000 calorie diet. Your daily values may be higher or lower depending on your calorie needs.