Skinny Shrimp Alfredo Pasta Bake
An unbelievably cheesy, creamy lightened-up pasta bake that you can easily make ahead of time. Just pop it right in the oven before serving!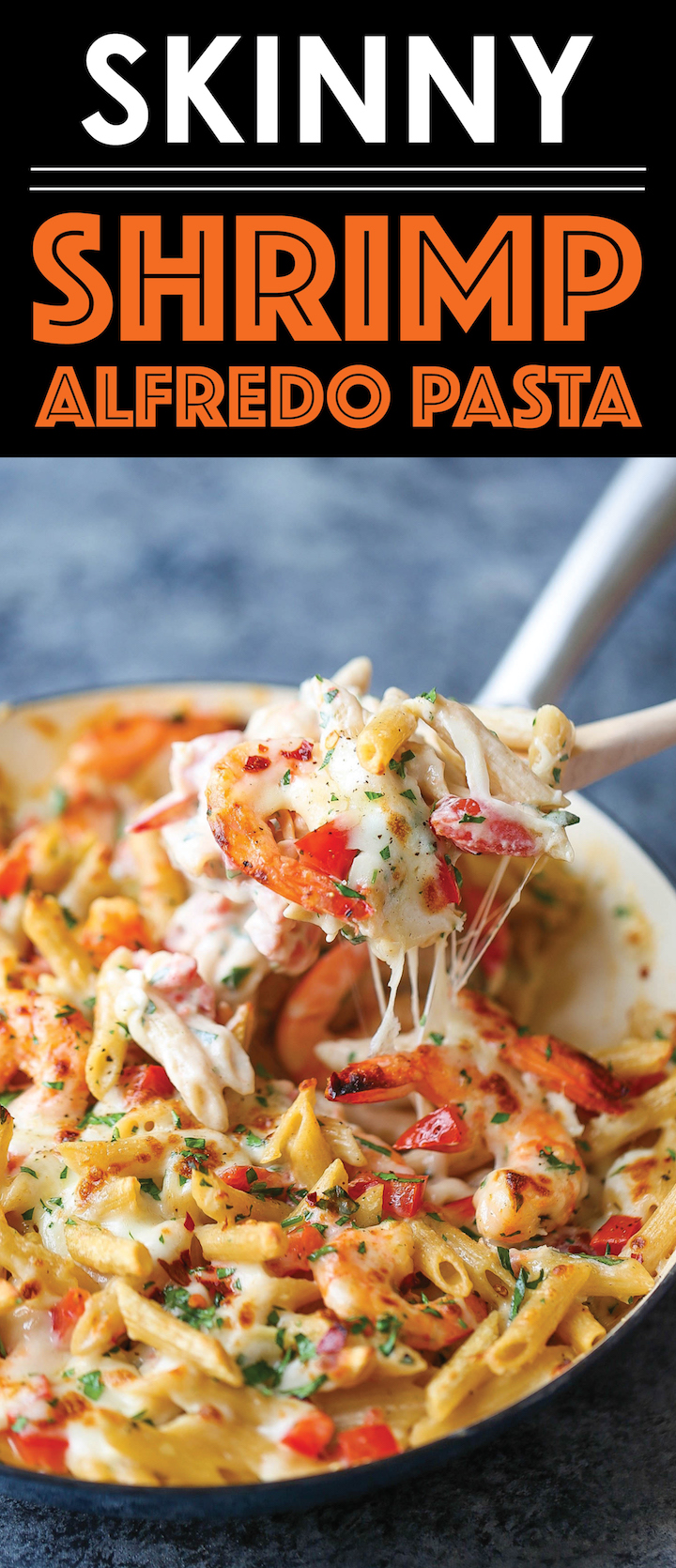 Seafood alfredo was a huge favorite of mine growing up. It was the only kind of pasta I would eat, no matter which Italian restaurant we were in.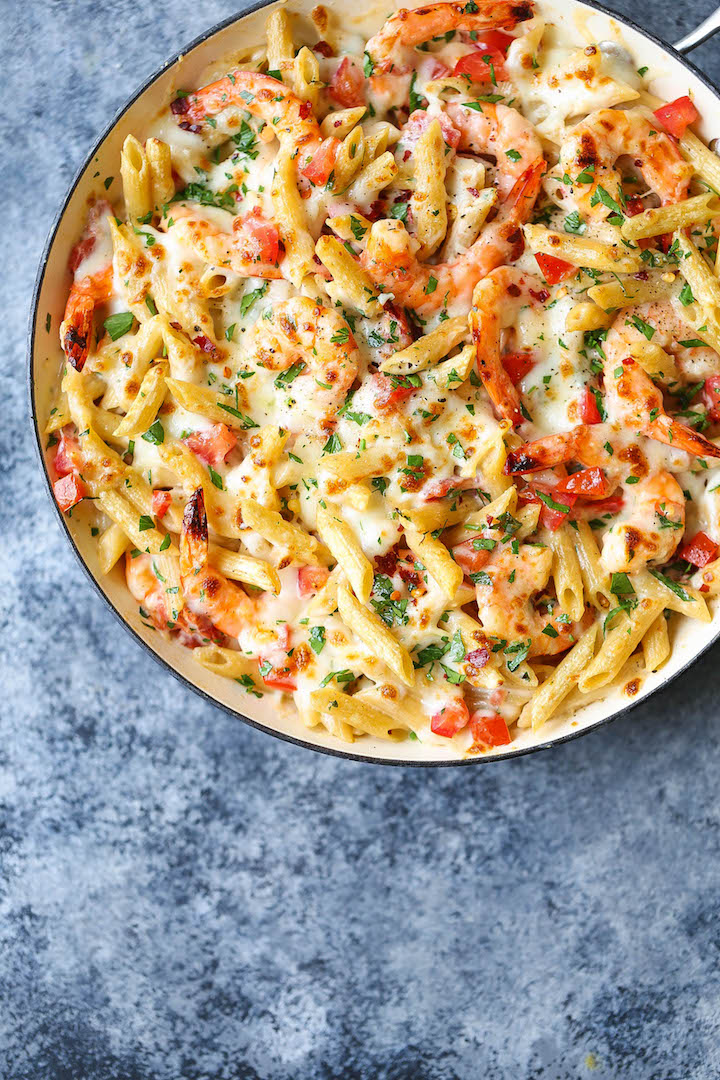 All I needed was that "white pasta" and those warm bread rolls at the center of the table, and I was the happiest kid ever.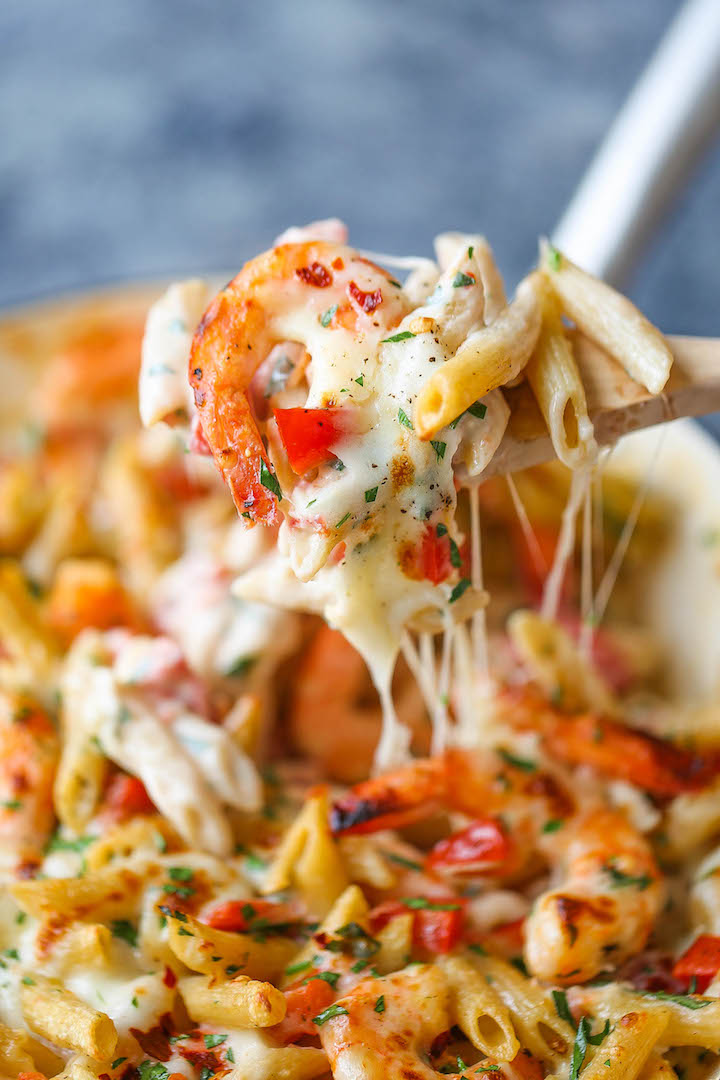 But since I don't have that fast metabolism I had as a kid, this skinny version fits in perfectly. Best of all, taste is not compromised at all in this lightened-up version. TRUST.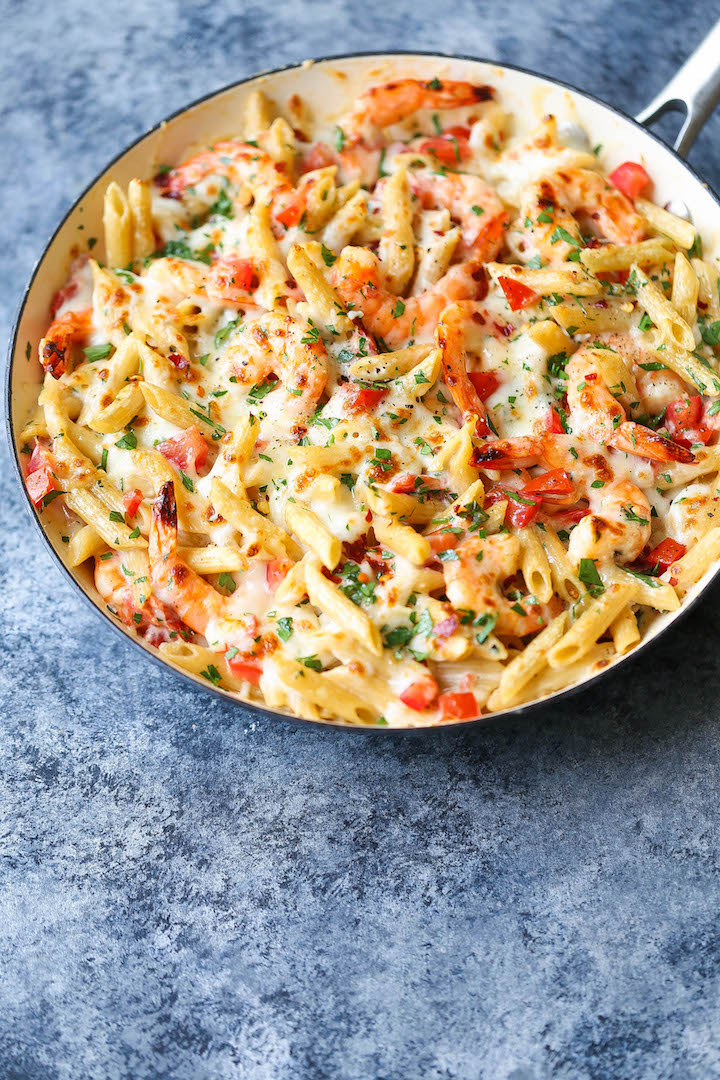 It's just as creamy and cheesy as the original, and you can even make it ahead of time. All you have to do is pop it right in the oven and dinner will be on the table in just 15 minutes. Boom.
Skinny Shrimp Alfredo Pasta Bake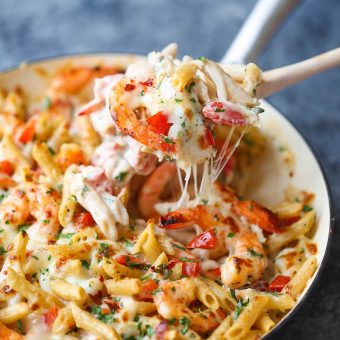 An unbelievably cheesy, creamy lightened-up pasta bake that you can easily make ahead of time!
Ingredients:
1 pound medium shrimp, peeled and deveined
2 tablespoons olive oil, divided
Kosher salt and freshly ground black pepper, to taste
8 ounces whole wheat penne pasta
1 (14.5-ounce) can petite diced tomatoes, drained
1/2 cup reduced fat mozzarella cheese
1/2 teaspoon crushed red pepper flakes, optional
2 tablespoons freshly grated Parmesan
2 tablespoons chopped fresh parsley leaves
For the alfredo sauce
2 tablespoons unsalted butter
4 cloves garlic, minced
1 tablespoon all-purpose flour
1 (6-ounce) can 2% evaporated milk
1 ounce light cream cheese
1/4 cup chicken broth, or more, to taste
Kosher salt and freshly ground black pepper, to taste
Directions:
To make the alfredo sauce, melt butter in a large skillet over medium high heat. Add garlic and cook, stirring frequently, until fragrant, about 1-2 minutes.
Whisk in flour until lightly browned, about 1 minute. Gradually whisk in milk, and cook, whisking constantly, until slightly thickened, about 1-2 minutes. Stir in cream cheese and chicken broth until smooth, about 1 minute; season with salt and pepper, to taste. Add more chicken broth as needed until desired consistency is reached.
Preheat oven to 400 degrees F. Lightly oil a baking sheet or coat with nonstick spray.
Place shrimp onto the prepared baking sheet. Add 1 tablespoon olive oil, salt and pepper, to taste, and gently toss to combine. Place into oven and roast just until pink, firm and cooked through, about 6-8 minutes. Remove from oven and set aside.
In a large pot of boiling salted water, cook pasta according to package instructions; drain well.
Reduce oven temperature to 350 degrees F. Lightly coat an 8×8 baking dish with nonstick spray.
In a large bowl, combine shrimp, pasta, tomatoes, mozzarella cheese, red pepper flakes and alfredo sauce. Add pasta mixture to prepared baking dish and top with Parmesan.
Place into oven and bake until golden brown and cheese has melted, about 10 minutes.
Serve immediately, garnished with parsley, if desired.
Why It's A Smart Choice
Nutrition Facts
Serving Size
Servings Per Container 4
---
Amount Per Serving
Calories 579.3 Calories from Fat 193.5
% Daily Value*
Total Fat 21.5g 33%
Saturated Fat 9.1g 46%
Trans Fat 0.3g
Cholesterol 253.0mg 84%
Sodium 583.9mg 24%
Total Carbohydrate 58.5g 20%
Dietary Fiber 6.8g 27%
Sugars 4.9g
Protein 41.9g 84%
---
*Percent Daily Values are based on a 2,000 calorie diet. Your daily values may be higher or lower depending on your calorie needs.
Omega 3 fats are essential and healthy fats that are important for the health of your blood vessels, vision, skin, mood, and memory. Unfortunately, they can be difficult to work into your diet since there are only to be found in a handful of foods, like wild salmon – one of the highest sources for Omega 3 fats. Lucky for you, you can get them through other foods as well, such as shrimp!
Nutritional information provided by Jessica Penner, RD at Smart Nutrition.