Mini Lasagna Cups
The easiest, simplest lasagna you will ever make, conveniently made into single-serving portions!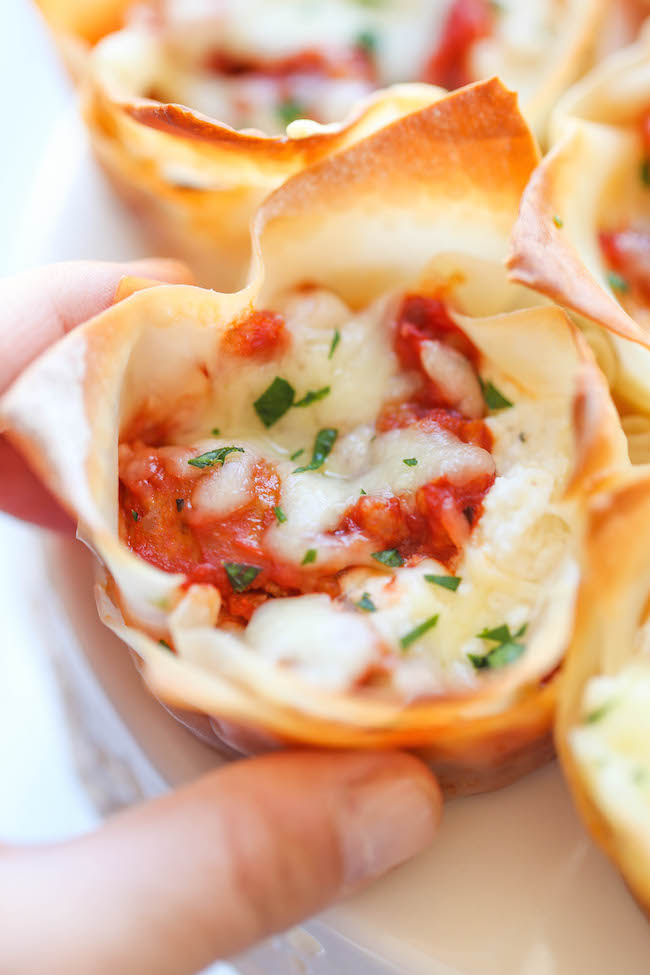 Let's take a second to talk about lasagna. It's the ultimate comfort food. The best, really.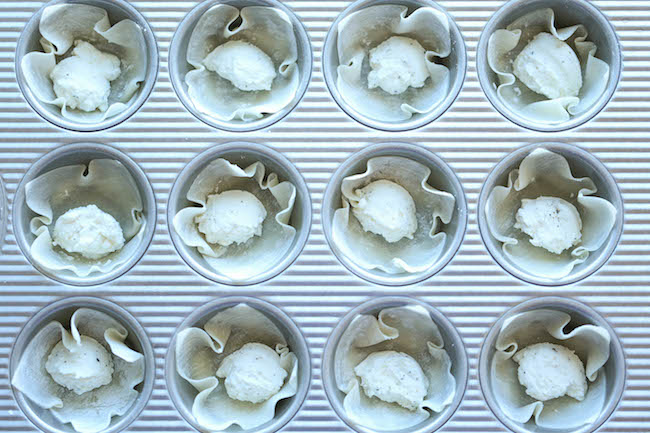 But it just takes too long to make right at home. Plus, serving it up can be such a mess.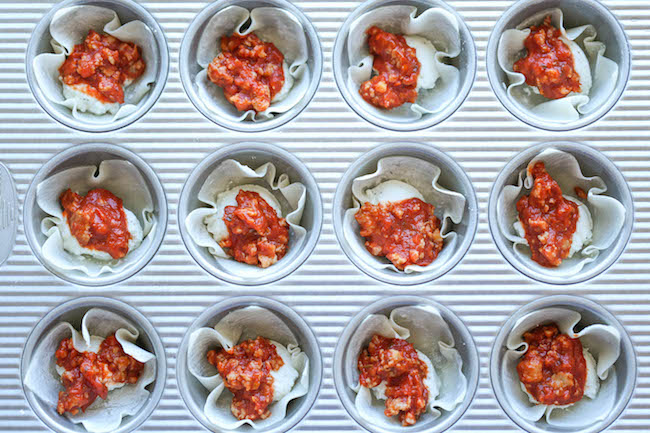 That's why these mini lasagna cups are pure genius. It's so easy to make and they're conveniently made into single serving portions.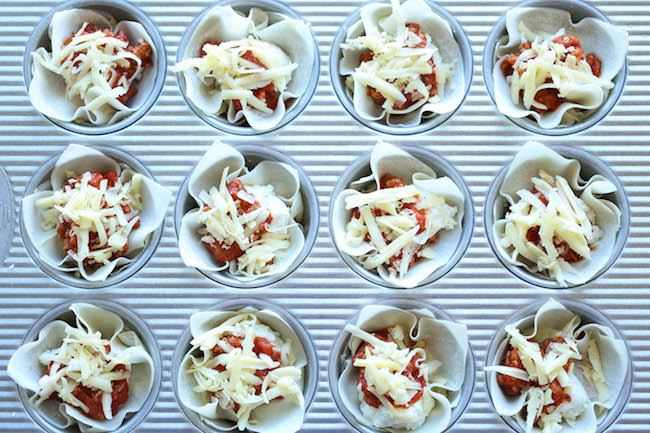 And with those crisp wonton wrappers, this may just be the best lasagna you will ever make.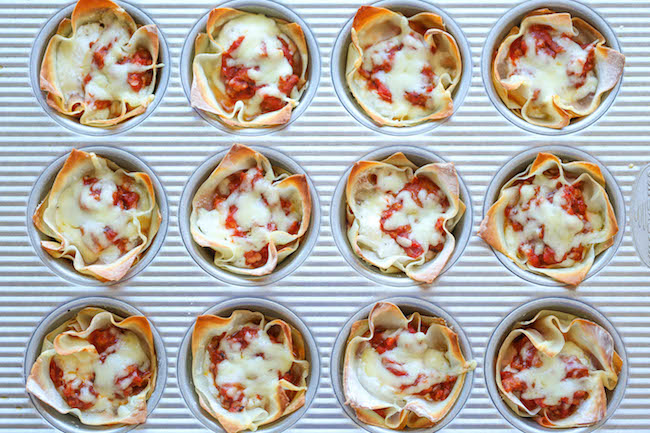 Plus, miniature food always tastes better, right?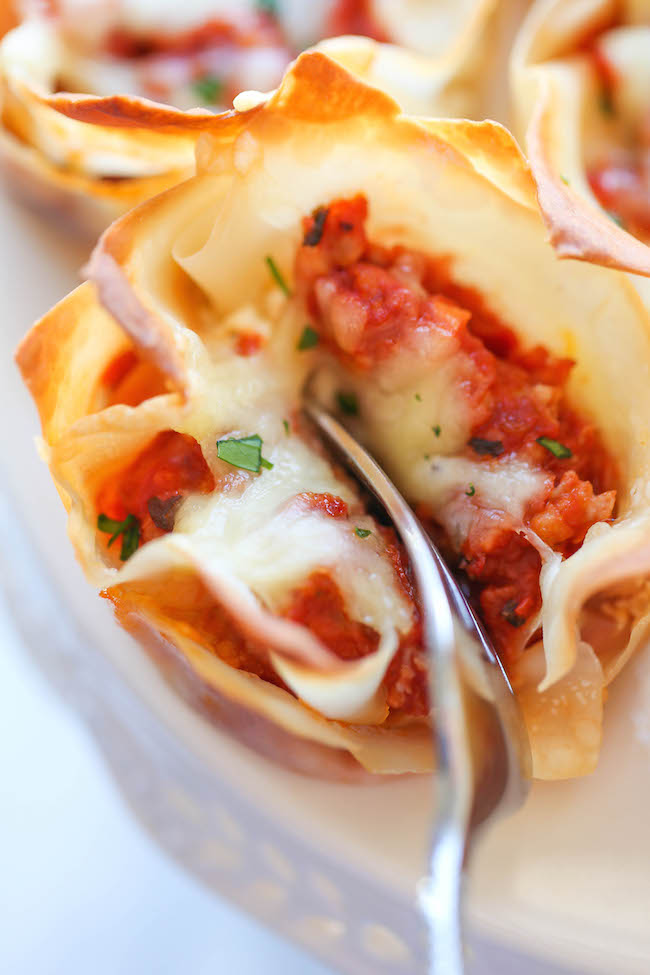 Mini Lasagna Cups
The easiest, simplest lasagna you will ever make, conveniently made into single-serving portions!
Ingredients:
1 tablespoon olive oil
2 Italian sausage links, casing removed
1 cup marinara sauce, homemade or store-bought
1 1/2 cups ricotta cheese
Kosher salt and freshly ground black pepper, to taste
24 2-inch won ton wrappers
1 1/2 cups shredded mozzarella cheese
2 tablespoons chopped fresh parsley leaves
Directions:
Preheat oven to 375 degrees F. Lightly oil a 12-cup standard muffin tin or coat with nonstick spray.
Heat olive oil in a large stockpot or Dutch oven over medium heat. Add Italian sausage and cook until browned, about 3-5 minutes, making sure to crumble the sausage as it cooks; drain excess fat and stir in marinara sauce.
Season ricotta cheese with salt and pepper, to taste; set aside.
Fit wonton wrappers into each of the 12 muffin tins, pressing carefully to make sure there is an opening in the center. Fill each cup with 1 tablespoon ricotta cheese. Top with 1 tablespoon marinara mixture and 1 tablespoon mozzarella cheese; repeat with one more layer.
Place into oven and bake for 10-12 minutes, or until the cheese has melted and the wonton wrappers are golden brown.
Serve immediately, garnished with parsley, if desired.
Why It's A Smart Choice
Nutrition Facts
Serving Size
Servings Per Container 12
---
Amount Per Serving
Calories 181.4 Calories from Fat 81
% Daily Value*
Total Fat 9.0g 14%
Saturated Fat 4.5g 23%
Trans Fat 0g
Cholesterol 28.0mg 9%
Sodium 341.7mg 14%
Total Carbohydrate 14.4g 5%
Dietary Fiber 0.9g 4%
Sugars 2.1g
Protein 10.5g 21%
---
*Percent Daily Values are based on a 2,000 calorie diet. Your daily values may be higher or lower depending on your calorie needs.
A large portion of the calories from this recipe comes from fat. But don't be afraid of fat since they are dense in calories and they don't overdo them either. Plus, making a mini version of your favorite recipe is a great way to build portion control!
Nutritional information provided by Jessica Penner, RD at Smart Nutrition.