Oven Fried Chicken with Honey Mustard Glaze
No one would ever guess that this was baked, not fried. And the honey mustard glaze is to die for!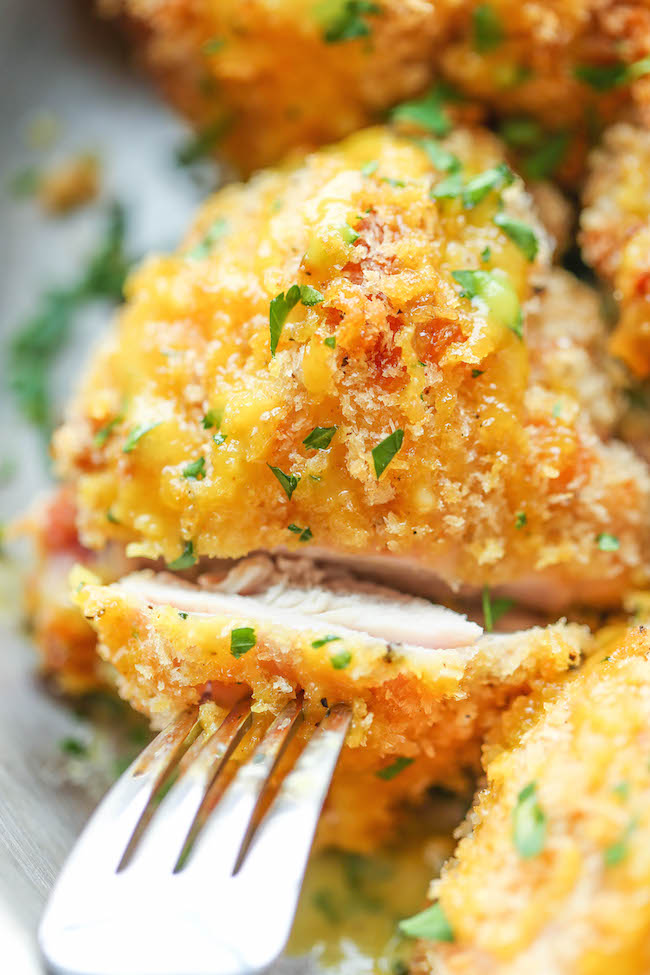 Remember how I told you I had a huge aversion to mustard? Well, now I can basically guzzle it down on its own, especially with this honey mustard glaze.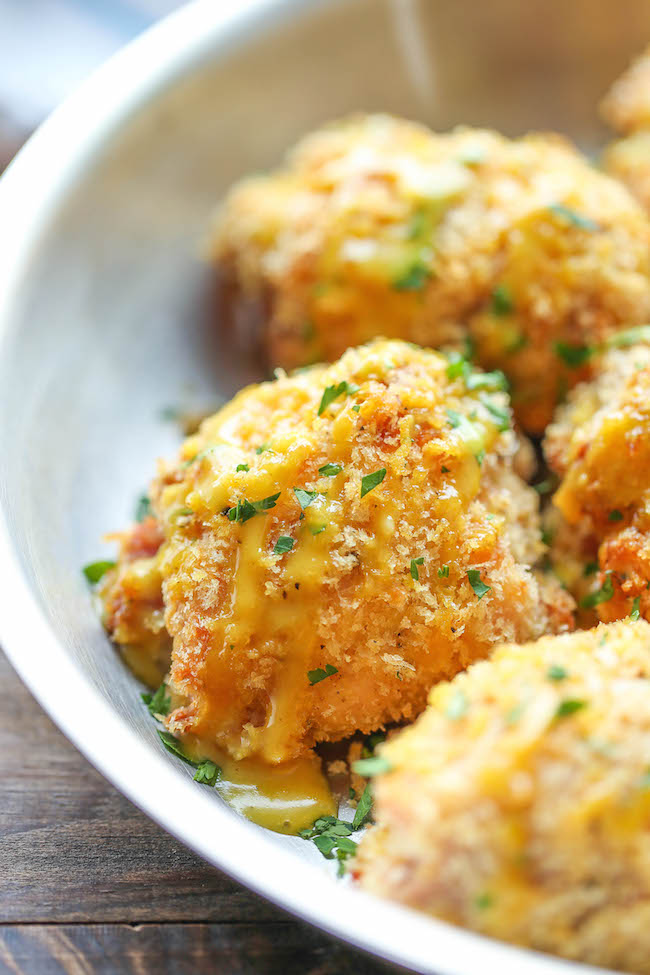 But the true star here is the chicken – the crisp-tender chicken thighs that are completely baked from start to finish. There's absolutely no searing or frying here.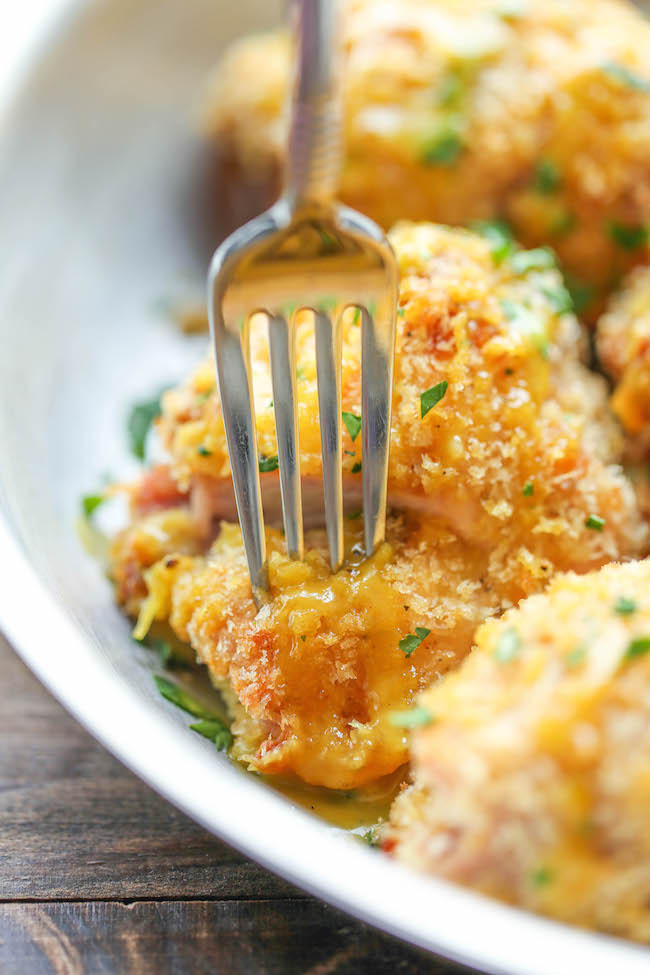 The secret to this makeover for that amazing "fried"-crispness is to coat these bad boys in Panko bread crumbs and vegetable oil. That's it! Easy peasy, right? And you get to save on a ton of calories and fat too!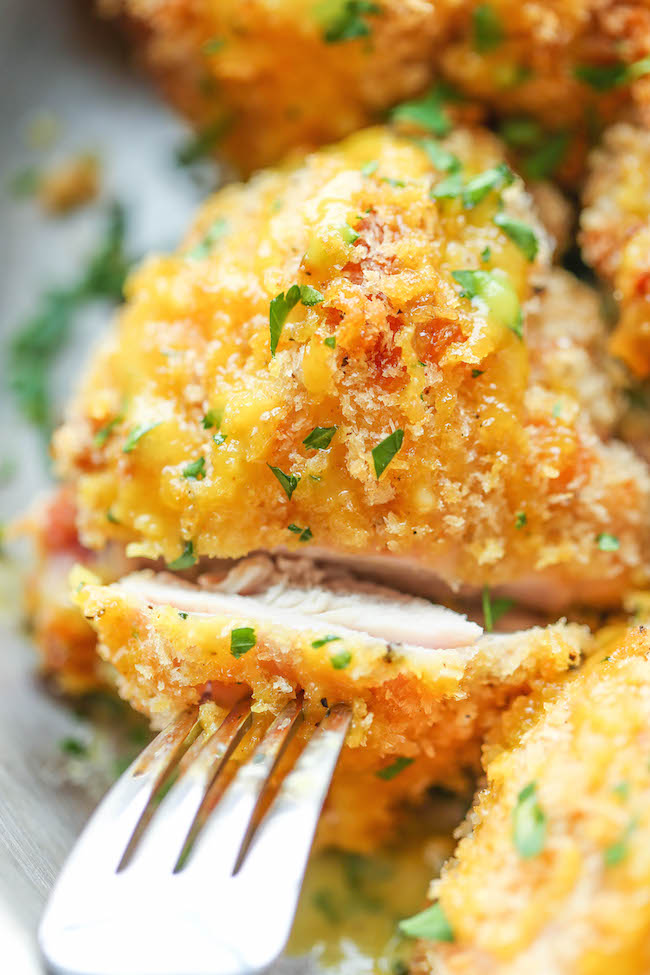 No one would ever guess that this was baked, not fried. And the honey mustard glaze is to die for!
Ingredients
8 boneless, skinless chicken thighs
Kosher salt and freshly ground black pepper, to taste
2 large eggs
1/4 cup milk
1 1/2 cups Panko*
1 teaspoon smoked paprika
1/4 cup vegetable oil
1 cup all-purpose flour
2 tablespoons chopped fresh parsley leaves

For the honey mustard glaze

1/4 cup mayonnaise
2 tablespoons honey
1 tablespoon mustard
1 tablespoon Dijon mustard
Instructions
Preheat oven to 375 degrees F. Line a baking sheet with parchment paper or a silicone baking mat; set aside.
To make the honey mustard glaze, whisk together mayonnaise, honey and mustards in a small bowl; set aside.
Season chicken thighs with salt and pepper, to taste.
In a large bowl, whisk together eggs and milk. In another large bowl, combine Panko, paprika and vegetable oil; season with salt and pepper, to taste.
Working one at a time, dredge chicken in the flour, dip into the egg mixture, then dredge in the Panko mixture, pressing to coat.
Place chicken onto the prepared baking sheet and bake for 35-40 minutes, or until the crust is golden brown and the chicken is completely cooked through.
Serve immediately with honey mustard glaze, garnished with parsley, if desired.
Notes
*Panko is a Japanese-style breadcrumb and can be found in the Asian section of your local grocery store.
http://damndelicious.net/2015/02/20/oven-fried-chicken-honey-mustard-glaze/
Why It's A Smart Choice
Nutrition Facts
Serving Size
Servings Per Container 8
---
Amount Per Serving
Calories 340.6 Calories from Fat 171.9
% Daily Value*
Total Fat 19.1g 29%
Saturated Fat 3.1g 16%
Trans Fat 0.2g
Cholesterol 110.8mg 37%
Sodium 199.7mg 8%
Total Carbohydrate 21.0g 7%
Dietary Fiber 0.7g 3%
Sugars 5.4g
Protein 20.7g 41%
---
*Percent Daily Values are based on a 2,000 calorie diet. Your daily values may be higher or lower depending on your calorie needs.
These chicken thighs are baked, not fried. Baking cuts down on the calories so you can enjoy more bites! And one serving contains less than 350 calories. Additionally, mustard is a great way to add flavor without calories!
Nutritional information provided by Jessica Penner, RD at Smart Nutrition.